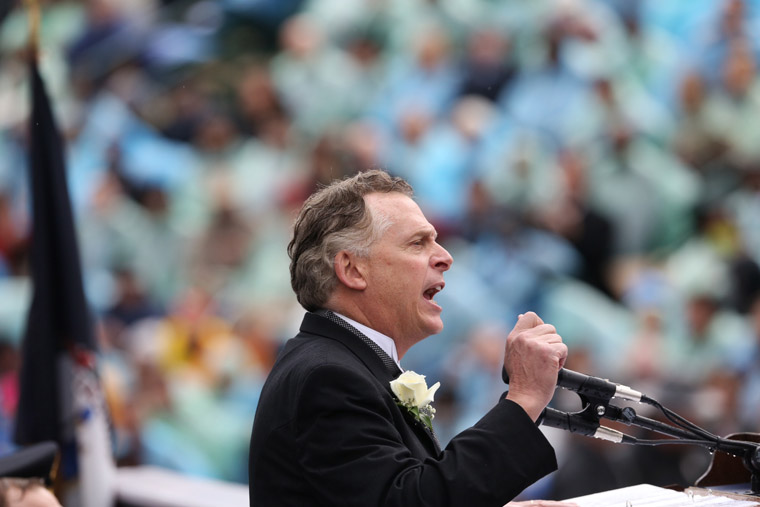 Now-Governor Terry McAuliffe's "sweeping" executive order that prohibits gifts above $100 on members of the executive branch may have set the tone for the governor's first day in office, but it also raised the expectations of those who see McAuliffe as Virginia's best chance of restoring the balance of political influence between the average citizen of Virginia and moneyed businesses and individuals.
McAuliffe's first day of governor of Virginia not only highlighted McAuliffe's vision for the commonwealth over the next four years, it also reminded Virginians of the scandals and controversy that engulfed the previous governor's final year in office. No executive administration in recent Virginia history made the contrast between the influence of moneyed groups relative to the average Virginian more stark than that of the McDonnell administration.
As one example, Gov. Bob McDonnell seemed to do everything he could to undermine the concerns voiced by Virginians over the issue of uranium mining, going so far as to exclude citizens groups from the Uranium Working Group while inviting Virginia Uranium, Inc. (VUI) lobbyist. Were it not for the adamant protests of citizens groups, it is highly likely that McDonnell would have asked for a regulatory framework to be written regarding uranium mining and milling before the moratorium was lifted, something the former governor's friends at VUI would have appreciated.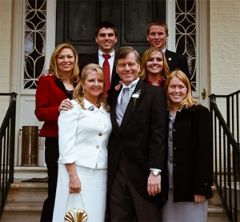 Let's make it easy for the grand jury. When you file a fraudulent expense claim, it is fraud. And when you receive compensation that you do not report on your taxes, it is tax fraud. Then when you file with your spouse, your spouse abets the fraud, Bob.
Governor McDonnell cannot credibly claim ignorance on the expense claims. He proudly advertises he is a veteran and his service continued until rather recently. Military personnel submit travel claims for reimbursement and during that drill, the definitions and implications of a fraudulent claim are clear to everyone. Then maybe the Feds should be investigating his military travel claims too. Maybe he "regularly" claimed an enema or whatever that bowel cleansing treatment was on those submissions. Regardless, he owes taxes on those false claims.
But that really is just minor compared to the potentially felonious fraud that the gift from Jonnie R. Williams represents. Sadly, Bob may have implicated his daughter Cailin too. You see, the presumption in the tax code is that any gift is taxable. There are reasonable exceptions that are outlined below the fold. This is all designed to prevent bribery and influence peddling from going unpunished.
There are really three circumstances affecting the status of the catering payment by Jonnie (I hope I can call you Jonnie):
Jonnie paid a bill for Bob McDonnell covering catering for Cailin's wedding in a quid pro quo arrangement that Bob must declare as income
Jonnie paid a bill for Cailin nee McDonnell covering catering for Cailin's wedding in a quid pro quo arrangement that Cailin must declare as income
Jonnie filed a federal gift tax return declaring a gift to either Bob or Cailin; basically attesting that there is no quid pro quo arrangement
Show us those tax returns and the dates they were filed. There's an amusing new meme floating around among conservatives desperate to salvage the sinking ship of Ken Cuccinelli's gubernatorial campaign -- namely, that he is "feared" by the Republican establishment because, while
they
are propped up by big business and crony capitalism,
he
is a man of the people, a superhero fighting to unleash liberty!
Here's how Mason Conservative put it (favorably quoted by Bearing Drift and Conservative HQ):
Make no mistake; you will never hear this blog claim Bill Bolling is a RINO. Far from it. But rather, Bolling is an establishment crony-capitalist conservative who, like his Dixiecrat forefathers, just wants to leave everything the same and let big business do what big business does. Cuccinelli is looking to apply true limited government principles and truly unleash capitalism in Virginia. Instead of our business being reliant on the federal government, state tax breaks, and giveaways he wants to create a commonwealth of opportunity and freedom.
You gotta give these guys credit: the Cuccinelli-as-Robin-Hood spin is a gem, and it's not like they have much to work with. But sadly, the facts don't accord with this fairy tale.
It's really not that hard to ascertain for whom our Ayatollah General is fighting. You can start with his donor list. Clearly, big businesses are not too afraid of him, since they are shoveling hundreds of thousands of dollars in his direction. Representatives of the fossil fuel industry seem particularly brave in this regard, as evidenced by the $352,341 they've given him from 2011 to 2012. That includes $52k from coal and fracking giant Consol Energy, over $25k from Big Coal company Alpha Natural Resources, $40k from Dominion, over $27k from Appalachian Power Company -- and at least $50k from the Koch brothers and their firm Intrust Wealth Management.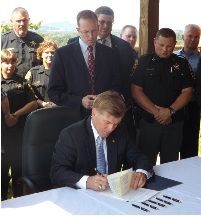 Virginia Delegate Rob Bell (R-58th) hails a set of laws directed at sex crimes against children he walked through the Virginia Legislature at the height of the Sandusky scandal. If they were so essential, why did it take Governor McDonnell months to "sign" them?
In fact, if they were anything more than gimmicks, if they solved any threat to public safety, why weren't they passed as emergency legislation? And why did their effective date pass without fanfare? Instead, last Friday, they provided a photo op for Bell's campaign for Attorney General.
Over the last two years in Virginia there have been 215 adults convicted of these vile crimes, and only 10 cases have resulted in life sentences. The median sentence overall was only 13 years. I believe the only sure way to keep other children safe is to keep these convicted sexual predators locked up for the balance of their lives. - Delegate Bell's AG campaign E-mail
And who was Attorney General over the past two years and in the years just preceding? Who was governor during those same two years? And when did either Cuccinelli or McDonnell ever mention mandated reporting for public and private college employees before the Sandusky scandal? Or condemn the Republican Pennsylvania Attorney General's foot dragging in the Sandusky case? The Kaplan Post says it's:
a test of principle versus partisanship
. It's really: choosing between riding with Romney or getting kicked to the curb. Virginia Republican legislators didn't give suppression enough thought. They could have suppressed the vote and still allowed McDonnell the veep seat.
These new restrictions fall most heavily on young, minority, elderly, and low-income voters, as well as on voters with disabilities. This wave of changes may sharply tilt the political terrain for the 2012 election and beyond. - Brennan Center for Justice
Requiring voters to show government-issued photo identification is a hardship on as many as 10% of the electorate. But that may not be as effective as more surreptitious methods. Limiting early voting is one. Another is making registration much more difficult. But Virginia Republicans chose the lightning rod.
For some, the only rationalization for an electoral defeat is vote tampering. If they had substantive rather than anecdotal evidence there would be cause for alarm. Instead, the purveyors of this myth use innuendo and predisposition of their audience to convince. Where were these facts in Virginia's legislative debates?
"It is not the people who vote who count; it's the people who count the votes." - Josef Stalin
This is a cause celeb without a justifiable cause. If the integrity of elections were really the concern, the few individual voters who have been prosecuted would not be the focus. The largest Virginia case of tampering did not occur at the ballot box, but in a Registrar's office where 100 or so eligible voters were denied registration. That single case involves many more votes than the few individual cases not to mention the loss in the institutional basis for trust in the process. The legislature did nothing to protect us against the greater demonstrated threat to the legitimacy of the electoral process. Rather, Republicans are putting into practice Stalin's maxim. Interesting development in
the push to include marriage equality as a plank in the Democratic platform
adopted in Charlotte later this year:
Four former chairs of the Democratic National Committee called on the party on Wednesday to embrace marriage equality in the 2012 Democratic platform.

"We are proud that the Democratic Party fights for working families, economic justice, and equal opportunity for all," said Howard Dean, Donald Fowler, Steve Grossman and David Wilhelm in a joint statement. "Times change but our principles must always remain strong. That is why, as former chairs of the Democratic National Committee, we stand with Freedom to Marry, 22 Democratic senators, Leader Nancy Pelosi, and more than 35,000 Americans in urging the Party to include a freedom to marry plank in the platform that is ratified at the Democratic National Convention in Charlotte this September."

Dean, the former governor of Vermont, served as DNC chair from 2005 to 2009. Massachusetts Treasurer Steve Grossman led the organization from 1997 to 1999. Fowler was South Carolina state party executive director and CEO of the DNC convention in Atlanta in 1988 and was DNC chair from 1995 to 1997. Wilhelm ran the day-to-day operations of the 1992 Clinton-Gore presidential campaign and was DNC chair from 1993 to 1994. Per the
Richmond Times-Dispatch
, Attorney General Cuccinelli dropped a bombshell last week when he "told a student at Norfolk Technical School on Tuesday that there is a 'good chance' he'll run for governor."
Yes, there was the usual after-the-fact correction by his spokesman, "clarifying" that Cuccy didn't specify when he would run for governor. Perhaps those who've never heard a politician talk before may fall for that one. As for the rest of us...
Look, let's cut through the BS. While Cuccinelli excites the extremists who possess his party, Lieutenant Governor Bill Bolling has all the charisma of an armadillo. And as soon as Cuccy announces for Guv, Bolling is guaranteed to look like one of those armadillos by the side of a dusty Texas highway.
If Cuccinelli runs, he will be the Republican nominee, and if the Dems fail to challenge him effectively, he will become our next governor. Just think about how much he would set back the progress and reputation of this state. At a time when even the Wall Street Journal, Forbes and The Economist are admitting that climate change is a scientific reality, Cuccinelli continues to pursue his lawsuit against the EPA for attempting to protect the public from the effects of climate change -- while refusing to drop his baseless and unconstitutional assault on Professor Michael Mann for engaging in legitimate academic research.
Cuccinelli's Virginia will be one in which the state acts aggressively as a bully to suppress all the favorite scapegoats of the far right -- gays, unions, environmentalists, immigrants, pregnant women, etc., while favoring vested interests like Big Coal, multinational corporations, gun manufacturers and the Church.
And guess what? If we allow the State Senate to go Republican Tuesday, November 8th, there will be no check on the man and a lot of momentum carrying him forward. Scared? Well then get out there and fight for our Democratic candidates! The McDonnell-Cuccinelli antics add to the fog that provides cover for the unfounded ramblings of the Goodlattes of Virginia. Unchallenged by Democrats, these anecdotes become embedded in the electorate's world view. That won't change anything in the 6th District this year. But they wash over Virginia for 2011 and beyond.
The Mutt and Jeff act is a perfect one-two reactionary strategy. The Attorney General tilts at windmills while the Governor provides a "more balanced" view of principle, sounding reasonable, businesslike, and bipartisan. Meanwhile, uncontested Republicans like Goodlatte (here showing bipartisan appeal) hold town halls with apprehensive audiences where they twist the facts to stoke the fear and resentment. No effective counter from the Democratic Party of Virginia (DPVA).
"George King of Lynchburg asked why energy products that are made in China, such as photoreceptors, couldn't be made in the United States. Goodlatte said the answer lies in reducing the cost for companies to operate in the United States, through lower health-insurance costs and lower corporate taxes." - reported in The News & Advance
It couldn't be the almost slave labor cost advantage...it must be the evil health insurance and taxes. Unfortunately, this plays well in Peoria...or more appropriately, anywhere outside NOVA. And when these trees fall in the Republican forest, the case for a red Virginia is built from the timber.