 I was excited when I first decided to take an extended vacation the two weeks leading up to Labor Day. Time to get out of the swampy Mid-Atlantic summer heat of August and flee to cooler climates.
Then I realized that the weeks coincided with the run-up for the September 1st deadline the court had set for Congressional redistricting. Perhaps the General Assembly would be working on an 11th hour compromise?
Nope. Early in the special session my fears were put to rest as the Republicans tried to jam everything and forced Democrats to adjourn. Redistricting would occur in September after I was back from vacation.
Then Mark Herring announces that he will be running for reelection as the Commonwealth's Attorney General! It's a good thing I kept my phone on so I could get the texts from friends back in the Commonwealth while on vacation!
A few thoughts.
1. Announcing before this fall's elections ensures that the narrative will not be one of Herring being pushed out by concerned moderates and negative nay-sayers. Despite the all-out effort by the Democrats to win back the State Senate, they are on hostile terrain and could still fall short. Should this happen, the political talking heads could point to the election as a sign that Virginia is still a tough, purple state, and that the VMI graduate and more moderate Ralph Northam would be a better candidate for Democrats going into 2017. The pressure would be on to unite the party and avoid a primary fight.
Though the clinic in Wise is Virginia's anchor, it is only one of four this year; even more in the future if Dr. Vicky Weiss has her way. This weekend's iteration drew attention for a drone demonstration but the primary purpose remained providing care to persons with limited access to health care.
The need is underlined by the flood of participants at every event. Here you see the very last open space in the parking area of the Wise County Fair Grounds being filled just as the gates opened yesterday for this weekend's clinic. The first arrival had been at around 2pm Wednesday, two days before. By 9pm Thursday there were some 800 staged with tickets in hand; at 4:30am Friday over 1,250. By noon the equivalent of about half the population of Wise had passed through the gates for care.
Remote Area Medical (RAM) was initiated by its founder, Stan Brock, to provide service to the world's inaccessible areas. Upon the realization that barriers to access are not just geographical, he began delivery of care to rural and underserved populations in the United States; eventually into urban centers. Now more than 90% of RAM operations are within the United States.
RAM of Virginia was launched in April 2014 on the steps of the state's Capitol Building to alleviate the growing need of affordable health care for thousands of underserved Virginians. Headed by Dr. Victoria Molnar Weiss, the affiliate hopes to expand its operations to host many mobile clinics throughout the state yearly.
It was Creigh Deeds' event, but guest Terry McAuliffe ran with it, ringing out the first and in the second year as Virginia's 72nd Governor. McAuliffe made his first campaign stop of 2015 supporting his former gubernatorial rival and using the opportunity to tune up on this year's legislative agenda.
A year after taking office, the Governor took the opportunity to climb on the soapbox to emphasize the issues he ran on and report progress. He enumerated a number of issues, but jobs and healthcare were the bookends claiming substantial progress on one and frustration with the other. On jobs, he pointed out that the state faced strong headwinds, losing nine billion dollars in defense contacts the last three years; more than any other state in the country. So, he has set out re-purposing Virginia's economy to make it less reliant on the federal government. That is what he thinks about every single day.
Additional issues addressed:

Women's rights
Marriage equality
Responsible gun ownership
Mental/behavioral health
Reformed Standards of learning
Daycare centers
Restoration of rights
Building broadband
McAuliffe announced that there would be a booklet published today, the first anniversary of his inauguration, outlining accomplishments during his first year in office. Highlighting successes on jobs, he said his whole emphasis is on how to build that new economy. And in that effort he has become the most travelled governor in our nation's history. The results so far include 265 economic deals and $5.4 billion in direct investment; double what any governor has ever done on job creation. If you show up to vote with only your shiny new Virginia voter photo ID, you won't be allowed to vote
. Yep, that's right, despite the genius that is the Virginia General Assembly, a separate class of voters has been created; one that requires two forms of identification to vote.
I want to believe the Governor and the Attorney General can work this out and find the way to resolve it by issuing an executive order that requires the new photo IDs contain sufficient information to allow a voter to vote. As I discussed in an earlier post about this absolutely inane law, the code was crafted in an effort to suppress the vote through subtle intimidation. It isn't quite working out the way Republicans originally intended. The offending affirmation on the application for the ID appears to have been removed. But as of now, the new ID is insufficient to allow Virginia citizens their right to vote. They are also required to bring an item that shows they live at the address where they are registered. Of course, that is in the small print somewhere, someplace where it is not evident...until election day.
Though I am certain that appropriate scrutiny by federal authorities would invalidate such a requirement, that requirement is not stated in the code making this a fight that would probably carry on beyond this fall's elections. So despite my adamant opposition to this law, it is time to call upon Governor McAuliffe to make it less wrong. Issue an executive order that directs the new identification card contain sufficient information to allow one to vote. Operative word describing the identification card: "Voter;" NOT "photo."
Yes, this will increase the lifetime cost of the statute because some of these voters will move and will require a new ID. But that is the burden of poor legislation: a tax on our legislators' ignorance borne by us.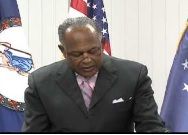 It must be tough being an elected Virginia Democrat; with Governor McAuliffe leaning on you to support his choice for the Virginia Party Chair. No matter where you stand or how this turns out, Terry will be there when the smoke clears. There is no public option. Tough business, this.
So really, the support for Dwight Jones coming from elected officials must be severely discounted. Many of them don't have a vote in this selection or have regularly failed to attend Central Committee meetings, so there they have no say either. And at this point, after the Boyd Marcus maneuver, they cannot be certain if there would be any consequences if Jones does not become Party Chair. The vote is closer than many will acknowledge and a secret ballot provides cover for the principled stand.
"Should Jones assume the chairmanship, it will be interesting to see how Democrats finesse painting Republicans as intolerant for embracing a view their own head of the party shares." - Richmond Times Dispatch Editorial
On the face, some pretty savvy members of the General Assembly have come across as illogically rationalizing their support for Mayor Jones. Calling the objections a litmus test or saying Jones is being denigrated is about the only way you can respond when your Party's Governor has leaned in on you. Rejection of litmus tests applies more appropriately to candidates for elected office, not to the face of the party. And what does it mean when you say Jones should get a pass because the Governor is at fault for the selection? If Dwight Jones aspires to be Governor, this may be his Waterloo. His choices are not what he wants them to be. They are to announce an incredible revelation or to step away. If he becomes Party Chair, he will spend four years documenting his inability to deliver on promises. Unlike
unsubstantiated claims of $40 million in capital investment
, failures to fill seats in the House of Delegates and state Senate are readily evident. Bad posture for one who will want to claim effective stewardship.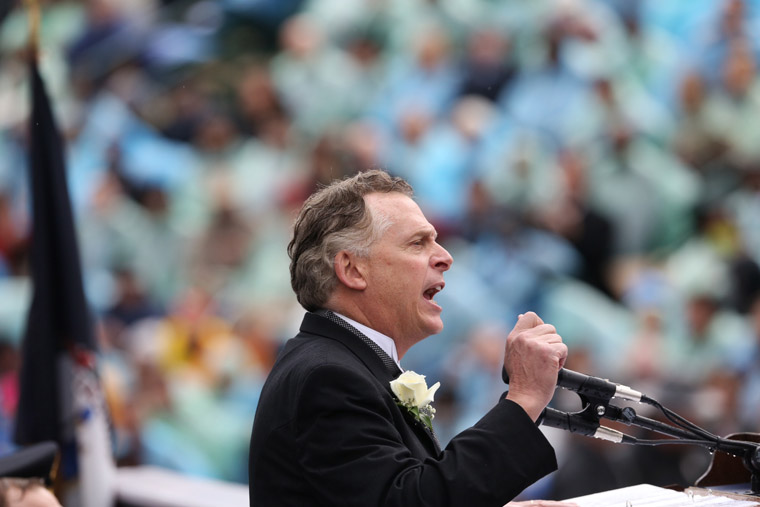 Now-Governor Terry McAuliffe's "sweeping" executive order that prohibits gifts above $100 on members of the executive branch may have set the tone for the governor's first day in office, but it also raised the expectations of those who see McAuliffe as Virginia's best chance of restoring the balance of political influence between the average citizen of Virginia and moneyed businesses and individuals.
McAuliffe's first day of governor of Virginia not only highlighted McAuliffe's vision for the commonwealth over the next four years, it also reminded Virginians of the scandals and controversy that engulfed the previous governor's final year in office. No executive administration in recent Virginia history made the contrast between the influence of moneyed groups relative to the average Virginian more stark than that of the McDonnell administration.
As one example, Gov. Bob McDonnell seemed to do everything he could to undermine the concerns voiced by Virginians over the issue of uranium mining, going so far as to exclude citizens groups from the Uranium Working Group while inviting Virginia Uranium, Inc. (VUI) lobbyist. Were it not for the adamant protests of citizens groups, it is highly likely that McDonnell would have asked for a regulatory framework to be written regarding uranium mining and milling before the moratorium was lifted, something the former governor's friends at VUI would have appreciated.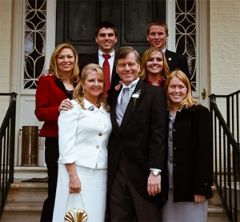 Let's make it easy for the grand jury. When you file a fraudulent expense claim, it is fraud. And when you receive compensation that you do not report on your taxes, it is tax fraud. Then when you file with your spouse, your spouse abets the fraud, Bob.
Governor McDonnell cannot credibly claim ignorance on the expense claims. He proudly advertises he is a veteran and his service continued until rather recently. Military personnel submit travel claims for reimbursement and during that drill, the definitions and implications of a fraudulent claim are clear to everyone. Then maybe the Feds should be investigating his military travel claims too. Maybe he "regularly" claimed an enema or whatever that bowel cleansing treatment was on those submissions. Regardless, he owes taxes on those false claims.
But that really is just minor compared to the potentially felonious fraud that the gift from Jonnie R. Williams represents. Sadly, Bob may have implicated his daughter Cailin too. You see, the presumption in the tax code is that any gift is taxable. There are reasonable exceptions that are outlined below the fold. This is all designed to prevent bribery and influence peddling from going unpunished.
There are really three circumstances affecting the status of the catering payment by Jonnie (I hope I can call you Jonnie):
Jonnie paid a bill for Bob McDonnell covering catering for Cailin's wedding in a quid pro quo arrangement that Bob must declare as income
Jonnie paid a bill for Cailin nee McDonnell covering catering for Cailin's wedding in a quid pro quo arrangement that Cailin must declare as income
Jonnie filed a federal gift tax return declaring a gift to either Bob or Cailin; basically attesting that there is no quid pro quo arrangement
Show us those tax returns and the dates they were filed. There's an amusing new meme floating around among conservatives desperate to salvage the sinking ship of Ken Cuccinelli's gubernatorial campaign -- namely, that he is "feared" by the Republican establishment because, while
they
are propped up by big business and crony capitalism,
he
is a man of the people, a superhero fighting to unleash liberty!
Here's how Mason Conservative put it (favorably quoted by Bearing Drift and Conservative HQ):
Make no mistake; you will never hear this blog claim Bill Bolling is a RINO. Far from it. But rather, Bolling is an establishment crony-capitalist conservative who, like his Dixiecrat forefathers, just wants to leave everything the same and let big business do what big business does. Cuccinelli is looking to apply true limited government principles and truly unleash capitalism in Virginia. Instead of our business being reliant on the federal government, state tax breaks, and giveaways he wants to create a commonwealth of opportunity and freedom.
You gotta give these guys credit: the Cuccinelli-as-Robin-Hood spin is a gem, and it's not like they have much to work with. But sadly, the facts don't accord with this fairy tale.
It's really not that hard to ascertain for whom our Ayatollah General is fighting. You can start with his donor list. Clearly, big businesses are not too afraid of him, since they are shoveling hundreds of thousands of dollars in his direction. Representatives of the fossil fuel industry seem particularly brave in this regard, as evidenced by the $352,341 they've given him from 2011 to 2012. That includes $52k from coal and fracking giant Consol Energy, over $25k from Big Coal company Alpha Natural Resources, $40k from Dominion, over $27k from Appalachian Power Company -- and at least $50k from the Koch brothers and their firm Intrust Wealth Management.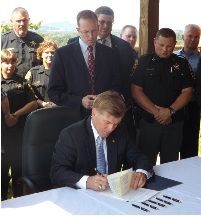 Virginia Delegate Rob Bell (R-58th) hails a set of laws directed at sex crimes against children he walked through the Virginia Legislature at the height of the Sandusky scandal. If they were so essential, why did it take Governor McDonnell months to "sign" them?
In fact, if they were anything more than gimmicks, if they solved any threat to public safety, why weren't they passed as emergency legislation? And why did their effective date pass without fanfare? Instead, last Friday, they provided a photo op for Bell's campaign for Attorney General.
Over the last two years in Virginia there have been 215 adults convicted of these vile crimes, and only 10 cases have resulted in life sentences. The median sentence overall was only 13 years. I believe the only sure way to keep other children safe is to keep these convicted sexual predators locked up for the balance of their lives. - Delegate Bell's AG campaign E-mail
And who was Attorney General over the past two years and in the years just preceding? Who was governor during those same two years? And when did either Cuccinelli or McDonnell ever mention mandated reporting for public and private college employees before the Sandusky scandal? Or condemn the Republican Pennsylvania Attorney General's foot dragging in the Sandusky case? The Kaplan Post says it's:
a test of principle versus partisanship
. It's really: choosing between riding with Romney or getting kicked to the curb. Virginia Republican legislators didn't give suppression enough thought. They could have suppressed the vote and still allowed McDonnell the veep seat.
These new restrictions fall most heavily on young, minority, elderly, and low-income voters, as well as on voters with disabilities. This wave of changes may sharply tilt the political terrain for the 2012 election and beyond. - Brennan Center for Justice
Requiring voters to show government-issued photo identification is a hardship on as many as 10% of the electorate. But that may not be as effective as more surreptitious methods. Limiting early voting is one. Another is making registration much more difficult. But Virginia Republicans chose the lightning rod.