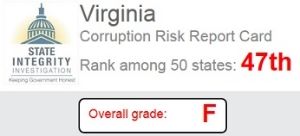 It isn't politicians alone. Commercial media never called out a horribly flawed Governor and Attorney General. Less than two dozen citizens showed up for a public forum on ethics. And the newspaper that hosted that event obscured references to specific instances of malfeasance. Truth is, it's always open season here.
Monday, the outgoing Lieutenant Governor issued a memorandum he penned proposing changes to existing ethics standards. Where was he when it was revealed that his fellow Republican statewide office-holders violated the very standards he proposes? Or anytime during his almost two decades in the Senate chamber? Wednesday members of the House of Delegates offered up what was termed a "sweeping bipartisan ethics reform agreement." The only thing it sweeps is the issue under the carpet. I am ashamed it's called bipartisan. And consistently the media has offered up little in the way of objective or substantive reporting on ethics violations.
Maybe the citizens of Virginia don't care that the state is rated one of the most vulnerable to corruption by the Center for Public Integrity. When the Richmond Times Dispatch held one if its Public Square events last October, it was sparsely attended. When it reported on the discussion, the transcript that publisher Tom Silvestri promised was delivered redacted, removing the most compelling discussion, much of which was about politicians the paper regularly supports.
A couple of things before I continue. No doubt Tom Silvestri would be a super game show host and is certainly an entertaining addition to any cocktail party guest list, but I wouldn't count on his paper or any Media General product for my news. Delegate Jimmie Massie (R-72nd) will come across in what follows as at best naïve and sometimes self-serving, but gives no cause to suspect his personal integrity. At least Delegate Massie puts himself out there and should be applauded for showing up and his openness during this discussion. But there are a number of things you might not know if you rely on the redacted transcript (or "highlights" to use the paper's term), you weren't among the twenty or so at the forum, or you can't find the full video online because the Times Dispatch has made that difficult to search by titling it Public Square 1008 on YouTube. This was Public Square 48. Using critical thinking skills Teresa Lewis apparently doesn't possess, you cannot reason out her punishment. McDonnell and those who judge Technicolor® events through a black and white lens rationalize killing her without further inquiry.
John Grisham
put forth the intellectual argument against taking her life. This is a bit more.
The governor has evidence that was not known by the judge who sentenced Teresa, according to James Rocap, Lewis's lawyer, showing that she was manipulated and involved by Matthew Shallenberger, one of the triggermen. Unfortunately, it is apparent that McDonnell confuses concepts and principles with actual execution. In this case, that will be tragic. Here McDonnell blends being "endowed by our Creator with certain unalienable Rights" with being endowed with equal faculty. Then he abets his intellectual indolence by relying on a legalistic interpretation of mental deficiency. This sloth will indeed be a deadly sin.
"Numerous psychiatrists and psychologists have analyzed Lewis, both before and after her sentencing. After numerous evaluations, no medical professional has concluded that Teresa Lewis meets the medical or statutory definition of mentally retarded." - McDonnell
True, she doesn't meet the "medical or statutory definition of mentally retarded;" by a hair on a scale that is by no means etched in stone. But it gives Taliban Bob something to cling to while he demonstrates his adherence to hard line principle by ending the life of a capital criminal with the muddled mind of a child.