 The Interview
In an wide-ranging interview with conservative John Frederick, Virginia State Senator Chap Petersen illustrates how little Democrats have learned about building upon their own values to frame and argue their commentary. Democrats almost endlessly embrace the other side's deceptive frames.
At the outset, let me say clearly that at the moment, we are not in a position to abandon natural gas in this county. But wantonly expanding the use of natural gas with reckless and widespread fracking is not the answer. In doing so, politicians and supporters of a runaway industry deny the very real negative impact on local aquifers and other bodies of water. They also ignore a host of other impacts of gas extraction, transportation,environmental degradation, and disruption. Apparent support for gas extraction has been built on the shoulders of expert industry propagandists. And most Americans, including most of our "leaders" have bought it hook, line and sinker.
Regarding the Mountain Valley Pipeline and the Atlantic Coast Pipeline, right-wing host John Fredericks said: "Obviously, the extreme left-wing environmental wackos going bananas over it; they go bananas over anything except wind, I would imagine." Fredericks claims the pipelines would bring jobs. Ignoring the false claim of meaningful numbers of permanent new jobs, Chap first responds that perhaps he is one of those "wackos." Note Chap's embrace of this negative frame for environmentalists. Chap tries to briefly align himself with those who are pro-environment and then quickly abandons them. He tries to have it both ways. But this is not before Chap had attempted, earlier in the interview, to carefully align himself with conservatives on several other positions. But that's a separate diary.
To assuage Democrats and those who care about controlling their own property, Chap says "you still have to respect people's rights." "You gotta pay people fair compensation." That should go without saying, but it doesn't in eminent domain cases, particularly in the fracking era. Initially, landowners are enticed to believe they can get rich. A few landowners might make a considerable sum. The rest reduced housing values and even, in numerous cases, suffer ruin. It gets worse. (Please follow below the fold...)
Many of you have been bombarded with pleas for money to help Democrats regain the Virginia Senate majority; a noble cause. Well, you should ask three questions before you contribute a dime: Is there a strategy for success? Where is your money going to end up? Will you suffer remorse?
On this or another of Lowell's blogs, I asked at the end of one particularly disappointing campaign where I go to get a refund of my contributions. After that campaign I decided that I wouldn't contribute to any campaign whose candidate doesn't share my core values and doesn't have a chance in hell of being victorious. In the special election for Phil Puckett's abandoned seat, the Democratic candidate fails quite possibly both criteria. I say quite possibly because we may never know what the insiders now know from polling in the district. Frankly, if I were to venture a guess, I'd bet he is at the general starting point for the generic Democratic candidate in the region: 37%. And, we already know he is joined at the hip with coal. That's a pragmatic position; I understand that. But he is unabashedly supportive; his position is not nuanced in any way. I can tell you I won't regret not contributing on both counts.
I have also learned not to contribute to any committee that claims to support my candidate(s). There are simply too many ways my contribution won't end up in my candidates' coffers. The Virginia Senate Democratic Caucus funneled $410,168 to Phil Puckett in 2011; the 3rd highest individual beneficiary. That would mean that of each dollar from that group that went to an actual candidate, 13.9% went to Puckett. Oh, and in any case only about 49% of all Caucus expenditures went directly to Virginia Senate candidates even when including a big chunk, $224,500, which went to an independent candidate in the 19th. But it's a broader issue. Your direct contributions to other candidates also ended up in Russell County: $15,000 from Chap Peterson; $5,000 from Dick Saslaw; $2,500 from Janet Howell; $1,000 from Don McEachin. I have contributed to at least one of them; I never will again. I don't need them deciding my money should go somewhere I didn't send it. Note that it is not only the Senate Caucus and not just at the state level where this is a common betrayal.
However, it is the strategy for regaining control of the Senate that concerns me most. The focus right now looks extremely tactical: fight the good fight in the 38th. But I believe Sun Tzu would advise differently. You don't reinforce failure; that is complete folly. I have met some great Democrats in the 38th, but even with the power of incumbency, Phil Puckett won that district with 53% of the vote after spending $1,365,143. He outspent his opponent by about a quarter million dollars. We Democrats are in no position to raise the amount of money that it will take to pretend we might win the 38th. And when that cash we don't have is gone, where does that position us for the races in 2015?
On election night 2015, we shouldn't be wondering if the money we wasted in 2014 could have turned a red tide in the Virginia Senate. In 2015 if we choose wisely we might even gain a seat or two for the high price of none in 2014. I'm glad to see indications that Democrats are unifying around the party's nominee, Babur Lateef, to take on raging xenophobe Corey Stewart for Prince William County Board Chair!
Chap Petersen Endorses Babur Lateef for Chairman

Woodbridge, VA --- Today Dr. Babur Lateef, Democratic candidate for Chairman of the Prince William Board of County Supervisors announced that his campaign has received the endorsement of State Senator Chap Petersen. Senator Petersen has served in the State Senate since 2007 and served in the House of Delegates from 2001 to 2005.

"I'm proud to endorse Babur Lateef for Chairman of the Prince William County Board of Supervisors. Having met Babur and heard his vision for Prince William, I am convinced he is the type of young and energetic leader that will unite the County and move it forward in a business-friendly way. Babur is focused on Prince William and its citizens, not higher office. He will be a citizen-lawmaker in the best Virginia tradition" Senator Petersen said.

Upon receiving Petersen's endorsement Dr. Lateef noted that he was humbled by the support. "Senator Petersen is a role model for Democratic candidates and for elected officials. I believe Senator Petersen represents a new era of Democratic politics in the Commonwealth and his energy and focus as a candidate is unparalleled. I am humbled by his support and I look forward to working together as partners to bring a new vision to the Northern Virginia region."

Senator Petersen joins Congressman Jim Moran and others in endorsing Lateef's candidacy for Prince William County Chairman. Lateef, an eye surgeon from Woodbridge, quickly established himself as an energetic challenger to current Chairman Corey Stewart, whose naked ambition for higher office has proven to be a disservice to Prince William County's more than 400,000 residents. Dr. Lateef was the top Democratic fundraiser in the state in the first quarter, raising over $150,000 in just 71 days.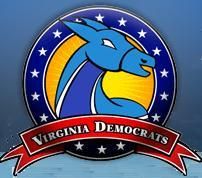 In the lead-up to the selection of a new Party Chair, the new Executive Director of the DPVA rolled out an initiative to provide a weekly update. A new chair was selected who emphasized "communications" to the Central Committee. Brian Moran said "We must communicate with our grassroots activists..."
That was three weeks ago. That first update was featured on the grassroots blogs. It garnered 623 views as of today. Two weeks ago we got our second weekly update. Actually, we didn't get it, we had to look for it. Message to DPVA, your site is not compelling enough (actually not compelling at all) to get traffic and to use as a primary communications tool. As of this morning it had 140 views. After this, a few more will have been added; maybe. Want a reason to watch? How about this highlight:
"As a former member...well actually I still am a current member...I hope soon...of the Alexandria Democratic Committee..." - Brian Moran, DPVA Chair
There's some communicating. Oh, and the third installment is overdue. But from the beginning, the concept was awkward. What does the DPVA think the audience for these "updates" is? If it is the Central Committee, fine. If it is Democrats, not so fine. If it is the grassroots, fail. Mr. Mills as a narrator, fine. Mr. Mills on the front line going after the other guys, not fine at all. Where are the members of the legislature going after all this budget craziness from Bob McDonnell? On the blogs, like this one. Where are the grassroots staying informed? Not here.
Communications. Blah. Grassroots. Blah, blah.