by Lowell Here are a few national and Virginia news headlines, political and otherwise, for Saturday, August 24.  The EU Can Push Bolsonaro to Save...
It's the princes of carbon pollution, the Koch Brothers! They rank 4th in the newest Forbes 400 list of the wealthiest Americans, up from 5th last year. In fact, the fortune of
Charles
and
David
shot up 14% just from March to September 2011.
What's most interesting - despite the Koch brothers' war on President Obama and crazily overheated rhetoric against him, the Koch brothers' fortune has grown wildly during President Obama's first term. It's up 79%, from $14 billion each in March 2009 to $25 billion each in September 2011.
Wait ... you don't think the Kochs' opposition to Obama is about an extremist political crusade and not sound economic policy, do you? Nahhh.
Cross-posted from The Green Miles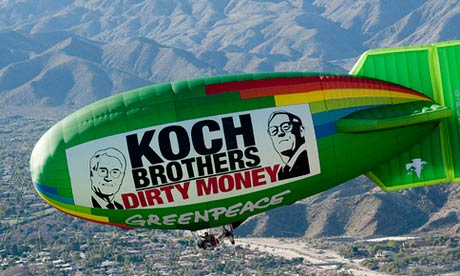 If you haven't already heard the big news, the bi-annual Koch billionaire bonanza list of all-stars was revealed exclusively to Mother Jones via audio recording. Not surprisingly, the list is a who's who of American billionaires who enjoy throwing millions of dollars at U.S. politicians and attempting to destroy anything with a "big government" taint on it. So now that the public has at least a partial list of this anti-regulatory, anti-middle class, group of Koch-stars, what's to be done about it?