UPDATE 11:58am: Warner & Webb voted with Sen. Inhofe. Disgraceful. Fortunately, 53 other senators stood up for public health & killed the bill.
Not only is Sen. Jim Inhofe's bill to block new Environmental Protection Agency mercury standards horrible public policy that would kill a lot of people, a new United Technologies/National Journal poll finds it's wildly unpopular with voters:
A new United Technologies/National Journal Congressional Connection Poll finds that 57 percent of the public supports a recently-finalized Environmental Protection Agency rule controlling mercury and other toxic air pollution from coal-fired power plants as long as companies are given more time to comply.

The poll found that a similar majority-55 percent-thinks EPA should be able to control greenhouse-gas emissions that most scientists agree cause climate change. Just slightly more than one-third of the public-36 percent-said Congress should stop EPA from such regulation. A federal court is expected to rule soon on whether the agency is within its right to regulate greenhouse-gas emissions.

The poll's findings put a majority of Americans out of step with Senate Environment and Public Works Committee ranking member James Inhofe, R-Okla., who is sponsoring a measure coming up for a vote on Wednesday that would nullify EPA's mercury rule entirely. Just under 20 percent of survey respondents said the Senate should vote to uphold the rule as it stands now, while only 14 percent said the Senate should vote to get rid of it.
Again, I'd
ask Senators Mark Warner and Jim Webb
:
This is a hard call? Really?
Which part is a tough call, the part where it lets corporate polluters profit by treating America's air and water like an open sewer? The part where people with asthma die? Or the part where it's incredibly bad politics?
Today, the Senate is expected to vote on a bill by Sen. Jim Inhofe (R-OK) to block the Environmental Protection Agency from setting science-based standards for mercury and other toxic pollutants.
That Sen. Mark Warner & Sen. Jim Webb are considered "swing votes" by the coal mining industry is a sad statement about how the Democratic Party of Virginia remains pathetically in the back pocket of the coal industry
.
Pollution from coal-fired power plants is a major cause of asthma attacks. Historically in America, rather than address those causes, we enjoy "cheap" electricity, then let people get sick - 20 million Americans a year have asthma attacks, with 2 million of those being treated in the emergency room, and 5,000 people a year dying. Economists call those people externalities - costs that don't show up on your power bill.
Thirteen years after public health and conservation groups started pushing the Clinton administration to strengthen clean air standards, the Obama administration finally delivered last December, unveiling new rules. But electric utilities and their allies, led by Sen. Inhofe, are trying to block the rule, giving $9,313,822 to Congress so far this cycle alone (61% to Republicans). Virginia parents, despite their inability to write the large checks demanded in this post-Citizens United world, are fighting back:
As you probably know, Blue Virginia - and RK before it - has not exactly been a big fan of Dominion Virginia Power. In fact, we're the ones who coined the slogan, "Dominion: Global Warming Starts Here." In general, I think it's fair to say that we look at anything and everything Dominion does with skepticism at best. Still, there are times when it's important to give credit where credit is due.
In this case, as you can see from the graphic, Dominion Virginia Power's emissions of major pollutants - SO2, NOx, and Mercury (Hg) have been plummeting, and are forecast to continue plummeting in coming years. Now, obviously, a lot of that is due to Dominion simply complying with what the law makes them do, while another part is due to Dominion switching away from dirty coal to cheaper - and also cleaner - natural gas. In addition, I'd really like to see a similar graph for what's arguably the most important emission of all - carbon dioxide, which is contributing to potentially catastrophic global warming. Still, what this graph displays is progress, and I think it's fair to give Dominion at least some credit for that. What do coal-fired power plants and AG Ken Cuccinelli have in common? They both blow smoke. Unfortunately, it's not certain which form of smoke is more dangerous for Virginians. On the one hand, coal-fired power plants don't know they are killing thousands of individuals each year. They're not sentient human beings. Ken Cuccinelli, on the other hand, is a (quasi) sentient individual who has to be fully aware that regulating mercury will dramatically reduce American's exposure to this toxic substance. Or is he?
In an interview earlier today on The Kojo Nnamdi Show, Cuccinelli claimed that the EPA has produced no demonstrable benefits that "holds up for the mercury piece" that would justify sending electricity rates "through the roof." No demonstrable benefits, really? How about thousands of saved lives and prevented birth defects, learning disabilities, and respiratory diseases as demonstrable benefits?
Moreover, Cuccinelli claims to care about the well-being of "poor" Virginians like those living in the Appalachia and Southside areas, so much so in fact that he has not come out publicly in opposition to lifting the uranium mining ban in Virginia. Moreover, why doesn't Cuccinelli complain about the seemingly frequent rate hikes asked for by Virginia's utilities and rubber-stamped by the VA State Corporation Commission?
During the same interview on The Kojo Nnamdi Show, Cuccinelli made another unsubstantiated claim: Since 1998 there has been a nearly 60% reduction in mercury output in the U.S. without direct regulation. Aside from the fact that Cuccinelli sites no references for his claim (maybe it was the same conservative think tank that disavows global climate change?), how many lives would have been saved, among other factors, had there been an 80% reduction, assuming for the moment that the 60% cited by Cuccinelli is accurate. That is, what if government regulation helped reduce mercury output by 80%, 90%, 95%, instead of 60%, how many Americans lives would be better today?
It's decisions like this one which are exactly why we all need to vote for Democrats, not Republicans. No, Democrats aren't perfect by any means, but can you imagine this type of pro-environment move coming from a Gingrich or Romney or Perry or Paul administration? No, I didn't think so.
For more on this historic action towards protection of our air and water, see here. Also check out David Roberts' analysis, which concludes that this one is a "bona fide Big Deal" - in a very good way.
The following press release is the Sierra Club and Environment Virginia. Hmmmm...perhaps we should revise our slogan from "Dominion: Global Warming Starts Here" to "Dominion: Mercury Poisoning Starts Here?"
New Data Reveals the Heaviest Mercury Polluters in Virginia
Dominion is the biggest mercury polluter in the state; while American Electric Power (AEP) claims the title of biggest in the nation

ALEXANDRIA, VA - Today, representatives from Environment Virginia and the Sierra Club released new data on airborne mercury pollution emitted from coal-fired power plants throughout the nation with an emphasis on Virginia. The data reveals Dominion as the biggest mercury polluter in the state with a total of 491 pounds while American Electric Power (AEP) claims the title as biggest mercury polluter in the nation with 6,220 pounds emitted in 2010.

Mercury is a dangerous neurotoxin that harms children and pollutes the environment. Coal-fired power plants are the largest source of mercury pollution in the country; emitting 2/3 of all airborne mercury pollution. Once in the air, mercury falls into waterways with rain or snow, where it builds up in fish and enters the food chain. Even a small drop of mercury is enough to make the fish in a 25-acre lake unsafe to eat.

"Parents in Virginia shouldn't have to worry that their children's bodies are toxic dumping grounds," said Caroline Kory, State Associate for Environment Virginia. "The Environmental Protection Agency (EPA) is moving forward to protect our children's health from toxic mercury pollution, and we can't let big polluters stand in the way."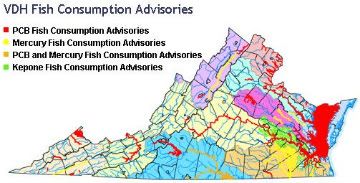 If past is prelude, there's no reason to believe those who would explore and develop uranium resources will be good stewards of Virginia's environment. What we do know is that when they do make common industrial mistakes or worse, we won't need a map and the damage will be irreparable.
Forget the fact that those on board with the uranium scheme are many of the same fighting the Environmental Protection Agency. Just look at the history and the environmental degradation already extant in Virginia. The contamination of our surface water is extensive. Uranium extraction offers the opportunity to do the same and more for groundwater. This map shows the effects of poor industrial practices on rivers and bays. The proposed process for extracting uranium promises to extend the opportunity for environmental damage to drinking water supplies. At least testing for the contamination will be much simpler; and offer another neat gadget for Brookstone stores to stoke sales.
Virginia comes in 14th-worst on a
new ranking of states with the most toxic air pollution
from coal- and oil-fired power plants, according to an analysis by the Natural Resources Defense Council, released jointly with Physicians for Social Responsibility (PSR). Ohio, Pennsylvania and Florida have the highest levels of toxic power plant pollution.
The Environmental Protection Agency is planning new rules to limit the toxic pollutants such as mercury, but those limits are coming under attack from friends of coal & oil in Congress:
The EPA estimates that the reductions of toxic pollution required by the pending "Mercury and Air Toxics" standard would save as many as 17,000 lives every year by 2015 and prevent up to 120,000 cases of childhood asthma symptoms. The safeguards also would avoid more than 12,000 emergency room and hospital visits and prevent 850,000 lost work days every year. These standards are expected to be finalized in November; the agency is taking public comments on its proposal until Aug. 4, 2011.

"Coal pollution is killing Americans," said Lynn Ringenberg, MD, of Physicians for Social Responsibility. "It is America's biggest source of toxic air pollution. Air toxics from coal-fired power plants cause cancer, birth defects, and respiratory illness. Just one of those air toxics, mercury, damages the developing brains of fetuses, infants, and small children. It robs our children of healthy neurological development and native intelligence.

"Poisonous power threatens the health of our kids and families. As a pediatrician for over thirty years, I urge us absolutely to support the EPA's efforts to reduce the health threat from coal."
Tell the EPA, Senators Warner & Webb, and your member of the U.S. House to
back strong mercury pollution standards
.
Famed science deniers
Willie Soon
and
Paul Driessen
, both of whom have worked for groups that accept cash from Exxon Mobil to pretend global warming isn't happening, have a new crusade:
Mercury denial
!
That's right: They have an op-ed in Wednesday's Wall Street Journal claiming that breathing toxic mercury isn't bad for you.
Willie Soon, astronomer. And Paul Driessen, lobbyist with a degree in geology. Expertise in public health? Limited. Willingness to take cash from the coal polluters that pump tons of mercury into our air every year? Extensive.
What's that? You want to know what actual medical researchers have to say about the subject? Fine, have it your way:
Even though "multiple monitoring systems across the Commonwealth continue to show no levels of public health concern," the Virginia Department of Health is warning residents to
avoid drinking rainwater collected in cisterns
.
You have to wonder: If insignificant health risks posed by a distant nuclear disaster are worth a health update, why isn't VDOH giving constant updates on the known devastating effects of coal?
Mercury contamination is so widespread that one out of every six pregnant women have mercury levels in their blood high enough for levels in the fetus to reach or surpass the EPA's safety threshold for mercury.

According to the latest government data, this means that 630,000 children are born each year with a strong chance of developing serious mercury-related health effects.

According to the American Lung Association, 24,000 people a year die prematurely because of pollution from coal-fired power plants. And every year 38,000 heart attacks, 12,000 hospital admissions and an additional 550,000 asthma attacks result from power plant pollution.
Now that's truly terrifying. Dozens, hundreds, even thousands of people may be killed in rare nuclear disasters (to say nothing of the
risks posed by uranium mining
). But
coal kills tens of thousands of people every year by design
.
Unfortunately, the risks we've known & lived with for years aren't nearly as good at scaring up ratings as the new & unknown ones. Isn't that right, Nancy Grace?