Yesterday, a group of us Young Democrats went to make our voices heard before the Republican Loudoun County Board of Supervisors. Our intention was to draw attention to the bad processes they're using to limit public input, overturn laws the previous board took great care to craft and implement, and ram through an extreme, pro-development agenda. Our message was simple but resonated with those in attendance: slow down, listen to the people, get the right feedback.
By every measure imaginable, the action was a great success. We held signs inside and outside the board room which caught the attention of the supervisors and others in attendance, a few of us spoke before the board and implored that they begin listening to Loudoun residents, other attendees adopted our theme and likewise pleaded with the Republican Board to actually listen and consider before making decisions on the issues they brought before them, and we even got Scott York to respond to our charges and make some statements that will enable us to hold the board accountable in the future.
We also were able to get the Loudoun Times Mirror to come and cover the action, as you can see here - we're happy to get press on this issue so we can begin to push back against this reactionary Board, but we need your help! Right now in the comments, the usual suspects have shown up to tear down our efforts and engage in personal attacks. I'm used to this sort of thing, but we can't allow them to engage in these sorts of tactics against some of our youngest Democrats, who are wading into politics for the first time.

Please, click on this link and tell these bullies to stand down! We're starting to push their buttons, which is why they've sent out their attack dogs, repeating some of the talking points Scott York introduced just yesterday. We have to let them know that we won't just stand by as they ram through their agenda and attack fellow Democrats.
The newly elected Republican Board of Supervisors has been making some drastic changes to the way it conducts business in Loudoun County. After only four business meetings, the Board is working to rescind many of the decisions passed down by our previous supervisors, and it is doing so while placing limitations on input from the community.
In these meetings, the Board has voted to revisit or overturn at least four landmark decisions of the last Board. One of these is a vote to limit public input by eliminating the senior e-comment program that allowed those seniors physically unable to attend meetings to visit their local senior center and record a message to the Board to be played during the next Public Input session. This decision was made with no consultation with the Commission on Aging, and no comparable solution has been put in place.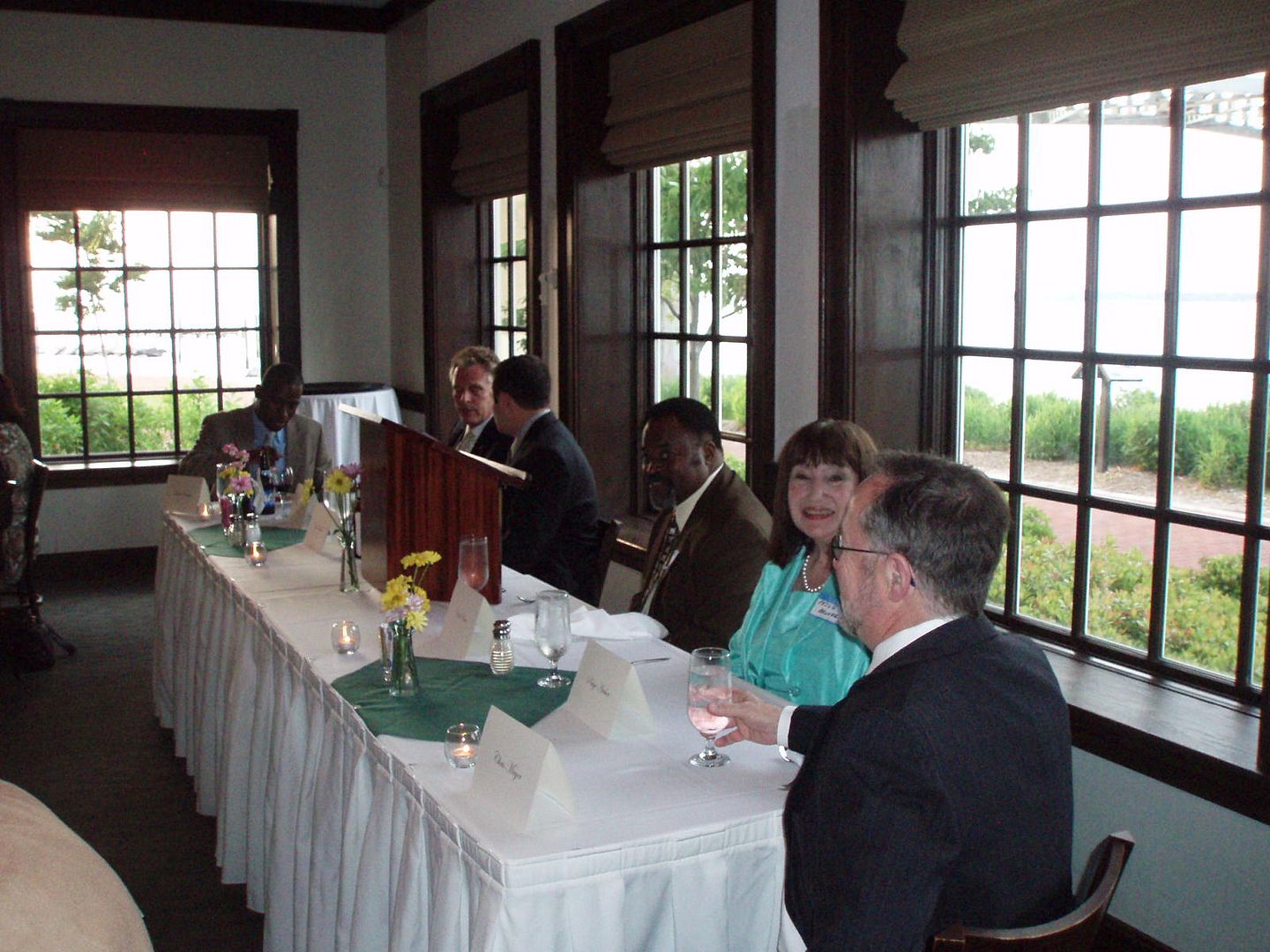 With the banquet room at Yorktown's
Riverwalk Restaurant
packed with an enthusiastic capacity crowd of Democrats and Senator Mamie Locke (D-2nd) and Delegate Robin Abbott (D-93rd) joining Terry McAuliffe to stir them up, you could forget for a moment that the fortunes of Democrats in Virginia have waned of late.
Thursday evening, this group enjoyed camaraderie and shared the messages of party veterans in a collegial gathering. The warnings were clear and matter of fact. Virginia is on the verge of a veto-proof Republican majority in the House of Delegates. It might not matter who the next Virginia Governor is; the Republicans look like they have a lock on 68, maybe 70 seats this fall. What happens to issues like women's reproductive rights, which Locke and Abbott emphasized as a fundamental Democratic principle, is called to question. McAuliffe asked aloud what good it would accomplish to elect a Democrat as Governor in 2013 who has no power over a Republican dominated legislature and called for a greater effort to elect delegates statewide.
This was an evening with discussions on issues of substance. More will follow on both Senator Locke's and Delegate Abbott's remarks as well as Terry McAuliffe's wide ranging address to the group. But what was impressive about this gathering was the sense of unified purpose and motivation to fight the good fight in an area not Democratic at all. If only the DPVA could harness this spirit and spread it throughout the state.