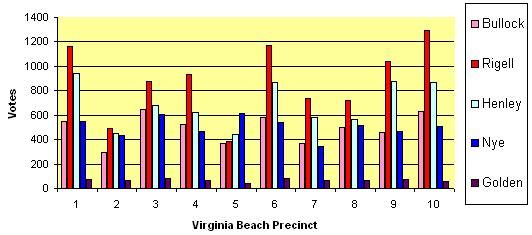 Frame it any way you want: Black at the Beach is a tough political road.
Tanya Bullock
self-identifies as Republican. Though there are city council "districts," every voter votes in every race. Meanwhile, local political leadership demonstrates prejudice and tolerates the prejudiced. Tanya Bullock failed election during Rigell's overwhelming win.
What does Tanya Bullock's performance at the polls tell us?
Does the insensitive leadership of the RPVB manifest the social outlook of the Virginia Beach electorate?
Is that general social outlook reflected in an electoral system that makes it virtually impossible for a black candidate to prevail in local races?
Tanya Bullock is a Virginia Beach attorney. She was
endorsed by Governor Bob McDonnell
, a fellow Regent University Law School alumnus. She happens to be black. After last week, she might be wondering who her constituency is.
Republicans are not good at math (see the McDonnell ABC disaster), so this might wear on them a bit. That's why a picture is worth a thousand words and millions of calculations. This graph is not cherry-picked. It is representative: the first 10 of 95 precincts. The remainder of the data follows below the fold. At first glance what you see appears to say that Tanya doesn't know who her constituency is. Barbara Henley was the Democrats' candidate. Councilwoman Henley is white. Apparently a lot of Republicans (and Modern Whigs) preferred her for some reason.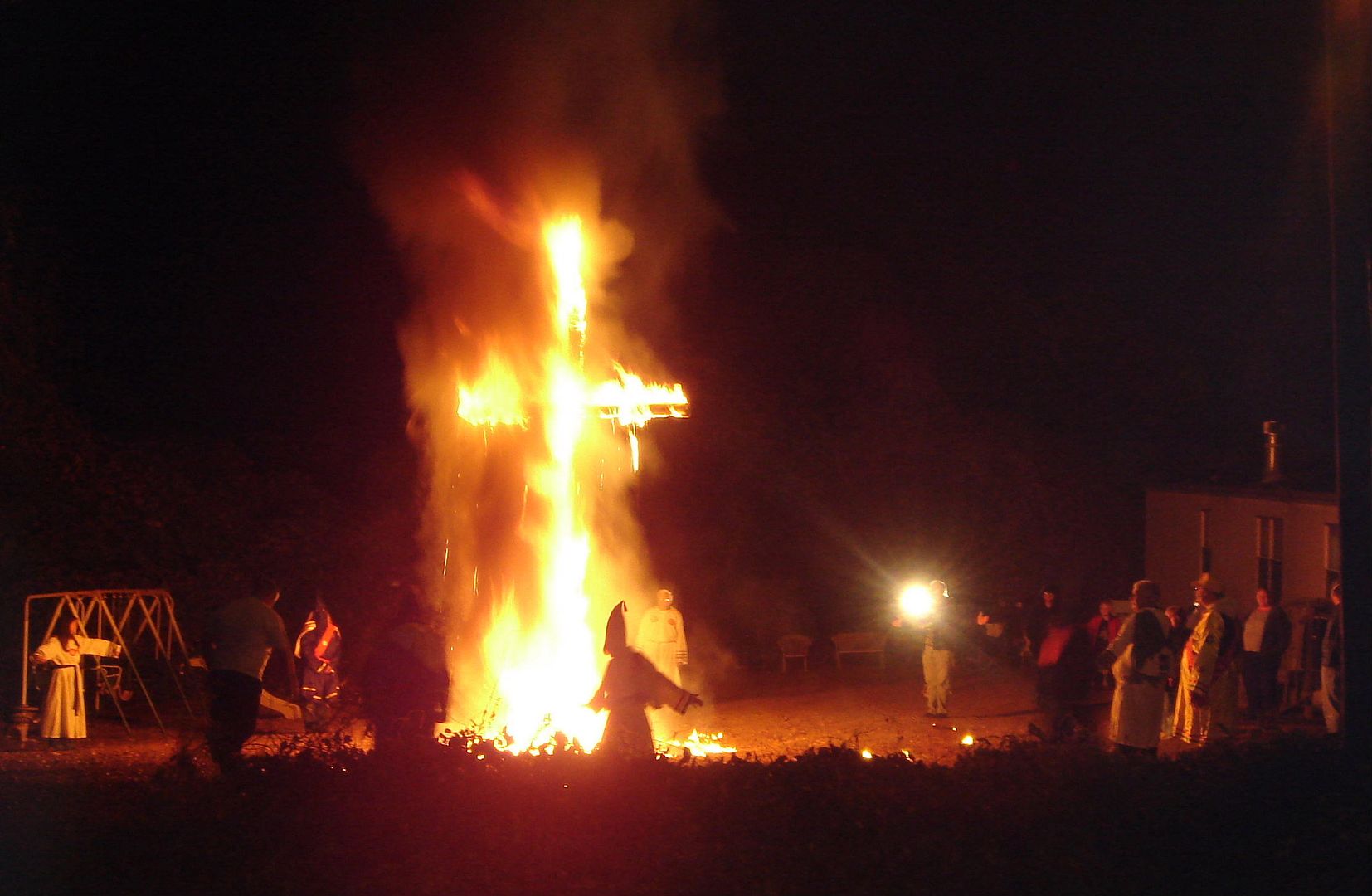 A lot of people just don't get prejudice. They don't know when to let its rationalization lay. But that should not be surprising when they also don't know how to support their arguments; reducing them to mere beliefs. Beliefs require faith and we lost faith in conservatives long ago.
You see, the value of conservatism, and yes, I acknowledge there's value, is that it should help keep us from throwing the baby out with the bathwater. Unfortunately, too many "conservatives" see the water as sublime soup and the baby as a too demanding obligation.
One of the problems with prejudices is that you can dress them up, but you can't take them out. Unfortunately for the Republicans in Virginia Beach, someone or two walked their dog of a prejudice and that has revealed the ugly face of racial animosity subtly harbored within the local leadership. There are no two ways around it and a simple admonition complaining "stop sending those E-mails" ignores the root problem. Despite all the obfuscation and attempts to blame the E-mail on an accident and denials of receipt, the way it works is that you send E-mails to what you have determined to be a like-minded community. And when members of that community fail to distinguish themselves by taking exception, their silence speaks volumes. Not one person who received either E-mail has produced any E-mail that divorces them from like-mindedness.
"As a matter of fact, the point that they made was that Karen Beauchamp hasn't been in a leadership role in the party since 2001. Well I got news for you, Karen Beauchamp was one of the hardest workers we had in the Republican Party, and she was the one who organized the headquarters every single day. And both she and Dave Bartholomew were responsible for Bob McDonnell's success in 2009. It certainly wasn't Kenny Golden; I'll tell you that." - Kenny Golden to Tony Macrini on WNIS There's a connection between the Virginia Beach Republican Party (VBRP) Chair (former) and George Allen. It is Kenny Golden. The three of them present as models of objectivity. And all three of them are at best ignorant and at worst, well, racially intolerant. Maybe both. Golden failed twice. Will Allen?
You see, Kenny received that now famous E-mail back in the day; you know, a few months ago when Dave Bartholomew was learning about this new internet thing and accidently forwarded a racially charged joke to the six people he deliberately added to the "To..." list.
The e-mail was dated March 15 and sent from the address that Bartholomew uses as party chairman. Bartholomew forwarded it without reading the contents when "he was first getting familiar with the Internet," -- Gary Byler, the 2nd Congressional District GOP chairman as quoted in the Virginian Pilot
So, did Golden respond to the E-mail he received from his successor as the Virginia Beach Republican Party Chair with a cautionary note? Or did he forward the E-mail to his college chum, George Felix Allen who also found it unobjectionable? That's the problem once you've unveiled your intolerance. There's always that nagging doubt. Just as with polls done for the Democratic Congressional Campaign Committee, it's hard to know what to make of polls commissioned by the National Republican Congressional Committee. With that disclaimer,
here are the results from a new poll
by the NRCC on Virginia's 2nd Congressional District:
In Virginia's 2nd district, Rep. Glenn Nye (D) trailed car dealer Scott Rigell (R) by 5 points. The Congressman took 40 percent to Rigell's 45 percent. Independent Kenny Golden, a former Republican, took 7 percent. The survey of 400 likely voters was conducted by the GOP firm Ayres McHenry & Associates Sept 23 to 26 and had a 4.9 point margin of error.
That 5-point lead for the used car dealer (Rigell) is just outside the statistical margin of error, so right now it looks like the 2nd CD could go either way. That's assuming, of course, that the GOP polling is accurate, which we can't really know since we aren't privy to the "internals" of the poll. How about we just call this race a tossup and leave it at that?
Yesterday, while being endorsed by something called the
Modern Whig Party
(seriously!), 2nd CD independent candidate (vs.
Rep. Glenn Nye
and Republican nominee
Scott Rigell
)
Kenny Golden
endorsed Ron Paul for Speaker of the House. The only problem with Ron Paul is that he's about as extreme as you can get in American politics. A few of his ratings from
Project Vote Smart
: ZERO from NARAL Pro-Choice America; ZERO from Defenders of Wildlife Action Fund; ZERO from the Humane Society; 8% from the NAACP, 100% from the Eagle Forum; F from the National Education Association; ZERO from the American Association of University Women; ZERO from the League of Women Voters; ZERO from the League of Conservation Voters; ZERO from the Children's Health Fund; ZERO from the American Public Health Association; ZERO from the AFL-CIO; ZERO from the Military Officers Association of America; ZERO from the Federation of American Societies for Experimental Biology; ZERO from NETWORK, A National Catholic Social Justice Lobby; F from the Drum Major Institute for Public Policy; F from the Iraq and Afghanistan Veterans of America; ZERO from the Sargent Shriver National Center on Poverty Law; ZERO from the American Association of University Women; etc., etc.
Plus, let's not forget his "decades worth of obsession with conspiracies, sympathy for the right-wing militia movement, and deeply held bigotry against blacks, Jews, and gays." Other than that, he's a great choice for Speaker of the House. Nice job, Mr. Golden! The three Congressional candidates in Virginia's 2nd CD -
Rep. Glenn Nye (D)
,
Kenny Golden (I)
, and
Scott Rigell
(R) - debate this evening in Virginia Beach. Right now (7:30 pm), there are only 10 people watching this on the live feed, so apparently there's not a lot of interest (or it wasn't well publicized, or both), at least online.
UPDATE 7:33 pm: Glenn Nye just said we should extend the Bush tax cuts for everyone, including the wealthiest. And he wonders why progressives aren't excited about him? Blech.
UPDATE 7:45 pm: The Shad Plank reports, "All three of the campaigns blanketed Virginia Beach Boulevard with yard signs just in case there was any doubt about the extra traffic in central Virginia Beach - and there's a serious crowd filing into the auditorium at Princess Anne High School." Also, "attendance is very solid for and August debate - but then again this district has been a target for Republicans since the day that Nye beat Thelma Drake in 2008 - so it's no surprise to see a healthy turnout."
UPDATE 7:50 pm: Of course, the other two candidates are total wingnuts, at least from what we're seeing at the debate tonight. Right now, Kenny Golden is talking about repealing health care reform and how wonderful Ken Kook-inelli's lawsuit is. Next up, Scott Rigell talks about how health care reform will destroy America, how he will vote to "defund it," blah blah blah. Glenn Nye brags about how he "listened to my district" and "stood up to my leadership" on health care reform. Blech. Vivian Paige tweets, "I'm one of your constituents @GlennNye and you did not vote the way I wanted on healthcare." Amen!
UPDATE 7:59 pm: The candidates compete over who can be a stronger advocate for veterans. And the ustream feed dies...we'll see if it ever comes back. I recently had the opportunity to interview Kenny Golden, independent candidate for Congress in the 2nd congressional district of Virginia (currently represented by Democrat Glenn Nye). The interview is fairly long, so I'm breaking it up. You can
read Part 2 here
. Enjoy.
Blue Virginia Question
In at least two instances now, Scott Rigell has been asked, on camera, for his opinion of Senator Webb's GI Bill. In both cases, Rigell has refused to answer. Why do you think Rigell won't respond to a simple question regarding whether or not he supports the GI Bill for our veterans?
Kenny Golden Answer
I have no idea why Scott would choose not to answer a very straightforward and reasonable question. It certainly makes him appear reluctant to address an issue that is very important to those of us who have served on active duty. Moreover, it makes him appear weak on the issues and reluctant to engage in unscripted conversation. The public deserves to know how a candidate stands on a particular issue.
The Post 9/11 GI Bill was an important step in helping our promises to our veterans. Actually, my daughter and I both benefited from its contents. She is leaving active duty after 13 years and heading for Veterinarian School at NC State. (I hate the Wolf Pack, I lost a cartilage down there) She will earn her degree completely through the new bill. We can't underestimate it's positive effect on the All Volunteer Force either, but there are still many things we must do especially locally here in the 2nd at both Portsmouth Naval Hospital and the VA Hospital in Hampton.
Blue Virginia Question
Recently, there was a "Freedom Fest" rally in Norfolk with Sarah Palin, Oliver North, George Allen, Bill DeSteph and other figures from the far right of the Republican Party. Scott Rigell chose not to attend, you apparently were not invited, and a couple of conservative bloggers were evicted. What is your opinion of "Freedom Fest," of Sarah Palin, and of the hard-right social conservative wing of the Republican Party? Also, would you have spoken at this rally if you had been given the chance?
Kenny Golden Answer
Based upon what I heard in the beginning, I actually thought "Freedom Fest" was going to be more of a Tea Party event. I know there had been some excitement expressed by various people associated with that movement. I viewed it as an event at which those concerned with the fiscal situation of our country could gather, not so much as a social conservative gathering. However, as things progressed it became apparent that it was to be a Republican "Love Fest" expressly for Scott Rigell. I was and remain extremely disappointed with Steve Batten, as he twice promised to recognize me in the audience. In fact, he saw me at the rally and confirmed that, but failed to show the courage to make that a reality. Rigell's sponsorship, along with that of Gary Byler probably prevented him from doing so. I was hurt by his failure to recognize me, particularly in light of several very personal conversations Steve and I shared.
That said, yes, I would have taken the opportunity to speak had I been asked. As an Independent, I need to reach out to all people. George Allen and I go way back to our days as football players at UVA, when we were roommates. We may not agree totally on all issues, but I still consider him a good and valued friend. I certainly would not have had a problem being on the same stage with him.
I recently had the opportunity to interview
Kenny Golden
, independent candidate for Congress in the 2nd congressional district of Virginia (currently represented by Democrat
Glenn Nye
). The interview is fairly long, so I'm breaking it up. You can read
Part 1 here
. Enjoy.
Blue Virginia Question
What attracts you to today's Republican Party and where do you differ? Same question for the Democratic Party.
Kenny Golden Answer
I am not really attracted to either party at this time. I think the partisanship that the two parties have developed over the past few years has been detrimental to the country. There is a severe shortage of statesmanship in Washington. It's time that we do what is good for the country, rather than what is good for a particular political party.
Blue Virginia Question
Given that you've been a Republican for many years, why are you now running as an independent? Do you believe the Republican Party has shifted to the right in ways that make you uncomfortable? Or, are there other reasons for leaving your long-time partisan home?
Kenny Golden Answer
Actually, I am running as an Independent because the Republican Party strayed from its values. Under President George W. Bush, government expansion and spending were anything but Republican in nature. Spending was out of control under his watch along with then Speaker Dennis Haskert. President Bush could have taken action to stop it, but never once did he exercise his veto authority during his entire tenure in office, the first in over 200 years to attain such a record. Thus, spending went totally out of control and, unfortunately, it has worsened under our current leadership.
I recently had the opportunity to interview
Kenny Golden
, independent candidate for Congress in the 2nd congressional district of Virginia (currently represented by Democrat
Glenn Nye
). The interview is fairly long, so I'm breaking it up. Here are the first two questions, which respond to a post by Shaun Kenney
on conservative blog Bearing Drift
in which he charged that there are now "two Democrats to choose from" in VA-02. More to follow, but for now, enjoy!
Blue Virginia Question
According to Republican blogger Shaun Kenney, writing recently on "Bearing Drift," your candidacy now means that "VA-02 has two Democrats to choose from!" According to Kenney, "there isn't much that distances Golden from the policies of Glenn Nye and any so-called centrist progressive." Do you agree or disagree with these characterizations of your candidacy?
Kenny Golden Answer
The problem with Shaun's assessment is that it is based on a single issue: abortion. I do not believe the Federal Government should be involved in the Pro-Life/Choice issue. First of all, this issue should be decided at the state level. In other words, invoke the Constitution's 10th Amendment. Furthermore, you can't go around preaching smaller government, claiming to be a conservative, while at the same time promoting legislation that involves the Federal Government in a decision that is extremely personal. Take a look at the website and you'll see "Give a Child a Chance", my idea for curtailing abortions as much as possible.
My personal position is definitely anti-abortion. However, it is my personal religious belief and is not something I should impose on another. I'm married to a staunch Catholic, and Francie and I decided long ago if our daughter became pregnant we would keep the child and or help raise it outright. Fortunately, we didn't have to face that problem. I certainly don't think that makes me a centrist by his definition. A Constitutionalist, yes, but certainly not a centrist.
Also consider this: Unlike both of my opponents, I never once supported an issue that would have lead to a greater tax burden on our citizens or one that would have increased the scope of government. The GOP nominee cannot make this claim. So perhaps Shaun got the names of his second Democrat crossed up. He's still a great friend and I told him I owe him a beer next time down for helping me with the Democratic vote.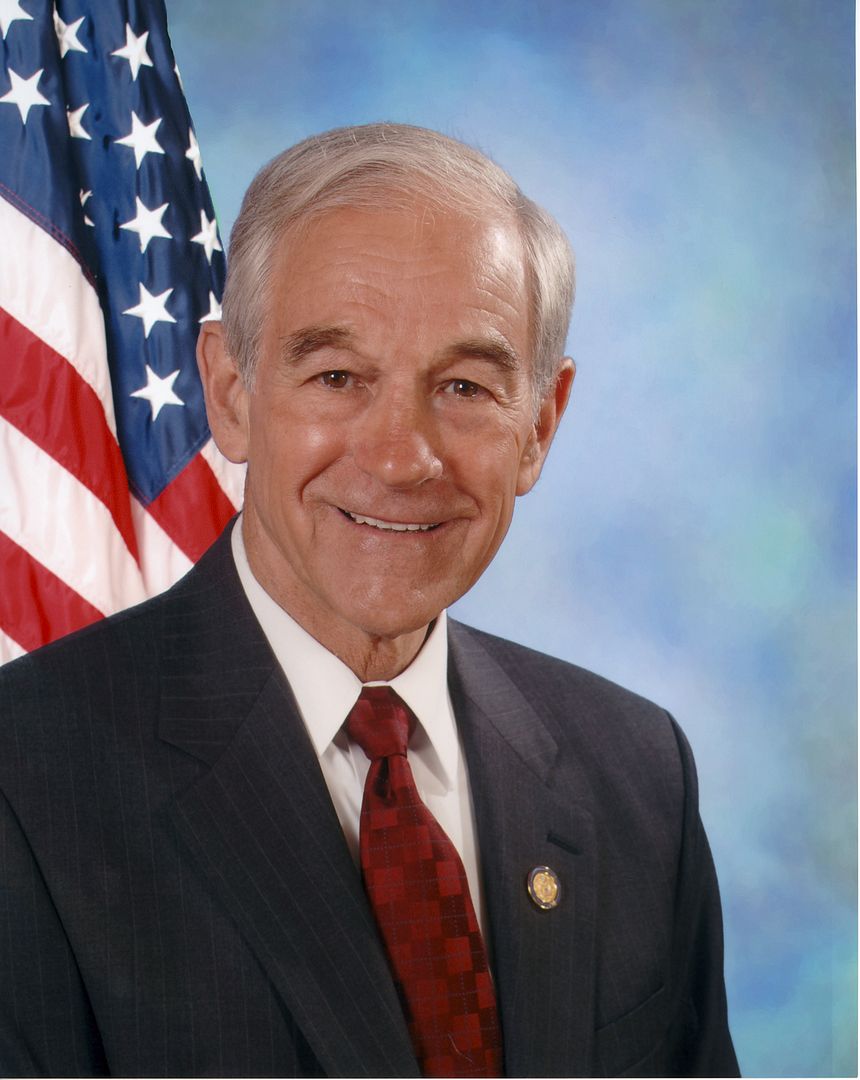 Kenny Golden, independent candidate in the Virginia 2nd Congressional District who proposes a widened conflict in Afghanistan and war in Pakistan announced via tweet that he is off to court Ron Paul's support today. Golden, who sailed by Pakistan in the navy, justifies the incursion by citing the tragedy of 9/11.
A Virginian Pilot reporter suggests that an endorsement from Paul could generate significant Hampton Roads Tea Party support. But, this fanciful scenario requires the Congressman from Texas to abandon the Republican Party candidate, Scott Rigel, and reverse his position on the adventures in Southwest Asia.
Golden has garnered the endorsement of another Texan, Democrat Kinky Friedman. Support from Virginians is less forthcoming.