by ArlFiber HB 1052 – Fight Not Over This article was originally posted at https://arlfiber.org/posts/. It's partially an account of ArlFiber members' attempts to get a...
More good stuff from Sen. Mark Warner's office: WARNER URGES FCC TO TAKE IMMEDIATE ACTION TO TACKLE DIGITAL DIVIDE AS MORE AMERICANS DEPEND ON INTERNET AMID COVID-19 OUTBREAK ~ Urges...
This piece is running in newspapers in my very red congressional district (VA-06). ***************************** There's much about how the world has changed in my lifetime for...
First off, there's a lot of misinformation out there (some of which is being spread by Republican Congresscrooks who voted earlier this week to... Cross posted at Daily Kos
Had enough of the brain-dead "debate" over government in Washington? Well, Aneesh Chopra -- President Obama's former Chief Technology Officer (CTO) and a 2013 candidate for Virginia Lieutenant Governor -- has some actual new ideas to offer.
In his new book, Innovative State, Chopra paints a picture of government on the model of a sleek, high tech startup, engaging citizens and solving problems by opening access to information and finding innovative new ways to meet our highest goals.
Progressives recognize the need for government to help citizens build and maintain a civilized society. But to be effective, we have to push our governments to keep up with the speed, efficiency and challenges of the Internet Era. As Chopra puts it:
Americans have always understood that government is not some sacred entity with which the people should not tamper. It is a tool. Like other tools, it needs to be revised and upgraded to remain useful.
As he notes, America's founders junked their first attempt at self-government -- the Articles of Confederation -- after only 8 years when it proved inadequate. Why cling to outdated and inadequate government models today?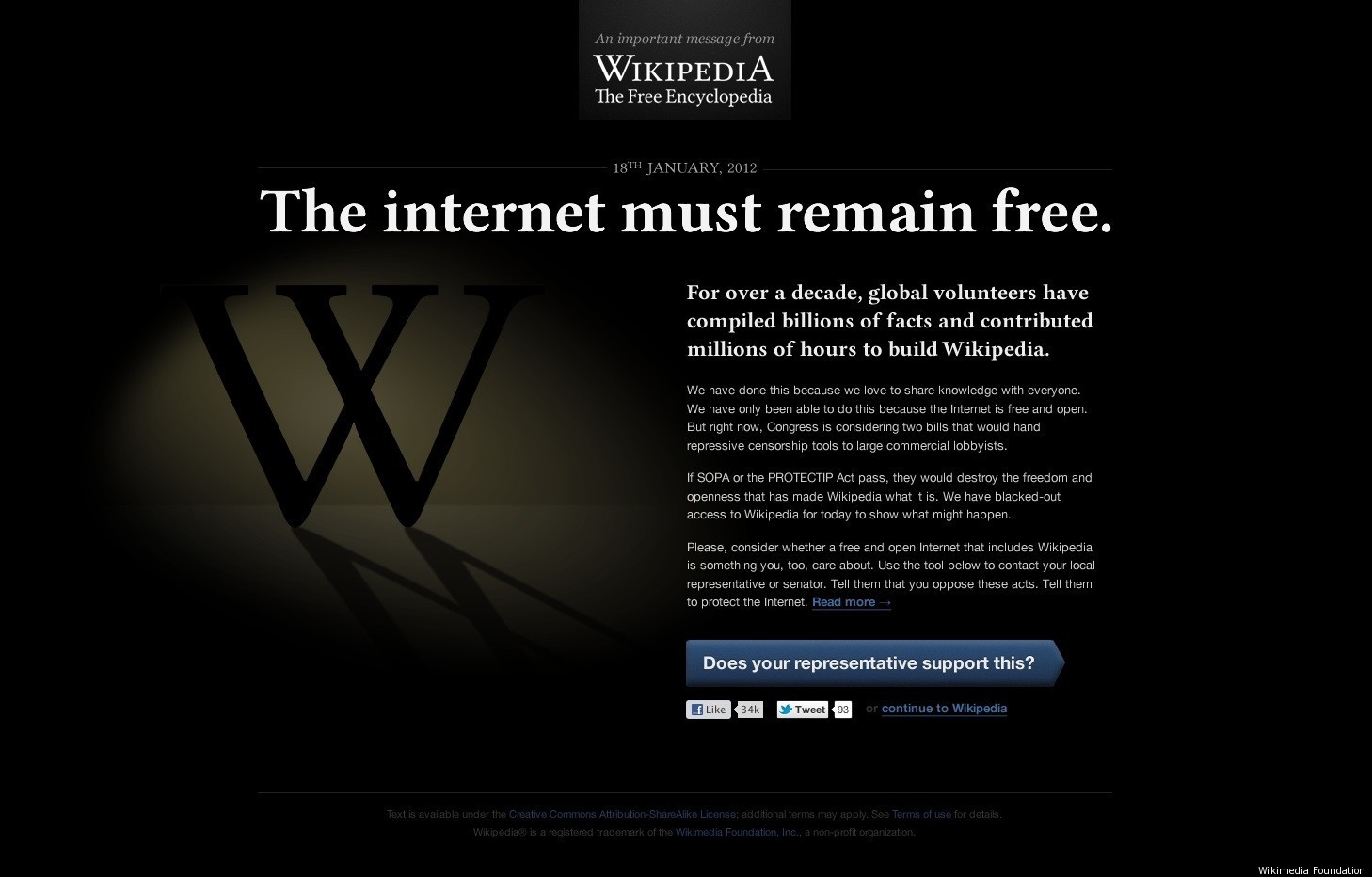 It's pretty hard to go anywhere online today without noticing a blackout - even Google's logo has joined the cause. Wikipedia explains the
action
:
SOPA and PIPA represent two bills in the United States House of Representatives and the United States Senate respectively. SOPA is short for the "Stop Online Piracy Act," and PIPA is an acronym for the "Protect IP Act." ("IP" stands for "intellectual property.") In short, these bills are efforts to stop copyright infringement committed by foreign web sites, but, in our opinion, they do so in a way that actually infringes free expression while harming the Internet. Detailed information about these bills can be found in the Stop Online Piracy Act and PROTECT IP Act articles on Wikipedia, which are available during the blackout.
The bills have shattered party lines. According to
ProPublica
, in Virginia only Rep. Bob Goodlatte has come out for it, standing with liberals like Senators Barbara Boxer & Al Franken. And only Rep. Jim Moran & Sen. Mark Warner have come out against it, standing with conservatives like Representatives Michele Bachmann, Ron Paul & Paul Ryan.
It's an issue on which your voice really could help decide the position of your representative and Sen. Jim Webb. Today Wikipedia will help you locate your member of Congress through any page. If you call your member of Congress and get an answer on their position, let us know in the comments below!
UPDATE 1:31pm: Rep. Gerry Connolly's office tells me he opposes SOPA as well.