Many have proposed that the current "blackface" crises at the top of the Virginia government have created a "teachable moment," that it presents an... Even though I swore off doing another series of diaries at Blue Virginia on past, present, and future trends in politics, I've been thinking a lot about where our Commonwealth stands.
Governor McAuliffee is ready to keep up the fight on Medicaid expansion in Virginia
, while also laying down the foundation for
a fight with the General Assembly over redistricting
. As we prepare to enter into 2015, here are some random, at times disjointed thoughts on Virginia's present and future.
1. On the expansion of Medicaid, the issue isn't just about what the Commonwealth will do for the least fortune among us. Thinking about a practical blank check from the federal government to do more today for struggling Virginians is a timely issue on the eve of Christmas. There is also an argument for asking why Virginia should be paying for the Affordable Care Act without receiving its full benefits.

But after the Supreme Court's ruling, Republican governors and legislatures in state after state rejected the expansion. Rejecting the Medicaid expansion, however, doesn't exempt a state from the taxes and spending cuts Obamacare uses to fund the Medicaid expansion. A September analysis from McClatchy estimated that "if the 23 states that have rejected expanding Medicaid under the 2010 health care law continue to do so for the next eight years, they'll pay $152 billion to extend the program in other states - while receiving nothing in return." That's a helluva gift from (mostly) red states to (mostly) blue ones.
In the next term, the Supreme Court will rule on the claim that the law does not allow for subsidies for health insurance plans purchased on the federal exchange. Depending on the ruling, the Republican Party's opposition to participating in the health care law will mean even fewer dollars going to Virginian families.
2. I haven't seen a detailed analysis of the Medicaid eligible population by House or Senate district, but the numbers I've seen based on localities indicate that this is not just a moral issue in 2015, but a political winner in areas like Prince William County.
3. Medicaid expansion links well to redistricting reform. While usually such insider baseball is not the stuff of political campaigns, it bolsters the imagine of the Republican Party standing opposed to progress and reform.
But if that's where we are in 2015, where are we going? Virginia is changing rapidly, and I think the great Yogi Berra's observations ring true. "You've got to be very careful if you don't know where you're going, because you might not get there."
What's the vision for Virginia Democrats not just in 2015, but long term?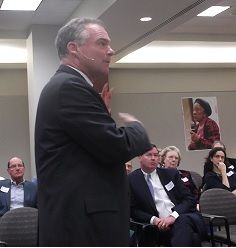 Going to war is serious business. Senator Kaine (D-VA) believes that those in whom that power is vested should follow a deliberate process and that the executive should be bound by the decision. The Constitution is not vague about the responsibilities but the world presents circumstances that are.
In an attempt to clear up any misunderstanding about the authority to commit forces to war, Senator Kaine has joined with Senator McCain (R-AZ) to offer legislation that will establish a process to ensure the judicious application of military force. Yesterday's participation in the Richmond Times Dispatch Public Square series was part of Senator Kaine's effort to gather "comments, suggestions, criticisms..." in a strategy to shape and craft the bill.
Tacitly, President Bush followed the requirements of the War Powers Act, a law passed in 1973 following the frustration over the prosecution of the Viet Nam War. That was designed to rein in the initiative of any President using military force but written with both Johnson and Nixon in mind. Johnson had the support of a Congress that never imagined the scope of involvement that would precipitate. Then Nixon attacked two countries, Laos and Cambodia, without consulting Congress. To be honest, no President went as far as Bush to conform to the letter of the War Powers Act. The others managed to avoid anything more than consulting with Congressional leadership and always went on their merry way. However, the fact that George Bush appealed for authority may be more revealing about how thin he knew his justification was and that he needed cover rather than indicating sincere regard for the law. Plus the timing of the request appears suspiciously politically motivated.
Further, the authorization that Congress gave President Bush has no sunset or clearly defined achievable objective. As long as it remains in effect, Presidents can and will chase any remnant or offshoot of al Qaida's ghost, real or imagined, while waving the authorization as justification for centuries to come. So, even if you argue that he and his successor have acted under the authority of the War Powers Act, you observe the same result that arose before the Act, different day: war(s) with a scope never imagined when authorized, being fought in second, third (fourth, fifth...) party countries. Senator Kaine's obsession with the subject is more than justified.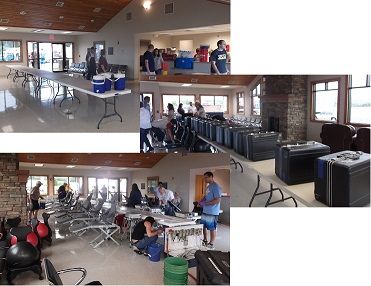 There's always a story behind the story and sometimes one belies the other.
Remote Area Medical (RAM)
is a godsend; make no mistake about it. But like any private sector organization, the transparency or accountability we demand from government is not always evident. Today's "conservatives" would never acknowledge that.
Watching and taking part in the transformation of a rural air terminal into expeditionary specialty clinics, dental and vision, is not an immersion in military precision. It almost can't be when much of the labor is borrowed. The effort resulting when organization is flattened results in stove-piping. The raw volunteers care about pitching in and recognize the limits of their ability to contribute to technical assembly of the equipment. There are enough seasoned volunteers that as long as the boxes and bags are lined up at their assigned places, they can readily and efficiently assemble and order materials; in their areas. The lack of organization and efficiency among the unguided volunteers is more than compensated for by their numbers and camaraderie. From pitching tents (probably the most organized effort), to setting up tables and chairs, to moving crates and boxes, the unbridled activity ends in mission accomplishment.
This is at the tactical delivery end. Strategically there is always another view that is masked by the appearance if not the reality of good intentions. My father had no time for the American Red Cross. After raging battles on isolated Pacific islands during World War II, the Red Cross sold donuts to the Marines and sailors ashore; the Salvation Army was there handing out goods gratis. Guess which organization he favored. My wife cannot turn down a request for a donation from Saint Jude's in Memphis despite having no clue who Danny Thomas was; it's those children. On the other hand, when I see anyone collecting donations to benefit our military service members or veterans, I challenge their credentials on the spot. I wasn't as discerning with RAM until I saw the DC-47 (a WWII DC-3 configuration) touch down in Lee County. After all, RAM had been endorsed via association by both of Virginia's United States Senators, our current Governor, and General Assembly members from both sides of the aisle.
The shad are running and Virginia politicians will swim with them today. Last year Democratic candidates gave the Wakefield Ruritan event a cold shoulder. The event's organizers made an insincere attempt to dampen the tea party spirit, discouraging stars and bars. This is a charity event, they cried, after all.
This year Virginia's senior Senator Mark Warner will deliver the keynote and his almost certain Republican opponent will make one of his rare public appearances. It will be informative seeing if Team Warner laid the groundwork for a more civil and less homogeneous atmosphere than this annual carnival for reactionaries nourishes. Earlier this year, they stumbled out of the block when, despite refusing to commit to Democratic events closer in than 60 days, they accepted the Shad Planking appearance well in advance. Maybe, tied to an old playbook, they failed to notice that last year's Democratic statewide success demonstrated the irrelevance of the event. One would hope that the acceptance came with some assurance that the event would be more civil, sane, and inclusive.
The impact of the "traditional" sign war has diminished considerably since the Kaine and Webb surprises during the past decade. When this became a war of paid "volunteers" it was no longer a genuine indicator of anything more than a campaign bankroll. And if the intent is to make this event relevant, where is the outreach from the Ruritan Club or encouragement from more progressive constituents to draw in displays and support from the Democratic Party, the NAACP, or the LGBT community?
So what will today provide? Boney fish, cold beer, and the themes that Senator Warner will employ to shore up and broaden his own constituency, an impressive coalition of common interests. This could also provide the national bellwether for the Democratic strategy that will be used to counter this year's onslaught by Republican reactionaries against the Affordable Care Act. There couldn't be a more promising petri dish.
Welcome to this twelve-part series looking at the challenges, obstacles, and future possibilities of Virginia Democrats. If you've missed past diaries, follow these links: Day One, Competitive Districts. Day Two, Turnout Problems. Day Three, Past Mistakes. Day Four, Downstate Democrats. Day Five, Unchallenged Incumbents. Day Six, Present Opportunities. Day Seven, Democratic Trends. For today's poll, I'm asking about your early support for Governor in 2017.
On the eighth day of Christmas, the Commonwealth of Virginia gave to me ...
Swing voters, that crucial demographic of people who voted Romney-Kaine, or Cuccinelli-Northam-Obenshain, or even were crazy enough to go for Sarvis!
In the last half-decade, Virginia Democrats have seen a range of elections that allow us to roughly identify geographic areas of ticket-splitters. I'm talking about folks who came out and voted for Mitt Romney and Tim Kaine. Or switched back and forth in 2013 between Sarvis, Northam, and Obenshain. Or even McDonnell-Wagner-Shannon! It's all possible.
For three years we have heard that Virginia is enjoying budget surpluses. All the while, a series of gimmicks have been employed that will unravel during the years to come; some immediate, some long term. Terry McAuliffe would be well advised to determine baselines that provide context for funding obligations.
Ken Cuccinelli was right when he claimed that taxes would increase during a McAuliffe administration; what he failed to point out was that they also had consistently increased during the current administration and would under his own. The difference will be that Governor McDonnell was allowed to borrow against the future and underfund capital requirements, in effect levying the tax on his successors and generations to come. Cuccinelli would have done much more of the same. Such maneuvers by the coming McAuliffe administration will not be met with the deafening silence afforded the current administration.
Maintaining the Illusion of Surpluses
The Virginia Retirement System (VRS) "loan" amortization, the legislatively mandated 20% annual contribution deficiency, and total unfunded pension obligations
Education infrastructure maintenance, capitalization and re-capitalization underfunding
Transportation infrastructure maintenance, capitalization and re-capitalization underfunding
Positive growth of revenue streams; particularly from areas such as agricultural production where weather and markets are beyond the influence of state government but have had a good run
Terry McAuliffe should conduct an audit early on so that the inevitable future claims of fiscal malfeasance can be placed in context when the bills come due. This one must be much more honest than the audit by McDonnell's team which made claims like turning up over $100 million that had been "mismanaged" by the Department of Transportation during the Kaine administration (conversely, McAuliffe should make certain that operating funds and reserves have not been drawn down). No, this audit should nail down underfunded and unfunded obligations that are currently, to a great extent, off the books. Some will come due during the next four years; some will continue to grow otherwise unacknowledged until they explode with consequences similar to the Detroit pension crisis.
"McAuliffe leads Cuccinelli in Virginia governor's race!
That is the type of story I want to wake up to on a brisk autumn morning. But look beneath the headline-worthy results and there are some big concerns ahead for Virginia Democrats. There is just over a month remaining to avoid another 2005-style outcome, where the joy of sending Tim Kaine to follow in Mark Warner's footsteps was mixed with the agony of defeat for the rest of our statewide ticket and disappointment at the lack of coattails in the General Assembly. Like any good remake, the cast of characters in 2013 is different from the 2005 original, but the ending may be the same.
In 2005, Jerry Kilgore ran an offensive, dirty campaign against Tim Kaine. The tax increases passed by the Republican General Assembly divided Kilgore's party; his campaign was a bumbling effort to avoid attacking the turncoats that helped Mark Warner while also promising to roll back the historic revenue increase that provided for a significant investment in public education. Usually if you can't say anything nice, you're not supposed to say anything at all, but Kilgore instead found that his only message was to go negative against Tim Kaine. We all remember the October ad referencing Hitler and Tim Kaine's religious and moral objection to the death penalty.
Kilgore's fate was sealed, but only narrowly. Russ Potts, a moderate Republican exiled by his party's primitive proto-Tea Party wing, provided a vehicle of protest for moderate Republicans fed up with Kilgore. Polling as high as 4 to 5 percent in the month before the election, Potts received just over 2% of the vote. It might not sound like much, but it's the highest showing for a third party candidate for Governor of Virginia since William Story's 13.38% in 1965 as a Virginia Conservative (ignoring Henry Howell's 49.28% in 1973 when the Democrats did not run a candidate). A minor shift of other swing voters to Tim Kaine, based primarily in the suburban counties across the Commonwealth, made up the rest of the margin of victory over Kilgore.
In 2013, the Republican Party of Virginia has replaced the country bumpkin Kilgore with the Tea Party zealot Ken Cuccinelli. Faced with a signature legislative accomplishment, Cuccinelli turned hard right against Governor Bob McDonnell's transportation plan. This split could have provided an opening for Bill Bolling to run as an independent, a choice that Big Bill is probably regretting right now as he watches the no-name Sarvis polling in the double digits. Like Kilgore, Cuccinelli cannot run on any legislative accomplishments from Richmond, and now finds himself without a popular Governor to latch his campaign to. When you don't have anything positive to say about yourself, the only campaign tactic left is to attack your opponent and drag them through the mud.
Last month, passing through Memphis, I read Sunday morning's
The Commercial Appeal
. Striking was how well in a single issue it gave a sense of the city and its people, something uncommon in a Virginia newspaper. And one column caught my particular attention; it reminded me about Shad Planking.
I really don't care if anyone takes this personally. In fact, if they do, then maybe there is reason. In that Memphis paper, Wendi Thomas wrote of a coming storm: the Ku Klux Klan's Easter weekend appearance in Shelby County. Like a lot of single issue voting blocs, this group had seized upon an insult to a founding father, Nathan Bedford Forrest, whose name had been removed by the city council from a Memphis park (where he rests today).
"Because nothing says Valentine's like venom toward people of color, gays, Jews, immigrants and Catholics, on February 14, the Loyal White Knights of the KKK applied for a permit to rally outside the county courthouse." - Wendi Thomas in The Commercial Appeal
The position that I found relevant to the Shad Planking was Thomas's common sense appeal to ignore the fools; enjoy the weekend with friends and family instead. And it is pleasing to see that the same spirit has caused
Democrats to blow off this year's version
of the once relevant event that has completely lost its gravitas, becoming a carnival side show appealing only the gullible. Its effects are contained by its isolation and I don't mean geographical. Turns out that like the rally in Memphis this event is a tempest in a teapot.
I caught
Mudcat being interviewed this morning on MSNBC
by Chuck Todd.
The entire interview was not particularly interesting. Todd is a generic television political analyst who tends to base his reporting on the conventional wisdom, occasionally channeling the analysis of the last political operative to plant an idea in his brain (lately, he seems to have developed a good source in the Romney camp, based on his reporting). Both of those skills were on display for the majority of his chat with Mudcat. Meh.
Mudcat did explain that he did not see the Commonwealth as a "purple" state, but rather still as a "red" state, based on the makeup of the General Assembly. At a local state level, he is without doubt correct (and it must look extremely red from his perch down there in Roanoke), but thanks to continuing demographic changes and a growing urban population, particularly in NOVA, the picture is not quite as clear on a statewide basis. It is now possible for Democrats to statewide elections without attracting significant numbers of "independents" to its side.
Indeed, at the very end of the interview, Todd asked about the whether Democrats could offset losing that "independent" vote in the Commonwealth (which Todd sited in the Southern D.C. suburbs, the Northern Neck, and the more rural areas of Hampton Roads), and Mudcat had an interesting response: