by Lowell Here are a few national and Virginia news headlines, political and otherwise, for Wednesday, April 8. Pandemic Grips Britain With Johnson Still in...
I couldn't agree more with Sen. Tim Kaine and Rep. Elaine Luria (D-VA02) on this: Acting Navy Secretary Modly calling Captain Ccrozier "stupid" is...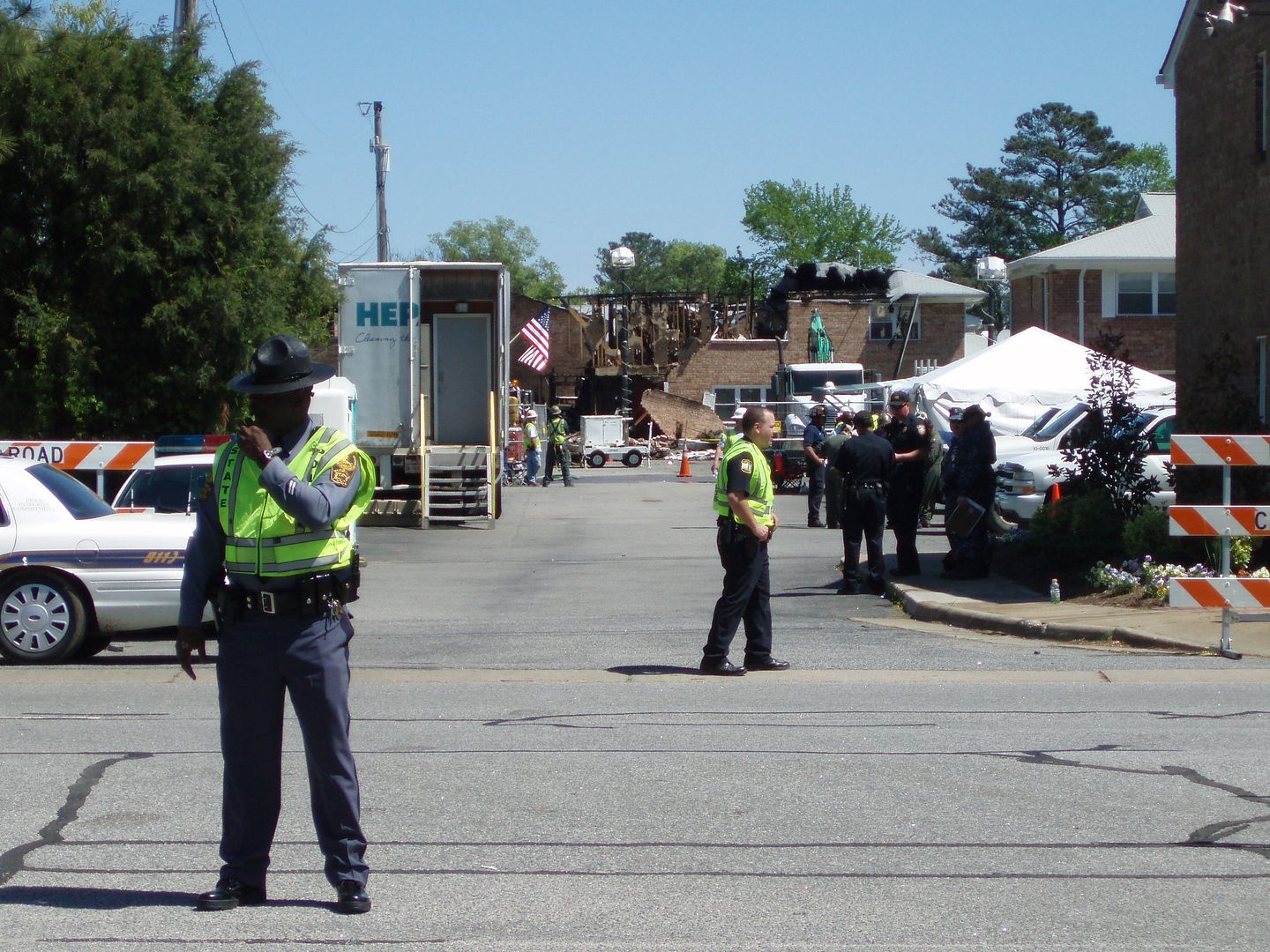 Virginia Beach's Miracle at 24th Street has turned into something of a celebration. But it uncovered local and national friction points thought resolved by most. It opened a window on the readiness of the local government to respond and the character of many of the local leaders.
Make no mistake, the amazing efforts of first responders, fire, police, and Emergency Medical Services, frame this event. Yesterday City Councilman Bill DeSteph was out early passing along the good news. He had been at the site until late Friday evening and he was exuberant as he commended the performance of all involved and the news he had just received that all the residents had been accounted for. He described details of the process he'd observed the prior evening including putting floor wax down at the scene to capture carbon fibers from the wreckage. And he was proud of the community response providing housing and assistance to those displaced.
It's a combination of miracle and a combination of training and professionalism. You really understand what these people go through and how they're selected and why they're selected. It's situations like this. And that goes for the first responders who run into fire when everyone else is running away. - Mike Imprevento
The navy has indicated a catastrophic mechanical failure may be at issue in this mishap. There could be many other factors such as a bird strike or, less likely, foreign debris on the runway that can cause a structural issue (recall the crash of the Concorde where metal that had fallen off another aircraft caused the catastrophe). It might also be a hydraulic or electrical failure. Yesterday on his local radio program, Mike Imprevento helped provide a broader context to the entire event with guests New York attorney Daniel O. Rose, former naval aviator who practices aviation, maritime, and products liability law and local media personality Joel Rubin. The
Virginian Pilot
has extensive coverage of this story, including the video below. Also, I've posted Sen. Mark Warner's statement below. Crazy stuff; let's just hope that nobody was killed, although "Virginia Beach Mayor Will Sessoms said the crash likely resulted in fatalities."
UPDATE
: Good news per
AP
-- "Officials say six of the seven people injured when a fighter jet crashed into a Virginia apartment complex have been released from the hospital."
STATEMENT OF U.S. SEN. MARK R. WARNER
~ on today's Navy jet crash in Virginia Beach ~

All of us are grateful for the quick and effective efforts of Virginia Beach emergency personnel to assist dozens of residents who sustained damage or loss.

What is truly remarkable are the multiple stories of neighbors and bystanders who sprang into action immediately, without regard to their own safety, to assist our military pilots and help our first responders. Virginians have a proud tradition of strong support for our military, and the men and women who serve in Hampton Roads are our neighbors, friends and family members.

By all accounts, this flight crew took extraordinary action in an effort to minimize casualties on the ground, and all of us are grateful for that. I expect this accident will be thoroughly investigated by Navy officials, and I will continue to monitor events as they develop.
It's a story we're hearing more and more often - the military is increasingly turning to renewable energy solutions because they simply work better than dirty energy sources. Testing is underway on the
latest innovation
at Virginia's Fort Story:
The Navy's Explosive Ordnance Disposal Training and Evaluation Unit 2 in Virginia has been testing five prototype lightweight field power kits that include solar cells as a key component. The kits replace fifty pounds of equipment with a compact system that weighs only about nine pounds.

The heart of the kit is a one-pound device called a Soldier Power Manager. The Power Manager functions like a smart micro-mini-grid. In contrast to a portable generator that runs only on diesel fuel, the Power Manager can receive energy from various sources including solar panels and fuel cells. It recharges other devices by cable attachments, eliminating the need for individual battery chargers.
The idea is just one of several developed thanks to suggestions given to the Office of Naval Research's TechSolutions program:
Though the concept is basically the same as an old fashioned employee suggestion box, a single request can have a profound effect on operations. In one recent example, TechSolutions has been testing high efficiency LED bunk lights in response to a sailor's complaint about noisy, outdated fluorescent fixtures. Aside from improving readiness and health the new lighting system has already yielded significant savings in energy, maintenance, storage and disposal logistics, and it may soon go fleetwide.
For the military, clean energy isn't about politics - it's about saving lives with fewer fuel convoys & more mobile soldiers. And as nice added benefits, clean energy also saves money and cuts the oil dependence & carbon pollution that
threaten our national security
. We are at a crossroads. Two unnecessary wars and irresponsible economic policy have stretched our resources to the breaking point. George Bush lit a fuse in the Middle East that is a catalyst for a loosely connected series of events responsible for this moment of inadequacy. History won't be kind.
Days ago the Pentagon realized that the paucity of American presence in the Mediterranean sent a signal for a power grab. The Mediterranean is becoming a Chinese lake filled with Iranian fish. The Chinese are at this instant establishing their hegemony with action in Libya. This moment became imminent the day Bush chose preemptive military action over posturing and leading from a position of strength. The entire United States naval force presence plan lays shattered.
The art of war is of vital importance to the State. It is a matter of life and death, a road either to safety or to ruin. - Sun Tzu
The Republican frat boys whose strategic skills were honed during exam weeks playing all-night Risk and taking speed never learned from overextending their armies on the board. They were happy to defend Kamchatka successfully. But this is real and there are consequences. And they have been laid in President Obama's lap.

Well, that didn't take long! Soon after
Jim Webb called "foul"
on the "U.S. Navy Veterans Association" - an organization which the
DPVA points out
has engaged in "questionable and potentially corrupt dealings" (while also donating $55,000 to Ken Kook-inelli, who refuses to donate the money) - the Veterans Administration has pulled the group's page from its website. In addition, Senator Webb's office reports that the VA "will conduct a review of the group as well as a review of procedures used to screen organizations before they are listed on the VA website."
Just for fun, check out the "before" and "after" screenshots after the "flip." Oh, and great work by Jim Webb!
The
U.S. Navy has a different view
of oil drilling off Virginia's coast than our esteemed governor.
A newly released U.S. Defense Department report shows that exploratory drilling for oil and natural gas off almost three-quarters of the Virginia shoreline where the government has proposed those activities is incompatible with military operations and training.

The report is the latest potential setback to a plan strongly endorsed by Gov. Robert F. McDonnell (R) to conclude sales of leases to companies interested in drilling 50 miles off Virginia's coast by 2012.

The Defense Department report, concluded in March but released in part Tuesday by Rep. James P. Moran Jr. (D-Va.), a drilling opponent, indicates that drilling would interfere with military activities, including ordnance training and carrier operations, in 72 percent of the 3 million acres covered by the lease sale and that it could be allowed only with restrictions in 6 percent of the area. Norfolk is home to the world's largest naval base.
So...we already know that Bob McDonnell doesn't give a rat's hindquarter's about the environment. Now, let's see if he cares what the U.S. Navy thinks.
P.S. Maybe McDonnell can ask Ken Kook-inelli to sue the Navy on this? After all, Crazy Cooch says it only costs $350. Ha.
UPDATE: Mark Warner says:

This is the reason why we have a multi-year, multi-agency review process, to allow local, state and federal stakeholders to weigh-in and recommend ways to mitigate any concerns. Senator Warner believes we should gather all of the relevant information as we continue to evaluate Virginia's offshore wind, natural gas and oil potential.