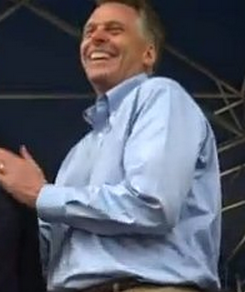 Polls, polls, polls. Honestly, at this point, they're all meaningless to a large extent. But for what it's worth, here's a brand new one by Marist/NBC News that completely contradicts the outlier Washington Post poll from the other day, and is in line with most every other poll that's been taken of the Virginia governor's race this year.

Six months out, the Virginia Governor's race remains razor tight, according to a new NBC News/Marist poll released Wednesday morning exclusively on The Daily Rundown.

Among all registered voters, Democrat Terry McAuliffe has a slim lead within the margin of error over Republican Ken Cuccinelli, 43% to 41%, in the most competitive race of 2013.

The poll has both good and bad omens for each candidate. When looking at just likely voters, Cuccinelli takes the lead, 45% to 42%.
By the way, at this point in the race, I think it's a bit early to be going to likely voter screens. Also, from what we saw in 2012, pollsters simply aren't very good at determining who a likely voter might be (e.g., Gallup's likely voter screen was an unmitigated debacle), certainly not this far out from election day. That's why I'd focus much more on registered voters at this point. And on that basis, it looks like this poll confirms what most others have shown to date: a neck-and-neck race between Terry and Cuckoo, with very few voters really having tuned in as of yet…