Advertisement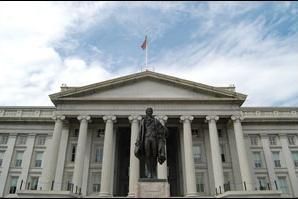 The Treasury Department is embarking on an initiative designed to guide low and moderate income households toward a more informed financial future. Some 30 million households are either unbanked or underbanked. While a lofty goal, there is no certainty the benefits will outweigh the potential deleterious unintended financial consequences.
There are an estimated 9 million households without bank accounts. Another 21 million households are underbanked, meaning that they have a bank account, but these accounts do not fully meet their needs, and they still rely on high-cost check cashing services or other costly financial service providers.

– Federal Deposit Insurance Corporation's 2009 National Survey of Unbanked and Underbanked Households
Americans without bank accounts regularly deal with loan sharks disguised as corner store financiers. Often the "businesses" offering these services are also the same ones providing payday and other predatory loan products. They and many other more reputable firms also sell prepaid debit cards that, while convenient, erode the purchasing power of the consumer's earnings by charging exorbitant set-up and transaction fees, effectively lending customers their own money at rates that far exceed legal payday loan rates.

While designed to bolster previous efforts to help low and moderate income Americans obtain access to safe and appropriate financial services and products, this one may also open a door to the very bankers and lenders against whom it is directed. Intended to help the underbanked save money, build credit records, and encourage less-expensive forms of electronic payment, such previous initiatives at the state level have not met with great success. It takes more than low-cost checking and savings accounts to enable fiscal responsibility and this can become a self-defeating trap. Experiences with overdraft fees have left the targeted audience disenchanted, driving them back to the plunderers.
James Stuckey, an escalator mechanic in nearby Oxon Hill, Md., has a bank account but says he sometimes heads to his local liquor store to cash checks instead of using banks.

The $14 fee for an $800 check, he said, beats the repeated $35 overdraft fees he has been hit with on his bank account-and lets him keep a closer eye on his money.

"I know where it is and exactly where it's going," said Mr. Stuckey, 45. "I definitely can't afford the little extra fees." – Wall Street Journal report
Treasury will conduct a direct mail campaign and partner with private sector employers to insert offers to enroll in the pilot of the new "Bank On USA" program into paychecks and paystubs. The offers to enroll in the pilot will include instructions on how to use the account. Treasury will evaluate the results of the pilot to inform future decisions about the viability, structure, and timing of offering similar accounts as an integrated part of the tax filing and refund process.
This tax year, the state of New York will not issue income tax refund checks at all and will instead issue debit cards to those who do not opt for the direct deposit option. Social Security and Supplemental Security Income benefit recipients can currently receive their payments through the Direct Express® Debit MasterCard® card, a program established pursuant to terms approved by Treasury. By 2011, Direct Express is expected to expand to all individual federal benefit programs.
The fact that the government uses a debit card that at first glance is similar to ones offered over the counter may add to consumer confusion. Prepaid cards are ubiquitous but they carry very different terms and conditions. The tacit endorsement of debit type cards may lead consumers to conclude that the terms are the same or similar while they are not; all to the disadvantage of the consumer. So while the initiative began with good intentions, Treasury will need to do more than evaluate the results of the pilot before "offering similar accounts as an integrated part of the tax filing and refund process." It needs to work with Congress to properly regulate the entire debit card market.
There's no paywall on Blue Virginia, and we definitely want to keep it that way! If you want to help support our work, you can donate here - thanks!
Also, you can
sign up for our weekly email list here
.