Advertisement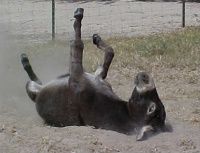 Pointing out Governor McDonnell has created jobs and wondering aloud whether making moves Tim Kaine and he himself took constitute dereliction isn't going to persuade independent voters to back Democrats this fall or help Kaine defeat Felix or whomever in 2012. But that is Moran's chosen strategy for the DPVA.
There's just no sense in pretending that the Democratic Party of Virginia (DPVA) is on its game. A meager chain of mealy mouthed releases that misstate ground truth and criticize the Governor for actions he may take in the future, but which Moran and Kaine themselves already demonstrated are appropriate, are laying the groundwork for the Republican's defense.

Take this from a recent DPVA Morangram:
"…Despite his repeated previous claims that he's "thrilled to be governor of Virginia," McDonnell flip-flopped yesterday and opened the door to jump ship if Sarah Palin or Mitt Romney come calling next year.

Let's remind Governor McDonnell that Virginians elected him to lead, not to run for Vice President…"
This from the skilled strategist who abandoned his office in the House of Delegates to run for Governor almost handing that safe Democratic seat to the Republicans. And what if McDonnell is picked (heaven forbid and quite the pipe dream) to run and doesn't give up his office? Is Moran going to criticize him for being outside of the state ala Tim Kaine following the DNC appointment? Doesn't the DPVA have any shame at all?
In that same ineffective call for cash, he says:
…hold Bob McDonnell accountable and advance an agenda that will create real, good jobs by improving our education system and fixing our broken transportation infrastructure.
That's a trap too. The transportation issues went unsolved during eight years of Democratic executive leadership. Certainly the Republicans were the root of infrastructure decay, but McDonnell isn't any less successful than his predecessors. Remember, four of those years belonged to Tim Kaine; the GOP will. And if our education system needs that much improvement? Again, what was going on in those eight years? Did McDonnell somehow undo all those great achievements in a year? Remember too, most Virginians still believe that McDonnell found all kinds of cash laying around in the Department of Transportation, lost under Democratic management, and he's fixing our roads with it.
Then there is the Politifact analysis of Moran's "truthiness:"

…We started with his claim that in 2010 – the first year of McDonnell's term – Virginia's average monthly unemployment rate rose .1 percent to 6.9 percent. That's true, but it provides an skewed picture.

That's because when McDonnell was inaugurated in January 2010, the state unemployment rate was 7.2 percent — its highest point of the year. The rate slowly declined the rest of the year and ended at 6.6 percent by December, ranking Virginia 9th lowest in the nation.

In other words, the unemployment rate improved during McDonnell's first year as governor. And one could make an argument that, when it comes to computing the monthly average for 2010, McDonnell was hurt by a relatively high unemployment rate he inherited from his predecessor, Democrat Tim Kaine.
Nothing like inviting a look under the hood of the Kaine job creation record. Of course, that wasn't Kaine any more than McDonnell guiding those numbers, but Moran has set the argument and provided the ammunition for the other side.
If the DPVA strategy is to go negative early and often, the Republicans are going to have a field day come this fall. But Democrats will compound that error and the resulting failure by continuing to release half-baked, self-destructive claims that only underline a failure to connect with the electorate.
Governor McDonnell and his Virginia GOP are doing a really lousy job but the DPVA just doesn't seem to know how to get the point across. Worse: Democrats in Virginia, lacking any constructive strategy, can only wince and whine while the Republicans prepare for a successful fall campaign.
There's no paywall on Blue Virginia, and we definitely want to keep it that way! If you want to help support our work, you can donate here - thanks!
Also, you can
sign up for our weekly email list here
.