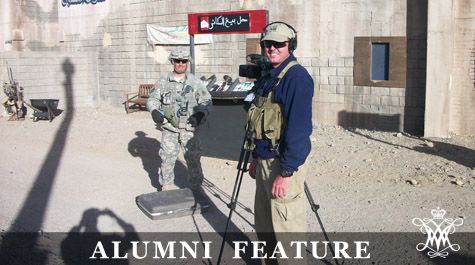 In 2005, the day he set up his elementary school classroom, Philip Forgit was called up for active duty. He spent the next year in Iraq. Winner of a National Education Association grant, he used that money and his own to fund his film: Lions of Babylon; A Soldier's Story.
What this film seems to be trying to answer is whether Iraq and America, Iraqis and Americans, are better off for the war. After an unsuccessful run for Congress as the Democratic candidate against Rob Wittman in Virginia's First District, Forgit turned to this project. Returning to Iraq during late 2009 and 2010 he recorded the efforts of U.S. and Iraqi troops to keep the peace in Saab al Bor on the outskirts of Baghdad. It focuses on a single troop in a single village but it is a microcosm of something much larger.
Forgit was an intelligence specialist in the navy reserve for 10 years. As such, in his assignment in Iraq he was immersed in the complexities of religion, tribal influences, trade and economic relationships. His perspective is shaped by his personal and professional relationships with Iraqis, both military and civilian. From that perspective, he believes most Americans do not fully comprehend the effect the war has had on themselves or the Iraqis. This is among his reasons for telling this story.
Told through the voice of Dan Digati, then an army Captain (now a Major and who will attend the premier tonight) as he trains a group of soldiers deploying to the town where he himself had been assigned, this film records a time in the history of Saab el Boor during which elections are being held. The place had changed from his first experience when it was an open-air morgue, with seemingly more corpses than residents, to an almost normal routine with children attending school, roads paved, clean water, and reliable electricity. Iraqi urban areas are more secular, the rural more religious, and it seems this town is in the between.
Forgit seems to have concluded that the Iraqi people are better off without Saddam but that that has nothing to do with whether the people of America are better off. Are the Iraqis thankful? Forgit doesn't know that that would be the word. But he does know that their attitude is, "It's our country and you need to leave; time for you to go." Complicating matters is the fact that the Sunni are less happy than the Shia and the Christians less than either. Not to mention the Kurds who are not happy much at all.

There will be a discussion after the showing moderated by Tony Macrini of Norfolk radio station WNIS. The premier is tonight at 7 PM at the Kimball Theater in Williamsburg, Virginia. Admission for military in uniform is free, but tickets are going fast in advance. Call 1-800-447-8679 (1-800-HISTORY) to confirm availability. A portion of the proceeds will benefit the College of William & Mary's School of Education.
Philip Forgit is currently the Executive Director of the Virginia Education Association.
Also by Forgit: 10-part series for the Virginia Gazette on his experiences with teachers, politicians, soldiers, and the changing roles of women in Iraq.