Advertisement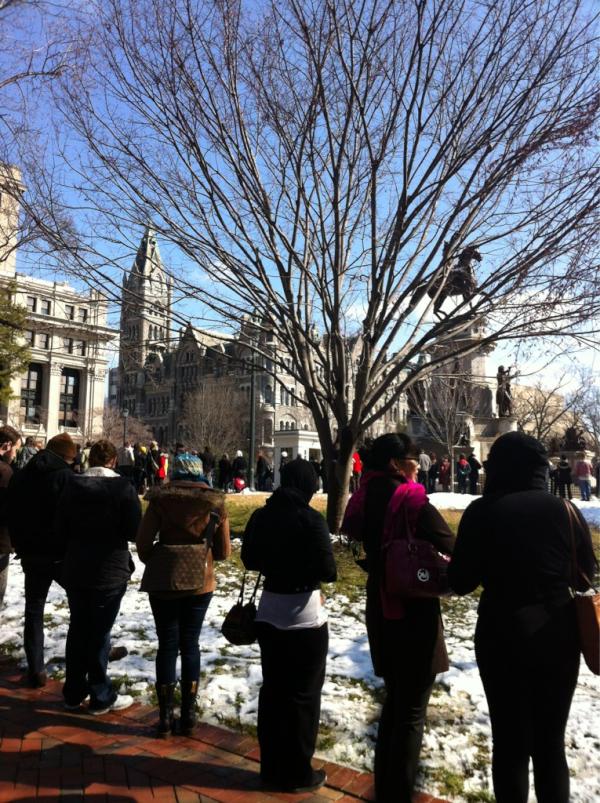 Great job by SPEAK LOUDLY WITH SILENCE for Virginia women (a silent protest), who are in Richmond today "to tell our elected representatives: Support women's rights to control their bodies! Don't enact oppressive Anti-choice (what pro-life really means) laws!" According to Jenny Lawson of the Virginia Civic Engagment Table, there are 1,000 women at the General Assembly Building "to tell Bob Marshall that we aren't 'sideshows'."
P.S. Photo (click on image to "embiggen") courtesy of Cheers for Choice, which reports that "The crowd is inspiring."

P.P.S. See the "flip" for a photo by Del. Scott Surovell, who captions it, "Women's rights groups encircling the Capitol today as we debate and vote on medically unnecessary ultrasounds again."
UPDATE: The Virginia House Democrats report, "Delegate Kaye Kory speaking now against the horrendous assault on women; hopes @bobmcdonnell will veto #VAGOP bills HB462 & SB484."
UPDATE #2: Del. David Englin tweets, "Wow. Great to see so many citizens in Capitol Square protesting Va. GOP vaginal penetration ultrasound mandate & attacks on contraception!"
UPDATE #3: Del. Charniele Herring tweets, "Thank you Del. Kory for calling out the assault on women by extreme bills mandating a transvaginal probe for no medical purpose.#overreach"
UPDATE #4: Also see, Is McDonnell Now Backing Away From a State-Sanctioned Rape Bill?, and keep the pressure on the VP wannabe, the guy who wants to avoid the return of the nickname "Taliban Bob" at all costs.
UPDATE #5: Right wingnut/theocrat Del. "Sideshow Bob" Marshall (R-Mars) has this to say about the protestors:

I've got to deal with all these side shows with these people, who just never want to get to the plain fact that there's a very simple thing I want to do, to recognize the unborn as being a human being before the law. That's all…[The legislation] doesn't criminalize abortion, it doesn't affect birth control, and they can't point to one case where it's ever been done that way.
That's right, the guy we know and love as "Sideshow Bob" calls women protesting his misogynistic bill a "side show." Of course, I'm sure he doesn't understand irony, but still…pretty ironic.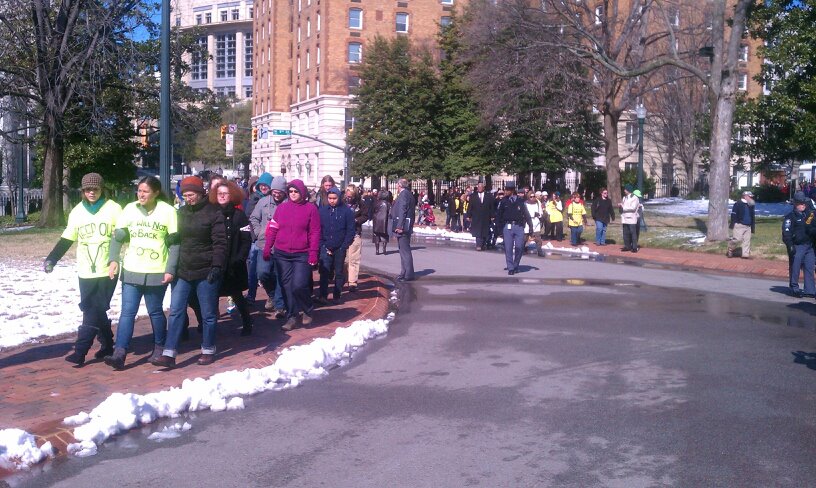 There's no paywall on Blue Virginia, and we definitely want to keep it that way! If you want to help support our work, you can donate here - thanks!
Also, you can
sign up for our weekly email list here
.