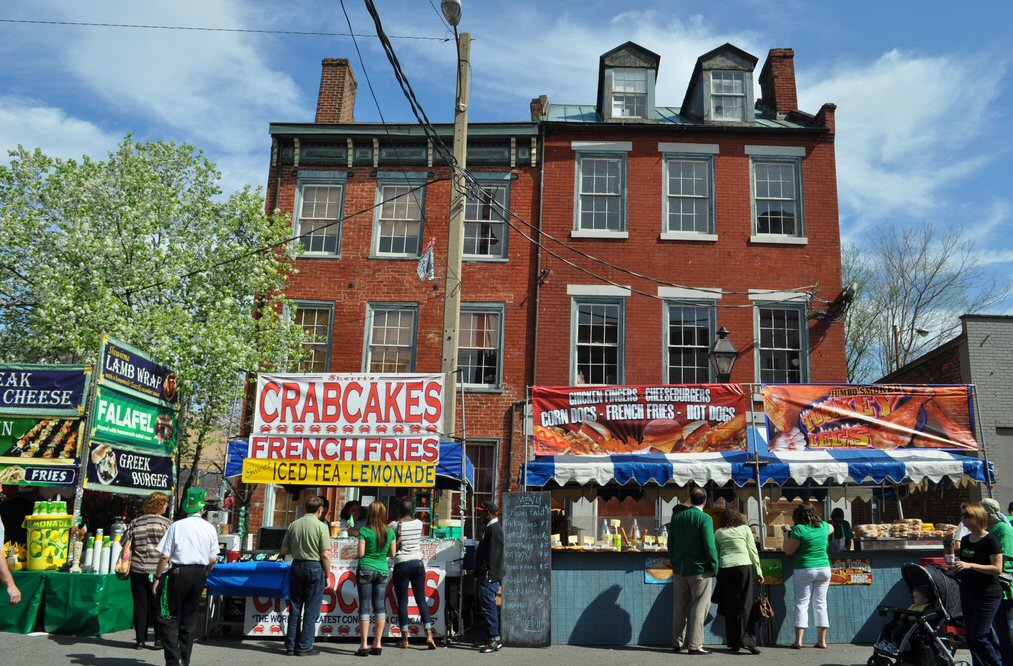 On March 17, 2012, a crowd of over 25,000 people took advantage of perfect early Spring weather to descend upon Shockoe Bottom in giant green t-shirt wearing hordes. Saturday was Shamrock the Block, a giant six hour long block party that kicks off the outdoor festival season in Richmond every year. Many of these folks were no doubt voters–and of those that were, no doubt many of them were undecided voters–people open to receiving information about issues and input about which political party they should support in this year's elections–which are critical to our nation's future. A scary scenario, no doubt. Who knows what a crowd of undecided voters could be capable of?
But the many local Democratic Committees across the great Commonwealth of Virginia who contribute tens of thousands of dollars to pay the mortgage on DPVA's building and the salaries of the folks who work in the building at 1710 E. Franklin Street can rest easy: the thousands of potential voters that flooded Richmond's 17th Street Farmer's Market and the 1700 block of Franklin Street were completely outwitted by the clever camouflage applied to DPVA headquarters. Where most Virginia Democratic Party members see an office building where remarkably little gets done, the casual passers by that filled the streets of Shockoe Bottom only saw a Crabcake Stand and a Gyro Booth. Thanks to this clever disguise, these undecided voters walked past DPVA without receiving the slightest inkling that there was even such a thing as a "Democratic Party of Virginia."
"But wait," you say, "what about the telltale movement of people working Saturday to get a few extra hours in? Surely the passers by would have noticed the shadowy movement of DPVA staff in the windows of the mysterious building at 1710 E. Franklin Street?" No worries there friends. The DPVA made certain that there would be no suspicious activity in their headquarters by scheduling a pancake breakfast 100 miles away in Alexandria. The windows of DPVA remained dark and the "illusion" of an empty, derelict office building was preserved.
The deception was perfect: tens of thousands of Virginians walked within just a few feet of the headquarters of the Democratic Party of Virginia without ever suspecting that such an organization even exists.
Well played DPVA, well played indeed.