Advertisement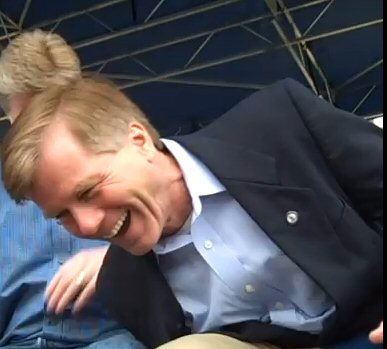 Actually, no, this isn't Bob McDonnell laughing hysterically at Newt Gingrich's vow to fight until the very end, or Ayatollah Santorum's latest attempt to take our political dialogue back to the '50s – the 1350s, that is. Instead, this is a photo I dug up from the 2009 Shad Planking, back when "Bob's for Jobs" was just beginning to audition for a potential VP slot some day. But feel free to use this as an open thread to discuss the state of the Republican't freak show to date, the Illinois primary results (if Romney doesn't crush Santorum after outspending him 20:1 or whatever, does that count as another #FAIL for Romney?), McDonnell's chances of being on the (losing) presidential ticket this year, etc.
By the way, sitting next to McDonnell in this photo is none other than the former head of the for-profit "college" scam, now moonlighting as the ethically-challenged chair of the Democratic Party of Virginia. For a "leaked memo" from Brian which "Reveals That House GOP Leaders 'Directed' For-Profit College Lobbying Strategy To Keep Federal Money Flowing," click here. After reading this, I think you'll agree that Bob McDonnell and Brian Moran are actually not so dissimilar – both will say or do anything to advance themselves, for starters.

P.S. A few more photos from the 2009 Shad Planking are on the "flip."
UPDATE: CNN has called Illinois for Willard.