Advertisement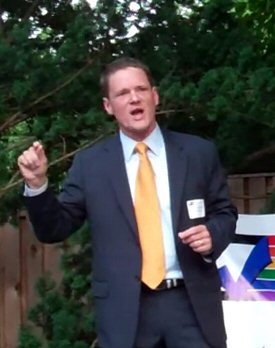 See the "flip" for the extensive list of people who have endorsed Rob Krupicka for the 45th District House of Delegates seat, being vacated by David Englin. Among the endorsers: Representatives Moran and Connolly; Alexandria Mayor Bill Euille; Senator Donald McEachin; Senator Chap Petersen; and many more. Personally, I believe he has BY FAR the strongest, deepest, and broadest experience for the job. Plus, Rob's a strong progressive, a fighter for education and LGBT equality, and a policy wonk who's passionate about clean energy, sustainability, and transit (among other things). In sum, I believe that Rob Krupicka will make a superb delegate, and I urge progressives to support his candidate!
UPDATE: The Blue Virginia editorial board has also decided to endorse Rob Krupicka.


Rob Krupicka Officially Announces Run for 45th House of Delegates District

Releases list of endorsements from State and Local leaders

ALEXANDRIA, VA. – Today, Rob Krupicka officially announced his entrance into the race for the Democratic nomination in the 45th House of Delegates District.

"I am running for the House of Delegates to ensure that we continue to have a progressive voice in Richmond. My experience means that I will be ready to hit the ground running on day one. With two girls in school, and as a member of the State Board of Education, I will make our children's education my top priority. As I've done for the last ten years, I will work for smart environmental and transportation solutions that create jobs and conserve our natural resources, and I will fight against the right-wing extremism that has rolled back women's rights and true equality for every Virginian. We can't move our state forward when others are trying to tear us apart."

"As a graduate of the University of Virginia, and someone who has worked to increase the number of students ready to succeed in college, I will work to make sure our public higher education system is transparent, affordable and accessible for every resident of the Commonwealth."

"I am honored to have the support of state and local leaders as we start this campaign. I look forward to working alongside them to deliver the progressive leadership and real results that the people of the 45th district, and of Virginia, deserve."
Rob Krupicka lives in Alexandria's Del Ray neighborhood with his wife Lisa and two daughters, Gillian and Janelle. He has been an active member of the community since moving to the area in 1993. He is the past president of the Del Ray Citizens Association, founder and co-chair of the Eco-City Alexandria Green Initiative, three-term member of the Alexandria City Council and currently serves as one of Governor Kaine's appointees to the State Board of Education.

The 45th House of Delegates District covers the east end of the City of Alexandria, parts of South Arlington and Southern Fairfax counties and has been represented for the last seven years by Delegate David Englin who announced his resignation last week.

Here's what others have to say:

Congressman Jim Moran

"From schools to transit to the environment, Rob knows and believes in this community. I know he'll never stop fighting for his neighbors in the 45th District."

Congressman Gerry Connolly

"As former Chairman of the Fairfax County Board of Supervisors and as Congressman I know that local government and regional cooperation are where the rubber hits the road for our communities. Rob's local government experience and his relationships across Northern Virginia will make him a great representative in Richmond."

State Senator and Democratic Leader Dick Saslaw

"We need Rob in Richmond. He is an accomplished member of the Alexandria City Council and Governor Kaine selected him for the State Board of Education where he has had a positive impact on every family in Virginia."

State Senator and Democratic Caucus Chairman Don McEachin

"Rob is a strong, dedicated progressive who will fight for our values and won't back down. I need him as a partner in the General Assembly."

Delegate Bob Brink

"Rob's broad experience in education, the environment, and regional issues will make him an effective voice for our priorities from day one. I'm proud to support him."

Alexandria Mayor Bill Euille

"Government isn't just about giving speeches and it isn't always glamorous. Rob knows the work that goes into making good policy. From education, to transit, to the environment to a range of neighborhood issues, I've always been impressed by the deliberate and focused way he tackles any problem, big or small."

Arlington County Board Member Jay Fisette

"Rob is a great regional partner. He understands how our communities work together and he is a steadfast champion for equality; we need his voice in Richmond."

Arlington Commissioner of Revenue Ingrid Morroy

"Rob has extensive experience in local government, and he understands the issues most important to the residents of Arlington, Alexandria and Fairfax. We need his progressive leadership in Richmond. "

Fairfax County Supervisor Gerry Hyland

"I want someone in Richmond who understands that transportation is a critical regional issue as well as an important environmental issue. Rob's experience will make him an invaluable partner in Richmond."

Full list of Public Supporters:

Congressman Jim Moran

Congressman Gerry Connolly

State Senator Dick Saslaw

State Senator Donald McEachin

State Senator Chap Petersen

State Senator Dave Marsden

State Senator Barbara Favola

Alexandria Mayor Bill Euille

Former State Senator Patsy Ticer

Vice Mayor and former Mayor Kerry Donley

Fairfax Supervisor Gerry Hyland

Arlington Board Chair, Mary Hynes

Delegate Bob Brink

Delegate Scott Surovell

Delegate Alfonso Lopez

Arlington Treasurer Frank O'Leary

Arlington Commissioner of Revenue Ingrid Morroy

Alexandria Sheriff Dana Lawhorne

Alexandria Clerk of the Court Ed Semonian

Arlington Clerk of the Court Paul Ferguson

Commonwealth Attorney Randy Sengel

Former Delegate Marian Van Landingham

Former Delegate Karen Darner

Former Councilman and Delegate David Speck

DNC Women's Caucus Chair Mame Reiley

Blogger and Netroots leader Ben Tribbett

Former Alexandria City Manager and current Animal Welfare League Board Member Vola Lawson

Councilwoman Del Pepper

Councilman Paul Smedberg

Arlington Board Member Jay Fisette

Lowell Feld, Progressive Activist and Editor of Blue Virginia

Council Candidate and Former Councilman Justin Wilson

Council Candidate and Former Councilman Tim Lovain

Arlington School Board Chair Abby Raphael

Mimi Carter, Alexandria School Board Member

Ryan McElveen, At-large member of the Fairfax School Board

Council Candidate John Chapman

Democratic Activist Charley Conrad

Tiffany M. Joslyn, Immediate Past President, Virginia Partisans and LGBT Activist

Arlington Democratic Activist, Kip Malinosky

Former Chair of Equality Virginia PAC, Sean Holihan

Former City Councilman Lonnie Rich

Former Vice Mayor Mel Bergheim

Former School Board Member Mollie Danforth

President of NVCC Young Democrats and Activist, Toora Arsala
There's no paywall on Blue Virginia, and we definitely want to keep it that way! If you want to help support our work, you can donate here - thanks!
Also, you can
sign up for our weekly email list here
.