Advertisement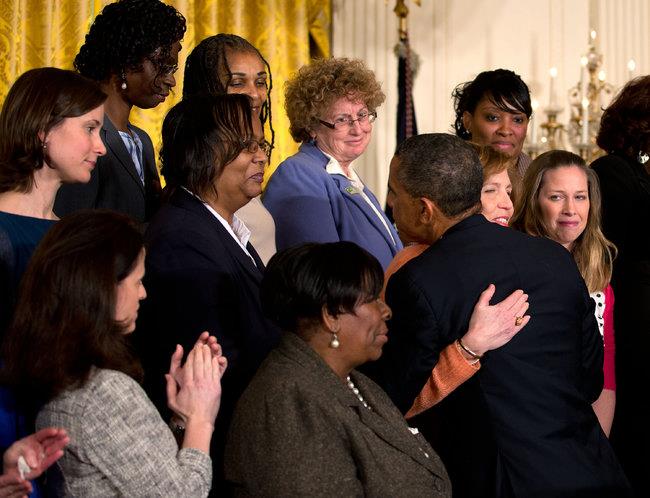 Here are a few Virginia (and national) news headlines, political and otherwise, for Friday, March 29. The photo is from yesterday's anti-gun-violence event at the White House, as President Obama hugs Virginia Tech mom Lori Haas, now with the Coalition to Stop Gun Violence.
*As Obama Calls On Nation To Remember Newtown, Rubio Pledges To Block Gun Reform (Rubio makes me want to drink something strong…but definitely not water!)

*Common sense needed on gun control law ("The assault rifle, with a 30-shell magazine, is a weapon of mass destruction. The framers of the Constitution and the Bill of Rights had no conception of such a weapon. The guns of that time were muzzle-loading, single-shot muskets, squirrel and bird guns, and simple pistols. The 'well-regulated militia' was the equivalent of today's National Guard.")

*New Obama rules will bring cleaner gasoline, cars (In contrast, Republicans want more dirty energy, forever.)

*Malicious Obstruction in the Senate ("President Obama's nominees face an unprecedented level of ridiculous Republican hurdles.")

*Report: Right-Wing Extremists Are 'Highly Engaged' With GOP On Twitter

*RPV's Mullins to Howard Dean's DFA: Come on down! (They're obviously afraid of DFA. Good!)

*McDonnell demurs regarding 2016, defends roads deal ("Speaking on radio, he insists focus is on Va., defends roads deal")

*Virginia governor's race could offer hints for the 2014 midterm elections (Virginia in 2009 certainly was a harbinger of the country in 2010…)

*Ken Cuccinelli wants credit he doesn't deserve

*Jindal to headline Va. GOP dinner

*US Sen. Mark Warner to seek re-election in '14 (Not sure why this is "news," as I got a fundraising email from him on 3/26 saying, "My next election is right around the corner.")

*'Mistake' amendment could deprive Henrico, Arlington of millions for roads

*Poll: Majority in Virginia supports sealing names of concealed carry permit holders

*Dealer and private car sales face higher taxes in road bill

*Cox: Transportation bill not 'ideal'

*Dem AG candidate Fairfax files nominating petitions (Minutes before the deadline…)

*Warner in Roanoke, discussing immigration issues

*Arlington streetcar forum gets raucous (When the Tea Party comes to an event, what else would you expect?)

*Putney makes history again ("The Bedford independent played a key role in legislative power shifts")

*For federal workers, furlough terrain unpredictably uneven

*A Cinderella Story? How The Koch Brothers Use Florida Gulf Coast University To Promote Their Agenda (Just like GMU and its right-wingnut Mercatus Center)

There's no paywall on Blue Virginia, and we definitely want to keep it that way! If you want to help support our work, you can donate here - thanks!
Also, you can
sign up for our weekly email list here
.