Advertisement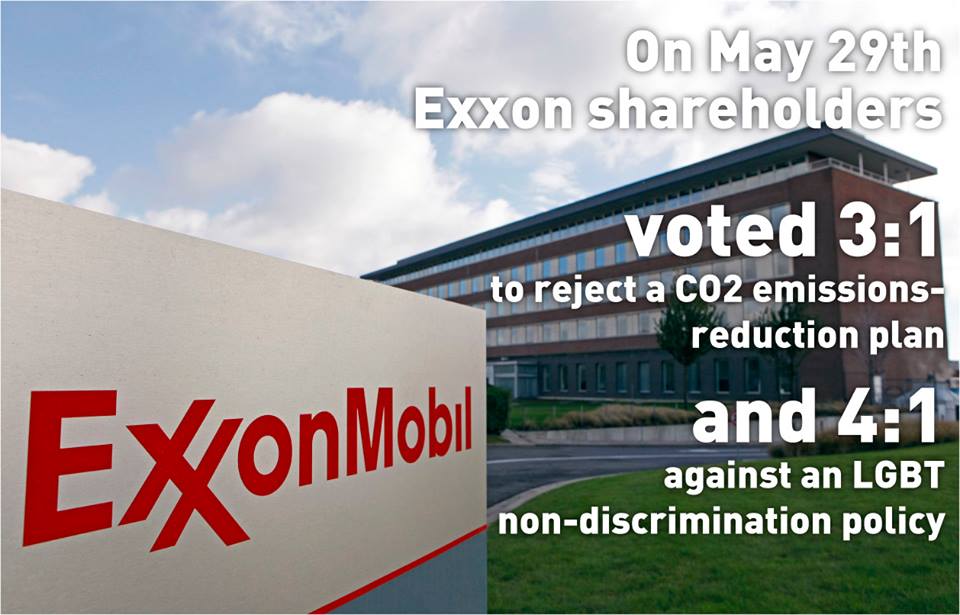 Here are a few Virginia (and national) news headlines, political and otherwise, for Friday, May 31. As for ExxonMobil, let's summarize: a) they're profiting greatly by destroying the planet; b) they're proudly discriminating against LGBT people; and c) they are evil incarnate.
*The GOP is too juvenile to govern (Comparing the GOP to juveniles is an insult to good kids everywhere!)

*Fox's Erick Erickson: It's 'Anti-Science' To Not Believe Men Should 'Dominate' Women (Yes, a leading conservative really believes this antiquated, unscientific, sexist, misogynistic crap.)

*Why there are no Dem counterparts to Tea Party legislators (But, but, but…what about the corporate, right-wing media's false equivalency narrative?!? Oh well…sigh.)

*Howard Dean: National Review 'Crap,' 'Silly, Right-Wing Nonsense' (Ya think?)

*Tea party groups rally against Common Core (More Tea Party tinfoil-hat nuttiness, along with their paranoia about "Agenda 21," etc.)

*Marcus: The GOP's 'pack' of whoppers (Stuff like the GOP's "court packing" charge shows that they're just as crazy as the Tea Party extremists.)

*Kaine: 2nd sequester year will hit Va. harder than most (Thank the 2010 Tea Party election for this one.)

*The Secret Weapon In The Virginia Governor's Race Isn't What You Think

*McAuliffe, Cuccinelli Split Time at VPAP Luncheon

*In joint appearance, McAuliffe, Cuccinelli trade jabs over debates, transparency

*Ken Cuccinelli: E.W. Jackson's Extreme Rhetoric 'Doesn't Change Our Message A Lick' (Say what?!?)

*Warner safe for reelection (More interesting: "There's 77/16 support for expanded background checks on gun sales in the state" and "80% of voters in the state think employers should not be able to discriminate against employees based on their sexual orientation.")

*Restoring voting rights to Virginia felons ("Pressure will remain on future governors to go further – to find disenfranchised felons and restore not only their voting rights but also Virginia's democracy.")

*Ethics training in the governor's office. (Great work by Waldo on this. So…"It looks to me like McDonnell and his employees are receiving the required training. Whether Cuccinelli and his employees are is, apparently, a state secret.")

*Herring drops first television ad (And it's a good one!)

*Warren Buffett's newspaper group buying The Roanoke Times ("BH Media Group has been acquiring a number of daily papers in Virginia.")

*Va. politicians see positives in Chinese Smithfield bid

*Globalization takes Smithfield Foods

*Marsh endorses Thompson, turns his back on Dance (What a soap opera this primary is…)

*Chesapeake Bay Bridge-Tunnel could see higher seasonal tolls

*It's an SOS for SOLs in Norfolk after poor early test results

*The case against fracking in the George Washington National Forest

*Nationals shut out by Orioles

*Soupy and sultry through Sunday
There's no paywall on Blue Virginia, and we definitely want to keep it that way! If you want to help support our work, you can donate here - thanks!
Also, you can
sign up for our weekly email list here
.