Advertisement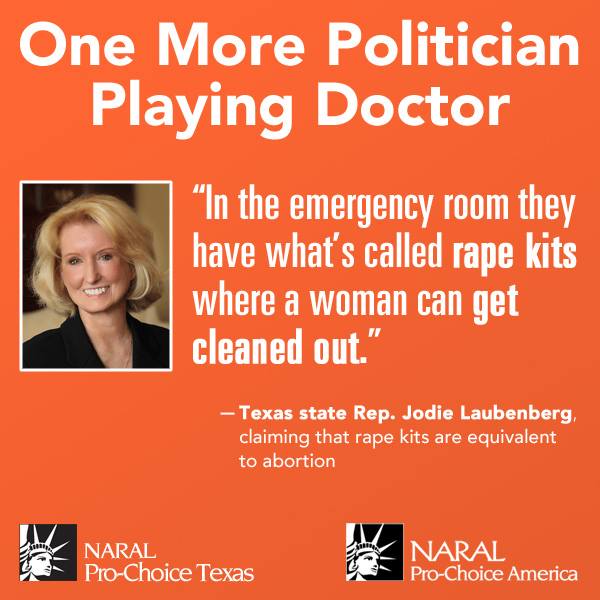 Here are a few Virginia (and national) news headlines, political and otherwise, for Tuesday, June 25. Oh, and check out the graphic by NARAL of the Republican anti-choice fanatic du jour…for once not a male Republican, but still an imbecile.
*President Obama's Second-Term Plan To Address Climate Change (There seems to be a lot of good stuff in here, along with some that's more "reheated" and some – for instance, the oxymoronic "clean coal" – in this plan. Now, we need to implement the good stuff ASAP, hopefully ditch the bad stuff. Got to keep the pressure on!)

*Border security proposal clears Senate hurdle (27 Republicans voted "nay" even on this overly-punitive/overly-harsh bill. And good luck in the Teahadist House!)

*Corker, Warner to introduce federal housing finance legislation (I haven't read this, but the fact that the bat****-crazy Heritage Foundation doesn't like it is a very promising sign! LOL)

*Samuel Alito Rolls Eyes While Ruth Bader Ginsburg Reads Dissent (So, Alito rules against workers, then rolls his eyes as Justice Ginsburg explains what's wrong with that. What a guy.)

*Officials: How Edward Snowden Could Hurt the U.S.

*Ken Cuccinelli's incomprehensible war against the Silver Line (It's not "incomprehensible" at all: Cooch is a rabid, anti-tax, anti-labor and anti-transit/anti-environment ideologue, what else would we expect?)

*Cuccinelli Refuses To Say Whether E.W. Jackson Was His Top Choice

*STAR SPREE: Star Scientific CEO financed shopping spree for first lady (Corruption run amok in a state where just about anything goes when it comes to corporate influence over our political system. We should all be outraged and demanding change, but are we?!?)

*Why You Shouldn't Be Surprised That The National Zoo Lost A Red Panda ("Though zoo officials still aren't sure how Rusty got out, the National Zoo has been hard-hit by sequestration cuts…the Zoo hasn't been able to fill several keeper and curator jobs, forcing the whole institution to take shortcuts." Thanks Republicans!)

*Gas company defends actions of state lawyer (Hahahahahaha, yeah, definitely let's trust the gas company on this one! LOL)

*Virginians on both sides praise ruling on admissions (You know a corporate media outlet is happy when they get to use the phrase "both sides.")

*McDonnell says he reimburses state for family's personal expenses (Yeah, ignore all those news reports, just trust Bob!)

*Smithfield Foods drops Paula Deen as product spokeswoman (I'm no fan of Paula Deen's, to put it mildly, but Smithfield Foods is one of the scummiest/nastiest companies around, and will only get worse under Chinese ownership. Cutting Deene loose does nothing to address any of Smithfield's other, myriad, "issues.")

*McDonnell unsure Va. has outgrown Voting Rights Act

*McDonnell heralds decline in Va. homeless rates (Don't you love when politicians claim credit for things they not only had NOTHING to do with, but that their policies made – or would have made, if enacted – even worse?)

*GOLDMAN: Will Richmond stadium referendum help Cuccinelli, Jackson?

*Moving quickly in Norfolk schools ("Norfolk public schools' need for drastic change has been clear for some time.")

*Cost, design of $1 million bus stop in Arlington to be reviewed by contractor

There's no paywall on Blue Virginia, and we definitely want to keep it that way! If you want to help support our work, you can donate here - thanks!
Also, you can
sign up for our weekly email list here
.