Advertisement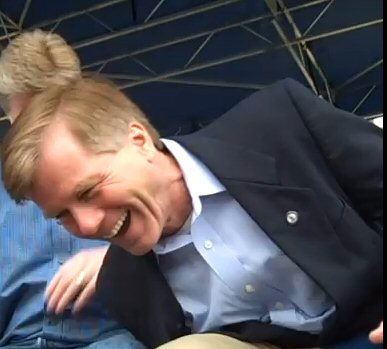 Just when you thought Grifter Governor Bob's corruption scandal(s) couldn't get any worse…they do.

A prominent political donor gave $70,000 to a corporation owned by Virginia Gov. Robert F. McDonnell and his sister last year, and the governor did not disclose the money as a gift or loan, according to people with knowledge of the payments.

The donor, wealthy businessman Jonnie R. Williams Sr., also gave a previously unknown $50,000 check to the governor's wife, Maureen, in 2011, the people said.

The money to the corporation and Maureen McDonnell brings to $145,000 the amount Williams gave to assist the McDonnell family in 2011 and 2012 – funds that are now at the center of federal and state investigations.
Needless to say, a slimeball like Jonnie Williams wasn't giving this money to the McDonnells because he's a nice guy, or out of altruism, or whatever. The only question is, what was the quid pro quo exactly? I mean, we're talking a LOT of money here! My theory? I think Paul Goldman was on to something with this post, "Insider Trading in Star Scientific Stock?"

P.S. Oh, and just to make Grifter Bob's day even worse, his son was arrested for public intoxication.
UPDATE: CNN's Peter Hamby tweets – "text from top GOPer just now on latest McDonnell revelation: 'that's not survivable.'" Hello, Governor Bolling?!?
UPDATE #2: Sen. Chap Petersen writes, "This Story is Going to Another Level."
UPDATE #3: @LarrySabato just tweeted, "Look for Cuccinelli to break openly & sharply with McDonnell very soon." The problem, as many people are pointing out, is that Cuccinelli is also tied to Jonnie Williams – took undisclosed gifts/donations from him (5 digits), bought stock in his company, is close "friends" with him, etc. Plus, what did the Attorney General's office know, and when did it know it, about the Governor's Mansion/Chefgate scandals, and what did the Attorney General's office DO about it? (answer: nothing) Finally, was Cuccinelli really "walled off" from all this by his staff, as he claims, and if so how is that acceptable or even possible?!? WTF? Inquiring minds want to know…