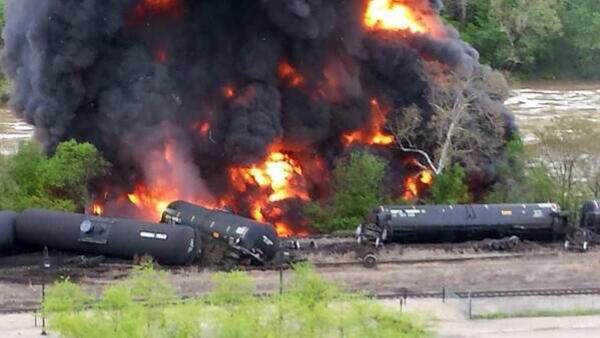 A major disaster is unfolding in Lynchburg, where an oil tanker train has derailed, sparking a massive fire and spilling oil into the James River upstream from Richmond:
A CSX train carrying crude oil derailed Wednesday afternoon by the James River in downtown Lynchburg, sparking a massive fire that sent a thick column of black smoke high into the sky.

Officials said 12 to 14 tanker cars were involved in the derailment, which happened shortly before 2 p.m. near Ninth and Jefferson streets. Three or four of the cars were breached, spilling oil into the river. The cause was not immediately known. […]

Nearby roads, including the Fifth Street Bridge and the trail to Percival's Island, were shut down, and authorities evacuated numerous buildings. CSX officials were working this afternoon to remove a portion of the train that is preventing employees of Griffin Pipe Foundry from leaving.

City officials said drinking water is unaffected. Lynchburg typically gets its water from the Pedlar Reservoir in Amherst County. Downstream, Richmond has begun to switch to an alternate water supply.
More after the jump.
"The whole riverbank and the whole riverbed was on fire basically from the derailment just to about 100 yards before Blackwater Trail," Basten said.

He could hear the substance boiling on top of the water.

"It sounded like a super-size deep fryer just going at it," Basten said.
It's just the latest demonstration of the dangers of America's Drill Baby Drill energy policy – high risk of oil disasters AND high gas prices. According to Keystone XL tar sands pipeline supporters like Sen. Mark Warner, what we need is more oil pipelines that can spill a year's worth of oil train disasters in a single shot.