(This is an example of corporate overreach that has the ire of all Virginians of any political bent. – promoted by Dan Sullivan)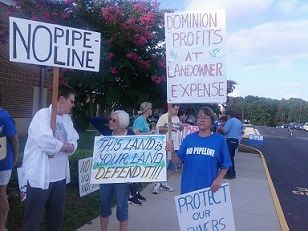 In May, property owners along a 550-mile route, beginning near Clarksburg, WV and traversing Virginia to Lumberton, NC, received letters from Dominion Transmission stating their properties would be "studied" for a 42″ natural gas pipeline.  In Nelson & Augusta Counties, the 400′ corridor affects 225 Nelson and 201 Augusta landowners.
The letter was part of a formal request required under VA Code Section 56-49.01 in support of Dominion's Southeast Reliability Project.  Dominion Transmission "asked" landowners to sign and return the letter which would allow Dominion to enter their properties for these studies. Only 24% of Nelson landowners receiving these letters signed and returned the letter to Dominion. Like that matters.
Nelsonians believed they had the right, as property owners, to refuse access.  However, Nelsonians quickly learned that VA Code Section 56-49.01, passed by the Virginia General Assembly in 2004, essentially gives away the property rights of every Virginian to any natural gas company. The section reads:
§ 56-49.01. Natural gas companies; right of entry upon property.

A. Any firm, corporation, company, or partnership, organized for the bona fide purpose of operating as a natural gas company as defined in 15 U.S.C. § 717a, as amended, may make such examinations, tests, hand auger borings, appraisals, and surveys for its proposed line or location of its works as are necessary (i) to satisfy any regulatory requirements and (ii) for the selection of the most advantageous location or route, the improvement or straightening of its line or works, changes of location or construction, or providing additional facilities, and for such purposes, by its duly authorized officers, agents, or employees, may enter upon any property without the written permission of its owner if (a) the natural gas company has requested the owner's permission to inspect the property as provided in subsection B, (b) the owner's written permission is not received prior to the date entry is proposed, and (c) the natural gas company has given the owner notice of intent to enter as provided in subsection C. A natural gas company may use motor vehicles, self-propelled machinery, and power equipment on property only after receiving the permission of the landowner or his agent.

B. A request for permission to inspect shall (i) be sent to the owner by certified mail, (ii) set forth the date such inspection is proposed to be made, and (iii) be made not less than 15 days prior to the date of the proposed inspection.

C. Notice of intent to enter shall (i) be sent to the owner by certified mail, (ii) set forth the date of the intended entry, and (iii) be made not less than 15 days prior to the date of mailing of the notice of intent to enter.

D. Any entry authorized by this section shall not be deemed a trespass. The natural gas company shall make reimbursement for any actual damages resulting from such entry. Nothing in this section shall impair or limit any right of a natural gas company obtained by (i) the power of eminent domain, (ii) any easement granted by the landowner or his predecessor in title, or (iii) any right-of-way agreement, lease or other agreement by and between a natural gas company and a landowner or their predecessors in title or interest.
Even if landowners post no trespassing signs on their properties, Dominion can enter the property, survey it, study it, take soil samples and declare it to be a part of the most advantageous route for its purposes; never mind the folks who own the land.  Dominion can even enter land which has been put into conservation easements or districts.  It's harder for the company to accomplish, and their representatives said they don't like to do it, but Dominion will study those properties if it finds them to be the most advantageous route for its pipeline.
After receiving letters, residents began asking questions but Dominion would only say, "we are in the preliminary stages of this study;" or "we don't know if we are going to build this pipeline."  After pressure by residents, the Nelson County Board of Supervisors passed a resolution asking for a meeting and information about the pipeline before Dominion continued to survey properties. And so began the Dominion Road Show – a  boilerplate power point presentation during which none of the questions from the 600 Nelsonians in attendance were answered. In response to questions by Board members, they repeatedly said, "we are in the preliminary stages of this study;"  "We haven't decided to build this pipeline;" "That will be based on FERC requirements;" "That will be determined by DEQ;" or finally, "it depends on which classification you are in."  Basically, Dominion dodged, wobbled, wiggled and did everything possible to keep the public in the dark
In the end, if given a FERC (Federal Energy Regulatory Commission) permit, a privately held company, in this case Dominion, can use eminent domain to force any and every landowner in Virginia to allow it to dig up private property to construct a 42″ natural gas pipeline. Virginians' property rights do not protect them from an overbearing utility company that is supposed to serve their interests.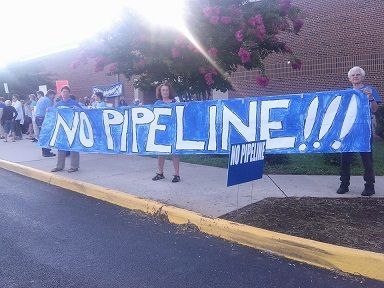 In the early 1990's Nelson's Board of Supervisors made a decision to utilize Wintergreen Resort, the Oak Ridge Farm, and Nelson's orchards and vineyards as cornerstones of a tourism and agri-tourism based economy. Since then many of Virginia's best wineries, breweries, and cideries, as well as many organic farming operations, have made Nelson County their home. This year Nelson welcomes back the Lockn' music festival, which was hugely beneficial to our tax base last year. It is expected to grow by 30% this year, bringing more than $1 million in tax revenues to the county over 4 days. All of these businesses and our residents require clean air, water and land to operate. Visitors come here for the pristine views and beautiful landscapes, not to see a 125′ swath clear-cut through our mountains, forests and farm lands.
The land on which Dominion wants to construct this pipeline was severely damaged in 1969 during Hurricane Camille. The soil from Nelson's mountainsides literally washed away during Camille.128 Nelsonians died the night Camille dropped as much as 31″ of rain from sunset to sunup. Dominion plans to bring its pipeline through the Davis Creek area where 52 people perished that night. As reported in the Washington Post: 

"The liquid soil and mountain rock and flood water flowed through Davis Creek, the Tye and Rockfish Rivers, which converge into the James, headed east toward Richmond, thence into the Atlantic Ocean. The peak river discharge reconstructed by hydrographic analysis was estimated at 36 million gallons per minute. Thus Camille's remnants officially established the U.S. record river discharge for streams east of the Mississippi River."(The full story with extraordinary photos of the devastation can be found here)
The terrain in the northern and western parts of the County are steep and treacherous and to the east and south, you'll find beautiful farm land and the James River. Dominion's Southeast Reliability Project will wander through our national forests, as well as the Blue Ridge Parkway and the Appalachian Trail.  Blasting for the 10 foot deep trench through the mountainous rocky terrain, as well as through the many streams and rivers which serve as the headwaters for the James River, as well as the James itself, will likely be necessary. 
The natural gas which is to be piped through this pipeline at 750 to 1440 psi is hydraulically fractured (fracked) natural gas from the Marcellus shale in West Virginia. During Dominion's presentation to the Nelson Board of Supervisors, they bragged the US is becoming energy independent because of the natural gas being extracted from the Marcellus shale. Six years ago, Dominion's representatives said, there was no natural gas from the Marcellus shale in West Virginia, but now Dominion calls it Saudi Virginia.
However, in recent studies, the effectiveness of reducing emissions with natural gas has been called into question because of leaking methane from pipelines, and the methods companies use to extract the gas contaminate the soil and water. States which have seen a lot of fracking, such as Oklahoma, are now experiencing unprecedented earthquakes!  If the trade-off for cleaner air from natural gas is that we cannot farm the land nor drink the water because of pollution, what have we gained? 
Natural gas was meant to be a "bridge" fuel offering energy companies time to move to renewable energy resources. While Dominion, in its public meetings, has touted its work in wind and solar, it is obvious they have done little to nothing to move us into more sustainable energy resources for the future. (*See article here on BVA ranking Dominion 30th of 32 companies in sales of sustainable energy.)
Dominion also states safety is its first priority. They'll walk the pipeline. They will fly over it in helicopters to ensure there are no leaks. But representatives admitted the absolute best way to know if there is a leak is if the grass and other vegetation dies.  At that point, isn't the soil, or someone's well, or a river or stream already contaminated? 
Nelsonians are also keenly aware of the damage pipeline explosions can cause because of a Williams/Transco 30″ pipeline explosion in nearby Appomattox County.  When asked what the setback requirement from the pipeline would be, a Dominion representative said 25 feet. The 600 Nelsonians in attendance for the Dominion Road Show laughed in derision. Dominion claims the explosion area for their 42″ pipeline will be 1100 feet, but fact is that the 30″ pipeline explosion in Appomattox County caused damage for at least 1600 feet, destroying homes and personal property. But Dominion says it's safe to have your home within 25 feet of their 42″ pipeline. Yep, safety comes first.
The most galvanizing issue for Nelsonians is property rights. It seems Virginians own nothing even after paying their mortgages and taxes, because the Virginia General Assembly gave away those property rights to a privately held, for-profit corporation that continues to pollute our air, water, and land with fossil fuels.  Nelson now has three community groups which have formed to fight the proposed pipeline, not because Nelsonians believe they don't need energy or because they don't use energy, but because they believe sustainable energy from renewable sources that do not trample our Constitutional rights is a much better solution to our energy needs. 
My Note: Many thanks to Dan Sullivan for helping me create a coherent, easily readable post.