Home
Authors
Posts by pontoon
pontoon Communities in Texas, Oregon, New York, Pennsylvania Maryland, Ohio, West Virginia, Virginia and North Carolina participated in a grassroots action called Hands Across Our Land on Tuesday, August 18. Planned and organized by the Nelson County anti-pipeline group,
Free Nelson
, 35 actions were held promoting solidarity and unity among local communities facing the threat of industrialization by the energy industry with its fracking wells, pipelines, compressor stations and LNG export facilities.
Over 150 citizen protesters amassed on the Blue Ridge Parkway bridge atop Afton Mountain, with another 135 at the bridge across the James River at Wingina, which is miles and miles from the nearest town. In Montgomery County, VA, over 100 citizens stood across a field which is on the path of the proposed Mountain Valley Pipeline, and in Franklin County, VA citizens marched to the Franklin Government Center where they asked their Board of Supervisors to help them protect their water and streams by petitioning the Governor to require pipeline companies to submit site specific erosion and sediment control plans should the MVP ever be built. In western Augusta County, 32 people cheered and sang protest songs in the pouring rain to protest the proposed Atlantic Coast Pipeline. In Richmond, over 60 citizens met at Dominion headquarters and marched to the Governor's office supporting the actions held in localities directly affected by the proposed 42" high-pressure behomeths being proposed in Virginia. Other Virginia communities which participated were Floyd, Bent Mountain, Roanoke, and Front Royal. Nelson County. Va--On Tuesday, August 18, the culmination of what was conceived last January during a conversation between Free Nelson Co-Chair Sharon Ponton and Nelson activist Matt Dwyer will occur when communities in eight states -- WV, VA, MD, OH, OR, PA, TX, and NC -- take part in "Hands Across Our Land." HAOL is a solidarity action meant to illustrate to government officials and the energy industry that grassroots activists stand together, united in their efforts to protect their land and communities from the onslaught of new fracked gas infrastructure.
Energy companies erroneously tout fracked natural gas as clean, cheap energy and expect rural communities across America to be sacrificed, not for the public good, but for shareholder profit. Free Nelson founder, the Reverend Marion Kanour wonders, "What could our world become if corporations were guided by environmental and social responsibilty rather than greed?" Kanour, an Episcopal priest, believes we each have a sacred obligation to be good stewards of the earth.
Marilyn Shifflett, Free Nelson Co-chair, visited the fracking fields in West Virginia and was profoundly affected by what she saw. "It was hard to imagine greater impact than over 100 years of coal mining and then mountain top coal removal," Shifflett explains, "but West Virginians are now being assaulted by the natural gas industry spanning larger residential areas, at a pace hard to imagine until seen, leaving an irreparable path of destruction in its wake. Hardly a stream or human has not been touched. Our visit was an eye-opener and heart opener."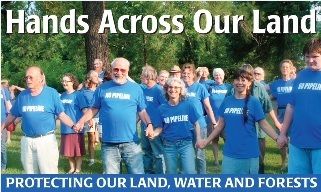 News Release
Hands Across Our Land
Protecting Our Land and Communities
Tuesday, August 18, 2015
Join opposition groups from both the proposed Mountain Valley and Atlantic Coast Pipelines, as we take a stand to protect our land and communities from the unnecessary and unwanted onslaught of new natural gas infrastructure.
We are citizens, small business owners, and farmers from every walk of life, standing up for our heritage and culture in rural West Virginia, Virginia, and North Carolina. We are united in our goal to stop the industrialization of our properties and communities by energy companies who seek to profit by stealing our land through the misuse of eminent domain!
Actions and events will be held in localities across all three states. We are in the process of recruiting county coordinators along the paths of both the proposed Atlantic Coast and Mountain Valley Pipelines. Local actions are already being planned in Nelson County, Buckingham County, Augusta County, the George Washington National Forest, Roanoke, and Montgomery County in Virginia, as well as Monroe County, WV.
Dominion, Duke, Piedmont Natural Gas, AGL Resources, NextEra, EQT, and others would build their pipelines within feet of our homes, destroy thousands of acres of forested land, pollute our water supply, wreak havoc on our local economies, degrade our national treasures by crossing the Blue Ridge Parkway, the Appalachian Trail, and the pristine George Washington and Monongahela National Forests. All of this desecration would be done in the name of profit for the few on the backs of thousands of private property owners. Stand with us as we hold Hands Across Our Land to protect our way of life.
Contact Free Nelson on Facebook or email sharon.ponton@gmail.com for more information or to become a County Coordinator for an event in your area. Written by Free Nelson Organizer, Marilyn Shifflett
During a March 26 radio interview with Governor McAuliffe in Richmond, a caller asked a question regarding the proposed route for the Atlantic Coast Pipeline. The Governor did not answer the question, but did offer the following remark. "Nelson County - I think it's our smallest population county in Virginia." He went on to reaffirm his support for the Atlantic Coast Pipeline (ACP), citing (supposed) cheap energy and jobs.
Governor McAuliffe's remark was totally inaccurate. Depending on the source, Nelson is ranked as the 23rd or 24th smallest county by population in Virginia. Why did he make this remark? Does he view Nelson as tiny and insignificant regarding its number of voters? Is this why he has answered citizen concerns about the ACP with stacks of form letters? Or, is it that he views the nearly 14,000 lives that could be placed at risk by a high-pressure, 42" pipeline as an acceptable number? Was the population of counties like Highland, Nelson, & Buckingham the determining factor behind Dominion's path for the ACP?
And isn't this acknowledgment of something on Dominion's part? Are they acknowledging safety risks they've previously denied to the press? Structures per mile determine the Pipeline & Hazardous Materials Safety Administration's (PHMSA) classification of natural gas pipelines. The path chosen by Dominion for the ACP will make it a Class 1 location pipeline. This means little to no regulation by federal authorities (the US Department of Transportation in this case). It also means that they will not be required to install expensive, automatic shut-off valves, while the manual valves will be set miles and miles apart.
These are a few facts about Nelson County that Governor McAuliffe did not quote. The US Geological Survey (USGS) and the VA Department of Emergency Management designate Nelson County as "moderate incidence," "high risk" for flooding and debris flows (slides). The National Oceanic and Atmospheric Administration (NOAA) has called Nelson an orographic lift zone which traps storms within our mountains and tends to drop heavy rainfalls. The VA Deptartment of Emergency Management also specifically recommends against "energy pipelines" in these areas.
Our governor is well aware of these reports, but has yet to publicly acknowledge their existence. We believe there are nearly 14,000 good reasons to ask him why. Free Nelson has been reporting on errors, accidents and violations by Dominion and/or its partnerships over the last several months. We became interested in Dominion's safety record last May, when Nelsonians began receiving letters regarding a 554-mile long, 42" natural gas pipeline known then as the Southern Reliability Project. The pipeline has since been renamed the Atlantic Coast Pipeline (ACP), and is now a partnership between Dominion, Duke, Piedmont Natural Gas and AGL Resources.
The proposed ACP would cut a 125' swath, wide enough for a 6-lane highway, through Nelson's steep, forested terrain, as well through our rolling farmland. The originally-proposed route for Nelson is approximately 30 miles, entering at the county's northeast corner near Humpback Rock on the Blue Ridge Parkway. It would travel in a southeasterly direction to the James River. This route, or any of the other four recently announced alternate routes through the county, would traverse the land of hundreds of private property owners.
We have heard all the platitudes. The most often heard is that "pipelines are the safest way to transport natural gas." Actually, it is the only way natural gas is transported. But that doesn't mean it is safe. As pipelines increase in size, it becomes more imperative that we know the risks to those in the path of these behemoths. In 2012, a 20" natural gas pipeline exploded in Sissonville, WV along Interstate 77, melting 800' of the interstate highway, destroying three homes and damaging countless others. Another pipeline, in Appomattox County, Virginia, exploded in 2008, destroying two homes, melting the siding on over 100 others as far as a mile away. Clearly, the radiational heat from these explosions is tremendous. Yet here in Nelson, Dominion (which has chosen the proposed path) puts existing lawndowners' homes within 330' of a much larger, 42" pipeline which operates at a much higher 1,440 psi than the two pipeline explosions we gave as examples.
We won't address Dominion's many lies, nor the crass, bullying behavior of Dominion toward landowners and our community in this article. But we will share with you the many errors, unreported violations, fines and accidents Dominion and its partnerships have been party to over the last few years. In May, 2014 Dominion Transmission sent letters to property owners from West Virginia to North Carolina requesting to survey private property for the proposed natural gas pipeline known then as the Southern Reliability Project. Many landowners refused, including approximately 70% of landowners in Nelson County.
In December, the Atlantic Coast Pipeline LLC, a Delaware limited liability corporation, began suing landowners who had refused to allow Dominion Transmission to survey. The first of these cases was heard today in Suffolk Circuit Court. Below is a press release from Chuck Lollar, the attorney who argued the case for a landowner in Suffolk who had refused the survey. Suffice it to say, neither Dominion nor the Atlantic Coast Pipeline (ACP) LLC are happy this evening. On the other hand, many landowners across the Commonwealth are celebrating, including Heidi Cochran, a landowner in Nelson County who called us this afternoon to alert us of this victory in court.

A Virginia court today dismissed the petition of Atlantic Coast Pipeline, LLC against a Suffolk property owner represented by Chuck Lollar of the law firm of Waldo & Lyle, which exclusively represents property owners only in eminent domain and property rights matters.

The Court heard arguments from Mr. Lollar and ACP attorney John Wilburn on the constitutionality of Virginia Code § 56-49.01. Mr. Lollar argued that because property is now specifically referred to in the recent amendment to Virginia's Declaration of Rights (Article 1 Section 11 of the Constitution) as a "fundamental" right, ACP is required to show a compelling governmental interest and no lesser restrictive alternative to the requested entry; and that applying the required strict scrutiny ACP had not alleged nor could establish either. Mr. Lollar also noted that ACP was not a Virginia public service corporation and did not have the extraordinary power of eminent domain.

ACP was proceeding under § 56-49.01 in seeking a court order allowing entry to survey and take soil and other samples from private property, prior to filing its application with FERC for a certificate of public convenience and necessity. The Court did not have to rule on that constitutionality of § 56-49.01 due to the Court's conclusion that Atlantic Coast Pipeline had neither requested permission from the owner to enter nor sent the owner notice of intent to enter, both of which are prerequisites to actual entry under § 56-49.01. The Court further held that Dominion Transmission, Inc. could not assign to ACP its sending of letters requesting permission and giving notice to owners, in order for ACP to have met those requirements. Details are sketchy, but we have learned a short time ago, Dominion and the Atlantic Coast Pipeline (ACP) LLC lost in a suit filed by the ACP LLC against a landowner refusing to allow survey. eminent domain attorney, Chuck Lollar, represented the landowner.
We understand the landowner won because Dominion requested survey, not the ACP, LLC.
Will update when we have more information! Free Nelson attended Thursday night's Federal Energy Regulatory Commission (FERC) meeting in the Shenandoah Valley. The meeting was designed to hear concerns from the public regarding the proposed Atlantic Coast Pipeline (ACP), and to contribute input towards the Environmental impact study (EIS) FERC is required to conduct.
What we found truly astonishing about this meeting was the lengths to which Dominion Power continues to sink in its efforts to create the appearance of support for its ill-conceived, dirty fossil fuel pipeline. Some of the tactics used by Dominion are eerily similar to a 6-year-old throwing a temper tantrum, and they're just as unattractive.
After inviting folks who do not live in the affected areas of the proposed ACP, Dominion's uninformed "plants" attended a pre-meeting meal supplied by Dominion. To be allowed to speak, everyone had to stand in line to receive a speaker number. Everyone, that is, except - surprise, surprise! - Dominion supporters. One Dominion supporter even tried and failed to cut into the front of the line. After a commotion, he was summarily sent to the back, grumbling all the way.
When grassroots activists arrived at Stuarts Draft High School at 5 pm, Dominion was already present and had put up its "clean energy" signs. Friends of Augusta and Augusta County Alliance volunteers put up two large "No Pipeline" signs, dwarfing Dominion's yard signs. Dominion reps came out and added a dozen more yard signs. Grassroots activists continued by putting up yard signs -- this time, a set of No Pipeline signs harkening back to the old "Burma Shave" signs.
Again, Dominion reps appeared with more "Clean Energy" signs, placing them so as to block the message of the Burma Shave signs. Volunteer Tom Harvey insisted Dominion move those signs from blocking our message. As both the activists and Dominion countered with signs, Mr. Harvey approached a Dominion employee stating he had 1,000 signs in his vehicle. He suggested he could put them all up or they could call a truce, which the Dominion representative readily agreed to. The Federal Energy Regulatory Commission (FERC) Environmental Impact Study scoping meeting was held Wednesday night in Nelson before a standing-room-only crowd in the 600-seat auditorium at Nelson County High School. FERC had "invited" several state police officers to maintain order. We welcomed them and told them we promised to behave.
After being told we could not have signs at the venue or in the meeting, we arrived to see numerous Dominion Power "Clean Energy" signs. In an effort to appear to have community support, there were two hand-painted signs, in favor of the pipeline, planted on school property. Problem is, Dominion representatives were seen putting those hand-painted signs up! Of course, Nelsonians were quick to add their "No Pipeline" signs.
Having arrived at 6:15 pm to sign up to speak for a 7 pm start time, Free Nelson was surprised to be designated as speaker number 43, and dumbfounded when FERC representatives told us they had to be out of the building by 10 pm. They handed us a form suggesting we submit our comments in writing. We questioned why they would end the meeting at 10 pm when there would be hundreds, we believed, who would want to speak, and would be unhappy if not allowed to do so. They answered by shrugging their shoulders and asking us to move along.
Dominion and FERC tried quite ineptly to stack the deck with speakers. This attempt infuriated those with legitimate concerns about the proposed Atlantic Coast Pipeline (ACP). The first 12 folks to speak were pro-pipeline and many, we believe, were Dominion Power plants. We had a pipefitter from Columbia Gas, a retired Exxon executive, another oil distributor, etc. Also, several of the early speakers lived in Richmond, Albemarle or somewhere other than Nelson.
Saying nothing about the Environmental Impact Study, but using every second of their three minutes, these folks spewed Dominion talking points about jobs and tax revenue, and supporting property rights except if it meant we could have energy independence. All, of course, are points which have been thoroughly debunked.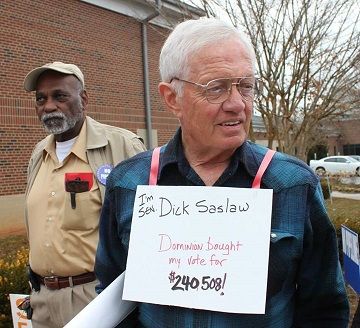 On February 23, Dominion Power announced four additional alternate routes in Nelson County for its proposed Atlantic Coast Pipeline (ACP), nearly doubling the number of land owners affected. Augusta now has nine possible ACP routes, and Dominion has added one alternate route in Buckingham County.
Holding an Open House in Nelson for all three counties is a first, especially since we were told by Dominion representatives they didn't have to hold it all. When landowners complained the maps presented for their use in viewing all these routes were extremely difficult to read, Dominion agreed! Suffice it to say, the anti-pipeline booths set up outside the venue were very busy. Most people were joining Nelson's anti-pipeline groups, buying No Pipeline signs and t-shirts, and asking how they could help with the resistance.
Free Nelson organized a protest for the event, centered around Dominion's purchase of Virginia's elected officials. On February 5, about 50 citizen lobbyists attended the General Assembly session to lobby for the repeal of the survey without permission law passed in 2004. They lobbied Virginia's Senators in the morning and attended the Commerce and Labor Committee meeting where the bill was promptly killed without a motion.
Local citizens wore tent cards at Tuesday's Open House with a Senator's name who serves on the Commerce and Labor Committee and comments which read "bought and paid for by Dominion" and "Dominion bought my vote for" and the dollar amount of contributions. Governor McAuliffe and Senator Warner were included in the protest, because McAuliffe supports the proposed ACP, and then-Governor Warner signed the 2004 survey bill into law. Each "Citizen Senator" also had an envelope of "Commonwealth of Dominion" bucks equalling their specific pay off received from Dominion. Senator Dick Saslaw won the prize for the largest amount of contributions received at over $240,000.
At the end of the evening, the "Citizen Senators" went to Dominion's "Public Input" table where they sang a revised version of the old Lesley Gore song, "You Don't Own Me" and returned all of Dominion's contributions received by our legislators in "Commonwealth of Dominion" bucks.
Photos by Marion Kanour and Jennifer Lewis