Advertisement

From Anna Scholl of Progress Virginia: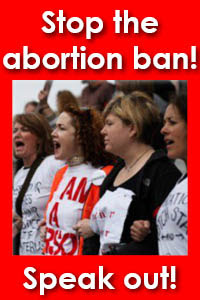 Virginia conservatives are attempting an abortion ban more extreme than the bill conservatives in the US Congress were too afraid to try. Last night, on the very anniversary of Roe v. Wade, right-wing lawmakers put in HB2321 which unconstitutionally bans abortion after 20 weeks, with zero exception for survivors of rape.
We need you to take action right now to tell your State Senator and Delegate to oppose this blatant abortion ban.
Only the extremist lawmakers who tried to subject Virginia women to trans-vaginal ultrasounds and personhood would attempt to pass an abortion ban bill too extreme for the far right Congressmen in Washington, on the anniversary of Roe v. Wade. We can't stand for this.
Speak out against this outrageous abortion ban right now.
Once you've taken action, please take a second to help spread the word and make sure as many people know as possible:
Together we will defeat this,
-Anna

Contribute Now!