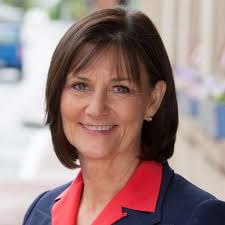 I had a chance to sit down late last week with LuAnn Bennett, the Democratic nominee in Virginia' 10th CD, running against far-right-wing ideologue and "GOP attack dog" Rep. Barbara Comstock. The interview will be presented in three parts during the next few days: 1) Bennett's background; 2) her public service and philanthropic efforts; and 3) why she can win this race. By the way, I'm starting this series in conjunction with Donald Trump's visit to Loudoun County today, in part because Barbara Comstock is desperately trying to run away from her party's presidential nominee and his offensive comments (good luck with that; he's YOUR party's nominee, Rep. Comstock!). With that, here's part 1 — my questions and LuAnn Bennett's answers on her background and why she's running for Congress, edited for length and clarity (bolding added by me for emphasis). Enjoy!
Q. Why are you running for Congress? What got you thinking about it over the years?
Bennett: "I really didn't think about it over the years, it's not anything I ever considered doing really. I'm a businessperson, I've always been a businessperson…it is what I had to do to keep our family going and supported after my first husband Rick died." After 35 years working in the family's real estate business, "I started thinking what I was going to do next…I wanted it to be serving others" after spending "my entire life serving my family and my employees," and "I really wanted to do good for others beyond my family."
"At the end of the day, I think the bottom line is that I have three kids, they're married now, I look at the world we've got and there are things that have to be fixed environmentally" and in many other ways. "If I have a chance to make any difference before we hand this country off to the next generation, I feel like I have to try. And it may work or it may not work, but I would regret not trying more than I would regret going through this and taking the punches….and that's the burning desire, it's still for my kids, for everyone's kids, for my grandson.
Q. How do you think your business background will help you get things in Congress?
Bennett: "I think it helps tremendously. There are certain lessons you learn in business; one is you only solve problems when you talk to people you don't agree with…you need to be willing to listen and talk to people across the aisle…I go to work solving problems every day…It's healthy to have people from outside the system to cycle in…people who have had to live with the legislation that's been passed and understand what does and doesn't work, produces a better result…
We also need a Congress that will work with the President…The Republican caucus is broken…I'll tell you what Republicans should be doing after this election, they should be embracing independent redistricting, it's the only way to fix their party, the only way to get their party back…Partisan districting has created this ugly beast…
The 10th district is a perfect example, we're a 50/50 district, yet Comstock's voting record is pretty extreme…she takes an occasional vote in the right direction, enough that she can try to portray herself as moderate…She has an A rating from the NRA; she's voted 11 times not to bring legislation to the floor that would keep guns out of the hands of people on the terror watch – the terror watch list – and this from the party that claims it will keep us safe….She's voted 90% with House Republicans…She is berating [Metro] but not giving them extra funding…Yet she tries to present this very moderate image when her voting record and beliefs are so extreme…We have to fight for everyone's rights…you saw what happened in North Carolina [with HB-2]…social issues are also economic issues."
Q. What about the potential for a member of Congress to impact policy and help people very broadly?
Bennett: "That was informed by my marriage to Jim [Moran]…he had given his entire life to public service really…I did learn a lot about public service then and watched the joy he got from truly helping other people…the number of people who would come up and say 'we were in trouble and you really helped me'…That did inform my wanting to do something good."
Q. I've heard from a few people that you have a strong personal story, can you tell us a bit about that?
Bennett: "I grew up in the Midwest, and that's relevant, because I grew up on a farm, and there's always part of me that will be a country girl. The rural areas of the 10th district feel like home to me; there's something about campaigning there that taps into that first 20 years of my life — the small towns. I know that most of them are conservative, but so is my family … It ties into another reason why I'm doing this, that we have left behind such a big segment of our population, and I know, because they're my relatives and their friends, and it's where I grew up…they believe the sound bites from Fox News…our politics have gotten so ugly…we've been so nasty and so ugly in our politics, we've got to change that, because what it's done is it's made a huge part of our population just give up on our government and its ability to help solve problems…and that's not healthy for our democracy."
"I always loved to debate my dad, I was always more liberal thinking…we had great debates at the kitchen table…I went to college, the only one of my siblings who graduated from college…went to St. Louis…got married, we moved here [to Great Falls, Virginia] in 1980, bought a house and started family. My husband started his real estate business…I worked with him from the beginning and we were building our business, raising our family."
…Then, 22 years ago, my husband [Rick] got leukemia and died at age 42 [in 1994], and I was suddenly left a single mom. We had 9, 10 and 13 year-old boys, we had a business…I took over the business, had to deal with lenders…negotiate with banks…I was able to work through things…In 1997, I moved the boys to McLean…I've been in McLean/Great Falls since 1980."
P.S. Look for additional interviews with LuAnn as campaign season picks up this fall, and keep up with her and her campaign by checking out her stances on the issues important to Northern Virginia on her website and by following her on Facebook and Twitter.