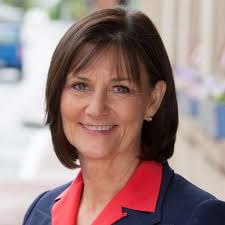 I had a chance to sit down late last week with LuAnn Bennett, the Democratic nominee in Virginia' 10th CD, running against far-right-wing ideologue and "GOP attack dog" Rep. Barbara Comstock. The interview is being presented in three parts: 1) Bennett's background and why she's running; 2) her public service and philanthropic efforts (see below); and 3) why she can win this race. With that, here's part 2 — my questions and LuAnn Bennett's answers on her extensive public service and philanthropic work, edited for length and clarity (bolding added by me for emphasis). Enjoy!
Q. You've done a lot of public service work, can you talk about some of that?
Bennett: "I was a very early adopter of LEED [building energy efficiency standards], I got LEED-accredited, thought this is terrific, this is one way I can help with the climate change issue for future generations, to fix things for my kids going forward…We were at a lunch for Gov. Kaine and he was putting together a [nonpartisan] climate change commission, and he said would you agree to serve? We want some business voices on there…and I agreed.
The military considers climate change one of our greatest national security issues…I just did a national security briefing with the Truman National Security Project, it was fascinating, the Admiral talked all about climate change and why it's such an important issue for the military. Four out of six casualties in Iraq and Afghanistan were delivering resources – either water or fuel – to the troops…and we buy it from our enemies…it doesn't make sense…"
"When that year was finished, I got a call from Sen. Warner's office, and he had put together this group in Richmond many years ago…called the Virginia Healthcare Foundation…they support the health safety net, the free clinics in the Commonwealth…uses part state money, part private dollars, it's very successful, highly thought of on both sides of the aisle…I served on that board for four years as well."
Q. Any other philanthropic work you've participated in?
Bennett: "I'm on the board of the Institute for Sustainable Communities…they do phenomenal work globally on the climate change issue, it's one of the most amazing organizations…they're small and entrepreneurial…they've established health and safety academies in China…started one in Bangladesh and are moving into India now…In America, they're in cities…they do a lot of work domestically…I've been on the National Children's Museum board…It's all about kids, about future generations, about being good stewards while we're here."
Also, when my husband died, he had just assembled a project…near Capitol Hill…in 2010 we were approached by the JBG Companies, we signed a joint venture agreement with them, they brought a concept to the site…a 75,000-square-foot WalMart…We built this project, it has a second-floor WalMart, street-level retail, 300 apartments above…and what this allowed us to do…required that we give 30% of all our profits from our partnerships to two community groups – one is the Joshua Group, which is a group of churches and local social welfare organizations around that area, and the other is the H Street Community Development Corporation (CDC)." (Note by Lowell: this WalMart also solved the problem of a "food desert" in that area, which is huge for low-income people who live there and didn't have access to healthy/fresh fruit, vegetables, etc.)
"The other thing we were required to do was to fund an educational foundation – the New Jersey and H Educational Fund…education is something that my family has always strongly believed in…I felt very strongly that [the Community Foundation] would be the best way to manage the money…they already manage money for a lot of small foundations, they have a grant making process, they'd do all the regulatory work piece of charitable work…[The Community Foundation for the National Capital Region] has to abide by all of our requirements, which is to spend [the money] in a certain service area, only spend it for education, and our board then became an advisory board… We've given away $650,000 out of this $3 million fund."
"I'm not one to go out and talk about what we've done, but this campaign forces me a little bit outside my comfort zone, and I knew it would. But one of the things I've learned in life is that you only grow when things are hard…So I knew that this would be one of those things that I was doing that would force me to speak in front of people – I'd never done that – talk about myself…I have to say, I've been terrified at times, but that's when you learn to stretch yourself…"
P.S. Look for additional interviews with LuAnn as campaign season picks up this fall, and keep up with her and her campaign by checking out her stances on the issues important to Northern Virginia on her website and by following her on Facebook and Twitter.