Advertisement

By Kay Littleson
Cybercrime is very real. It involves BIG money. And, yes, the DNC hack was very likely related to Russian organized crime.

"It could be Russia, but it could also be China. It could also be lots of other people. It also could be somebody sitting on their bed that weighs 400 pounds."—Donald Trump, Presidential Debate, 9/26
If Donald Trump and his cohort of like-minded, high-profile supporters, such as Dave Brat (VA-7th) are to be believed, the criminal hacking of the DNC is the result of a pimply-faced, greasy-haired, 400-pound hacker, who resembles an extremely overweight Matthew Broderick. (No, offense, Mr. Broderick. You're an awesome actor. I loved Wargames and the rest of your work.)
Well, Dave and Donald, I hate to break it to you, but very credible non-partisan cybersecurity sources indicate that yes, cybercrime activities against the DNC, the Republican Senate, and millions of US citizens in the form of phishing, ransomware, and malware distribution ARE the result of Russian criminals, likely sponsored and supported by either or both the Russian government or Russian organized crime syndicates.
American citizens should be extremely concerned that congressional representatives and so-called defenders of the U.S. constitution, like Dave Brat are embracing Donald Trump's head-in-the-sand approach to cybercrime and connections to the Russian mafia. A quick Internet search of key words like "cybercrime" and "Russia" delivers up countless pages of independent, non-partisan research and proof on the Russia-cybercrime connection, developed by highly legitimate corporations like Kaspersky Labs and independent researchers like Brian Krebs.
"Perhaps no underground marketplace is as notorious as the Russian underground, setting the bar for all other criminal undergrounds."—The Global Cyber Crime Underground, Part 2: Russia and Eastern Europe, LookingGlass Threat Intelligence Solutions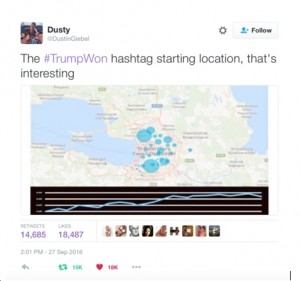 Using the Twitter analytics tool Trendsmap, freelance writer Dusty Giebel discovered Russian cybercriminals generating the #TrumpWon hashtag.
Proof of Russian hacking connections are extremely easy to find, even for those unfamiliar with cybersecurity research tools and protocols. Take the recent #TrumpWon hashtag that trended the day after the first presidential debate. Using Twitter analytics, freelance writer @DustyGiebel took at look at where the hashtag originated. And those of us that follow cybercrime and cybersecurity issues weren't the least bit surprised when the Russian city of St. Petersburg surfaced. According Giebal, 85 percent of the "TrumpWon" hashtag activity came from VPNs in Russian areas.
What Dave Brat, Donald Trump, and the rest of America must understand is that Russian cybercriminals are driven by one thing: Money. The bottom line is that someone is paying these Russian cybercriminals big bucks to hack into the accounts of U.S. private citizens. Who is paying the money? Well, current speculation is the Russian government, Russian oligarch billionaires, the Russian mafia—or all of the above.
The other critical thing that Dave Brat, Donald Trump, and Americans need to understand is that cybercrime is equal opportunity. While the Wikileaks organization may be perceived by some as a Robin Hood band of merry men in tights, those that operate in this seedy dark underworld are NOT stealing secrets out of sense of moral duty, or robbing from the rich and giving to the poor. Quite the opposite in fact. These same criminals are earning MILLIONS every year through the sale of secrets, social security numbers, and bank account/financial information. These criminals are stealing from poor old ladies that don't realize that they're giving their social security check to a fake PayPal phishing site.
Security researchers recently discovered that Russians were skimming credit card numbers from the Senate Republican online store.
Moreover, if Trump supporters think they're immune from Russian cybercrime, then they're amazingly foolish. (But we already knew that, didn't we.) Recent reports on threat intelligence websites suggest that a Javascript skimmer that originated from a server in Russia was discovered on a Republican Senatorial website. Between mid-March and early October, this Russian skimmer captured the credit card numbers of anyone who purchases a tee-shirt.
So, Dave Brat, you know that Trump Train tee-shirt you bought for your weekend jog? Well, Russian cybercriminals are probably already using your credit card to pay for hot tubs and champagne.
For the safety and security of America, it is imperative that Dave Brat and Donald Trump be stopped. Eileen Bedell is running on the Democratic ticket in Virginia's 7th district against Dave Brat. With the election of Eileen, liberals, progressives, moderates, and conservatives have the opportunity to rid Congress of one of its most obstructionist and extreme members. To learn more about Eileen, go HERE. To donate to her campaign click HERE. And to pitch in personally to help get her across the finish line, click HERE.
There's no paywall on Blue Virginia, and we definitely want to keep it that way! If you want to help support our work, you can donate here - thanks!
Also, you can
sign up for our weekly email list here
.