It's unquestionable that a good deal of marijuana legalization supporters voted for Donald Trump.  How many, we can't be sure, but support for legalization has eclipsed the vote turnout for Trump. In Florida, for example, medical marijuana received 71% of the vote while Trump got 49%.
That brings us to the nominee for Attorney General, Alabama Senator Senator Jeff Sessions.  On top of the virulently racist and outrageous things he has done and said, a Post article from his 1986 Senate confirmation hearings — in which he was turned down for a federal judgeship for being, well, himself — Sessions had this to say about the KKK and pot smokers:
In another controversial remark about Ku Klux Klan members, Sessions said, "I used to think they're okay," until learning that some were "pot smokers," according to the sworn statements by the civil rights attorneys, who had worked with Sessions."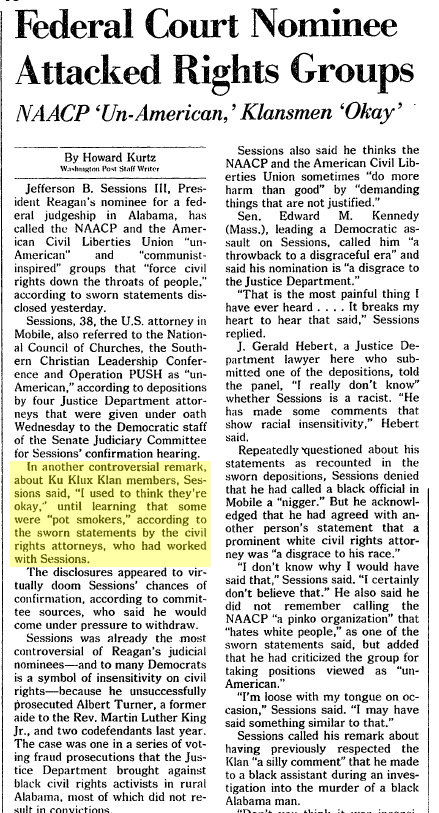 So the man who was chosen to lead the Justice Department — and could make the decisions on whether or not to prosecute civil rights violations — thinks it's okay if you're racist as long as you don't smoke pot.
Weed smoking voters who were willing to overlook or ignore the racism of the Trump campaign might finally take notice to this, because this time it's about them and not "other" people. But is there anything they can do?  Will they join with the civil rights community and rise up to stop Jeff Sessions?