Great news out of Virginia:   the Democratic Congressional Campaign Committee (DCCC) and the Democratic Party of Virginia (DPVA) have teamed up to help finance Eileen Bedell's campaign to oust David Brat from his 7th District seat in Congress.
Bedell's race against Trump loyalist and House Freedom Caucus obstructionist Dave Brat is energized and gaining momentum.  She and her team are poised to flip the 7th CD seat — once held by Eric Cantor — into the blue column on November 8th.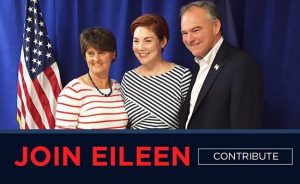 This race is no longer a longshot.  Appealing to voters' desires for common-sense solutions (see her on the issues here), Eileen has pulled to within the margin of error of Brat.  Her victory would be a stunning one for Democrats and would rid Congress of a man who has vowed to block a President Clinton at every turn and who co-sponsored a bill that would outlaw ALL abortions  — even those needed to save the mother's life.  Virginia needs Eileen, America needs her, and women need her.
Please DONATE HERE to Eileen's campaign – not for Eileen, but for us all.