Cross posted from Dump Comstock In November, we met Charlotte, who is one of Barbara Comstock's many dissatisfied constituents. Her brother was a former Marine...
crossposted from Daily Kos I recently wrote about the Prince William Clerk of the Circuit Court Special Election and fellow Kos contributor pdxbuckeye published an excellent...
Great news out of Virginia:   the Democratic Congressional Campaign Committee (DCCC) and the Democratic Party of Virginia (DPVA) have teamed up to help finance... Cross-posted from that paragon of journalism and reporting Richmond Progressive Examiner.
An immediate Cuccinelli political comeback was dispelled on Saturday during a dinner speech at The Homestead Resort. According to one source, Ken Cuccinelli stated "I don't mind not having an elected role in about a month or so. I've been in office 11 years... I look forward to a little bit of a break. ... but I'll be back with you. I'm not talking as a candidate, but just fighting for these principles because I believe in them."
Before anyone except staunch Cuccinelli supporters get too excited, the attorney general's words seem more like those of a man still licking his wounds from a recent election defeat rather than those of someone who's given himself enough time to make a resolute long term decision. And if there is one thing that Virginians should know by now, it's not to trust a good deal of what Ken Cuccinelli says.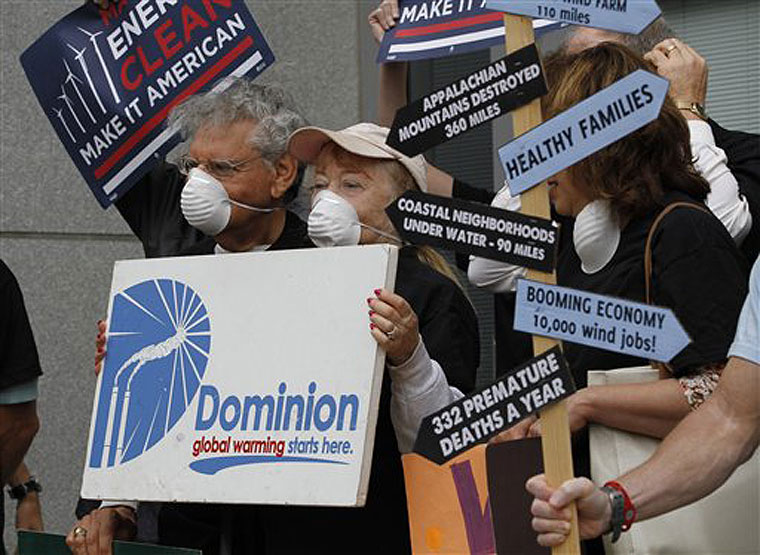 While wind power continues to grow across the country, the winds of hypocrisy have blanketed the Commonwealth of Virginia in the form of Dominion Virginia Power. While Virginia's energy Goliath leased close to 113,000 acres of the Atlantic Ocean off Virginia Beach to supposedly construct an offshore wind farm, "their statements and company documents showed they have no intention of building anything larger than a small, two-turbine offshore test project unless the costs come down." Did I also mention that Dominion Virginia Power's executives are liars?
On the one hand, it's impressive that Dominion Virginia Power would go to such great lengths to deceive the people of Virginia into believing that it was serious about Virginia's future. During a six-round auction held by the Department of the Interior, Dominion managed to outbid Apex Virginia Offshore Wind with a $1.6 million winning bid to build wind turbines 27 miles off of Virginia's coast. As it turns out, Dominion's investment in Virginia's energy future was nothing more than an investment in protecting Dominion's virtual monopoly on large-scale renewable energy efforts off Virginia's coast.
By staving off serious competitors from actually following through on building large scale wind farms, Dominion Virginia Power has fortified its comfortable place as Virginia's fossil fuel distribution king. That is, a push towards renewable forms of energy like wind power would disrupt Dominion's current business model and potentially reduce its profits in the short run. Cross-posted from that paragon of journalism and reporting Richmond Progressive Examiner.
If former New York Representative, Anthony Weiner has a problem with 'sexting' (pardon the slang!), then Virginia Uranium Inc. and a number of Virginia's elected officials have a problem accepting numerous studies which demonstrate the various risks posed by uranium mining in Southside Virginia.
Unlike Weiner's problem, however, Virginia's inability to heed multiple warnings to slow its role on attempting to lift the three-decades old moratorium on uranium mining has the potential to directly affect thousands of Virginians for generations.
While proponents of uranium mining in Southside Virginia have brushed away concerns regarding the risks involved with uranium mining in Southside Virginia, their inability to compare apples to apples or to control for pertinent variables in their cited research lends to the conclusion that the moratorium on uranium mining should remain in place until greater consensus has been reached about its safety. Cross-posted from that paragon of journalism and reporting Richmond Progressive Examiner.
Some call it chutzpah. Some call it cojones. I like to call it arrogance on a massive judicial scale. I'm referring of course to Virginia's Attorney General, Ken Cuccinelli, and the manner in which he has continuously brushed aside real concerns expressed by Virginians about his ties to troubled Star Scientific CEO, Jonnie Williams.
Cuccinelli has stuck to a strategy of what I'll call the "distracted voter conclusion" in the face of questions regarding his knowledge of Gov. Bob McDonnell's extensive gift receipts from Jonnie Williams as well as his own gift receipts from Mr. Williams.
In one response, Cuccinelli decried, "More than anything it's a distraction. I'm trying to run a race and we're talking about jobs and the middle class here." Who doesn't agree that jobs and protecting Virginia's middle class are among the highest policy issues in this campaign for Virginia's governorship? But political corruption is also a big deal, as well.
The bottom-line is that Cuccinelli is making one of the biggest political mistakes any politician can make: ignoring a nuclear political issue that is mushrooming around involved politicians instead of addressing it head-on and putting it in the past. And with the election for Virginia governor scheduled in November, the sooner Cuccinelli can put the Star Scientific debacle behind him, the better it will be for his chances at victory. Cross-posted from that paragon of journalism and reporting Richmond Progressive Examiner.
Dominion Virginia Power would like to build another power plant in Brunswick County that will allegedly save Virginians money over its "expected life" while reducing the quality of living over the course of the "expected lives" of several generations who have been forced to live with more dirty fossil fuel sources of energy (this last half is my own assessment!).
In its unshaking thoughtfulness for its 'customers', Dominion Virginia Power has proposed building a $1.3 billion, 1,358-megawatt, gas-fired power plant close to a town called Lawrenceville in Brunswick County, Virginia. In making a case for its construction, Dominion is arguing that the new gas-fired power plant will save customers almost $1 billion over the projected life of the power plant relative to the "next best alternative."
The alleged demand for more generating capacity would be met with this new plant, according to Dominion. But an State Corporation Commission (SCC) Hearing Examiner, A. Ann Berkebile, didn't agree with Dominion's assessment, and coming from anyone inside a historically Dominion-friendly agency like the SCC, the Hearing Examiner's conclusion was all the more powerful. While some of Virginia's elected officials have 'evolved' their thinking on same-sex marriage, the same cannot be said about the dangers posed by construction projects like the Keystone XL Pipeline, a project that has become the ultimate symbol of the Northern Hemisphere's rush to exploit any and all forms of energy, regardless of the short or long-term consequences.
Environmentally conscientious Virginian's recently confronted one those elected officials from Virginia who has failed to see the negative climate as well as human and environmental health effects of the Keystone XL Pipeline, Sen. Mark Warner. One of those conscientious Virginians summed up her frustration with Warner the best:

"It wasn't his telling the TV reporters, "I'm very concerned about climate change" that disturbed me, but rather his citing the State Department's recently issued Environmental Impact Statement (EIS) as evidence that Keystone would have no major environmental impact. Didn't he know it has been revealed that the EIS had been prepared by individuals with close ties to TransCanada, the company pushing to build the pipeline?" In the paradoxical world many call Virginia, there are a group of legislators who claim to strongly dislike government spending while spending large amounts of government money on their own favorite programs. Saturday's 'deal' on the commonwealth's new transportation package offered more of the same big spending reality that doesn't appear to phase legislators in the Republican Party or their fans.
As was pointed out in an earlier post by Lowell Feld, the Democratic Party came out a winner in the negotiations over the soon-to-be-signed-into-law transportation bill (although it never quite seems like a victory to me...). Democrats not only kept the gas tax, they also cajoled Old McDonnell out of his no Medicaid expansion farmhouse. E-I, E-I, O. These two victories in and of themselves are quite remarkable, but they were just two out of many.
For Republicans in the General Assembly, the transportation bill may become the next whipping boy after the smoke has settled and constituents get a whiff of the tax increases that will be going into effect as a result. I can hear it now, 'You see, those Democrats just want to tax Virginians to death. To death, I say!" Of course, the same legislator saying this will be one of the same legislators who voted in favor of the bill.
And here we have the paradox surrounding many, if not most, political conversations with conservatives (and many liberals): conservatives are the non-government spending party, right? No!!
The myth, this gigantic lie, has seemingly shaded the rational process of millions of otherwise intelligent and knowledgeable Americans. It is a testament to how effective the conservative propaganda machine is that so many Americans can truly believe that Republicans from across the country do not spend government money. There is hardly a day that goes by that I don't hear some form of this argument made.