Advertisement

Glad to see this guy's leaving the Virginia General Assembly; my feelings on the fact that he was elected in the first place are summed up by Jeff Thomas' excellent book Virginia Politics & Government in a New Century: The Price of Power (bolding added by me for emphasis):
On August 23, 2011, six Republicans faced off for nomination to the Virginia House of Delegates' Fifty-Sixth District, west of Richmond…A four-person Republican panel was empowered to decide the nominee. Smart money may have been on the photogenic [Dave] Brat, or perhaps the political chairman or a longtime local doctor. But one crucial biographical tidbit was omitted, which alone demonstrated the Virginia Way. Peter Farrell was the son of Dominion Resources CEO Thomas Farrell, the nephew and godson of McGuireWoods chairman and former attorney general Richard Cullen and the maternal great-nephew of Elmon Gray, one of the "powerful politicians who dominated the state Senate," as Elmon's father, the lumber heir Garland Gray, had before him. With that, the outcome was predetermined…Farrell did not even live in the district…Farrell's father gave him $10,000, and twenty-three of the twenty-eight others who donated to him worked for his uncle's law firm…In Virginia, most legislators were elected based on gerrymandering, or primogeniture or money – seemingly everything save for qualifications.

In sum, Peter Farrell's (s)election to this House of Delegates seat epitomized everything wrong (e.g., a theoretically "state-regulated" monopoly power company – Dominion Power – essentially buying our government) with the slimy, corrupt-to-the-core "Virginia Way." Unfortunately, even though Farrell the Younger is leaving the House of Delegates, the "Virginia Way" lives on…and on…and on. Gack.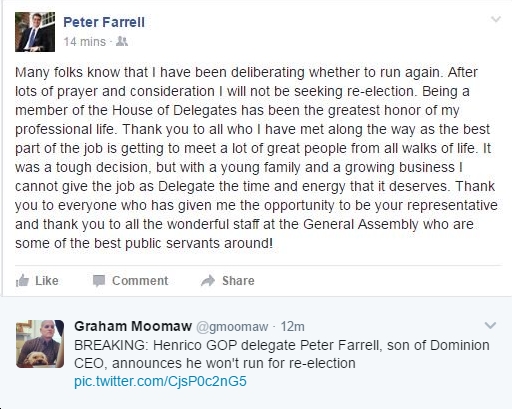 P.S. My understanding is that two Democrats – Lizzie Drucker and Melissa Dart – are running in this district (see here for the complete list). The bad news is that this is a 37% Mark Warner district (gerrymandering being yet another fine aspect of the "Virginia Way"), so they have their work cut out for them, that's for sure…
There's no paywall on Blue Virginia, and we definitely want to keep it that way! If you want to help support our work, you can donate here - thanks!
Also, you can
sign up for our weekly email list here
.