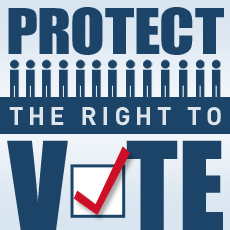 Was Virginia politician Jill Vogel's law firm, Holtzman Vogel Josefiak, and Torchinsky (HVJT), trying to interfere in North Carolina elections? A new report from Democracy NC found that Jill Vogel's law firm was allegedly involved in a vote suppression scheme in the 2016 North Carolina general election.
What did they know and when did they know it? For a sum of $98,000 the firm apparently wrote most of the charges against mostly innocent voters in NC (page 3). In Vogel's case, her law firm drew up the documents Republicans gave to NC supporters of McCrory to bring accusations of double voting against people they didn't even know. The McCrory supporters had no personal knowledge of any voter fraud, but used the documents drawn up by Vogel's firm to make the accusations anyway. Then these McCrory supporters played the victim with little regard for the people they harmed. Here is an excerpt from the report, beginning with the words of one the the actual victims:
"I was shocked and horrified and furious to learn our name was on a list with people who were alleged to have broken a federal law," said Anne Hughes of Moore County, North Carolina. She and her husband William were falsely accused of voting in two states by a local supporter of Gov. Pat McCrory's reelection.
"In an apparent effort to overcome a narrow defeat, Gov. McCrory and his allies in the NC Republican Party (NCGOP) filed the legal paperwork and launched a media campaign to draw attention to the supposedly "invalid" ballots of Mr. and Mrs. Hughes and hundreds of other voters "known" to have committed a crime. By late November, the McCrory NCGOP team had charged about 600 voters in 37 counties with committing fraud or casting suspect absentee ballots but despite an avalanche of legal filings and the constant drumbeat of "serious voter fraud," nearly all the accusations proved to be false" (page 1).
The main thing you need to know is that more than 95% of those listed as "fraudulent voters" by the McCrory campaign were legal voters. And most of the rest were not acting fraudulently. It's worth reading the report (especially pages 3-4) to read the details of HVJT's involvement.
Much of the nation watched with horror as former North Carolina governor, Pat McCrory, used Kansas Secretary of State Chris Kobach's infamously flawed Crosscheck lists in an attempt to persecute voters, strip them of their rights and overturn an election. Indeed vote suppressors were very busy in 2013-2016, when many registrars nationwide conducted major purges, often regardless of whether the purges were justified. But even the Republican dominated NC boards of elections, which investigated the Crosscheck lists at least twice, found the lists of those who moved from out of state to be worthless.
And yet McCrory persisted using the lists anyway. Indeed when one county registrar contacted the Vogel law firm to let it know they were wrong in charging a voter, the firm promised to look into it, but apparently did nothing to correct the situation. As for McCrory, even when confronted with the falseness of the claims, he escalated his claims of voter fraud.
At what point are McCory and company guilty of that which they falsely charge others? Republicans nationwide are continually trying to strip voting rights from those Americans who merely moved from one state to another. Indeed the voter registration form in NC clearly says that registrars will notify previous election boards for those who have moved (See wording at item 7 on form).
That the various registrars fail to do that is not the fault of the voter. The GOP cannot win on the issues, so they gerrymander and undermine the vote instead. Groups such as True the Vote (a Tea Party offshoot) and The Voter Integrity Project work with Kris Kobach's flawed lists, make trouble for lawful voters and possibly even attempt to intimidate them at the polls. The voter Integrity Project's latest gambit is to compare voter rolls to the 2010 census despite the huge influx of new residents since 2010. They do this with charges of voter fraud, regardless of whether the evidence showing any double voting.
Overwhelmingly, the wrongly accused were Democrats. It appears that the main fraud in 2016 was the false case waged against a number of innocent voters. Now, North Carolina Republicans have overreached again. Just this week, they again over-rode Cooper's veto and stripped Roy Cooper of the right to appoint electoral boards at all and moved the boards under a committee answerable to the legislature. So far most election boards have operated in good faith. Let us hope that that continues. But we have a ruthless GOP-led General Assembly with no conscience waging war against its citizens.
What does that say about those working to assist the renegade actions of the NC GOP? I don't know about you, but I am sick and tired of Republicans messing with Americans' right to vote.