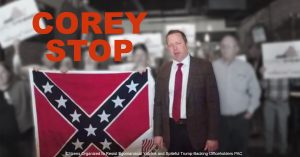 Citizens Organized to Resist Egomaniacal Yahoos and Spiteful Trumpbacking Officeholders PAC (COREY STOP) a federal super PAC working to highlight Corey Stewart's divisive politics filed paperwork with the FEC on Tuesday. COREY STOP will work to build Democratic and Progressive infrastructure in Prince William County to oppose Corey Stewart's racist, xenophobic and divisive agenda and his candidacy in any future election.
Mike McLaughlin, a Prince William native and campaign staffer for multiple Democrats across the country since 2005, founded COREY STOP to continue to build pressure against Stewart. McLaughlin said, "Since his first election Chairman Stewart has been a disruptive and negative force in this community. He is willing to do and say anything, and attack anyone to win a vote. That's not leadership. COREY STOP will work to remind voters of all of Chairman Stewart's divisive behavior."
The same day COREY STOP was founded, Chairman Stewart gained national attention for claiming "ISIS has won" after a statue to the Confederacy was removed in Louisiana. Chairman Stewart continued by noting he could think of nothing worse than "a Yankee telling a Southerner his monuments don't matter".
Chairman Stewart's hateful and divisive antics cost him the endorsement of several of his Republican colleagues in Prince William County. COREY STOP has launched a petition to thank Stewart's colleagues who have stood up to him. "Symbols of hatred should not be a partisan issue. It takes real courage for the members of the Board and Sheriff Hill to stand up and tell Chairman Stewart he is wrong. Our petition also calls on these leaders to continue to oppose Chairman Stewart's divisive policies on the Board and in future elections" McLaughlin added.
To learn more visit www.CoreyStop.com