Advertisement

Wow, the "Trump effect" is real (Democrat Jackie Smith 13,905-Republican Jackson Miller 11,871 for PW County Clerk of Court despite being outspent $235k-$36k, or 7:1)! Can't wait 'til November. 🙂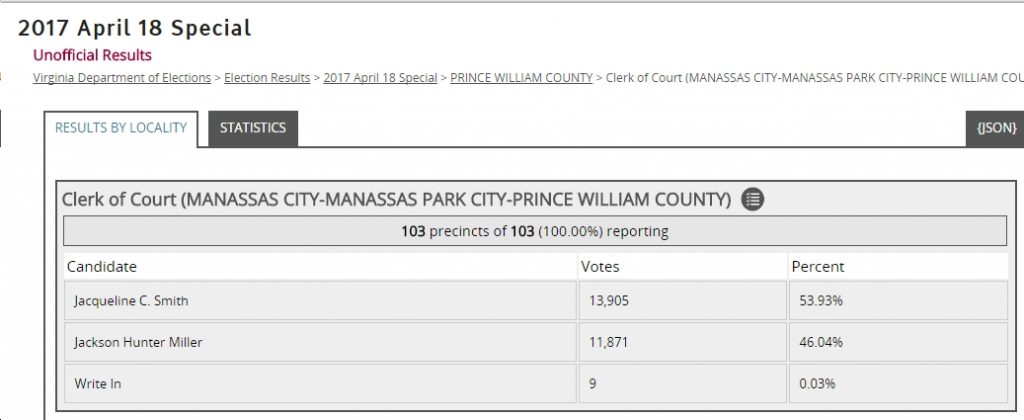 P.S. I'm told that Rep. Gerry Connolly paid for one of Jackie Smith's mailers. That really could have made the difference, along with all the door knockers, phone bankers, etc. Thanks to Rep. Connolly for that!  Also, thanks to AG Mark Herring for doing a robocall on Jackie Smith's behalf. And, of course, great work by all the door knockers, phone bankers, bloggers, organizers, activists, elected officials (e.g., Tim Kaine phone banked for Smith), candidates (e.g., both Ralph Northam and Tom Perriello phone banked and/or door knocked for Smith; see Fairfax Dems' Executive Director Frank Anderson's comment below the DPVA statement), former candidates (e.g., my friend Atif Qarni), the PW County Democratic Committee, etc. for Jackie Smith.
P.P.S. Now, a seriously wounded Del. Jackson Miller limps back to try and defend his House of Delegates seat against (UPDATE: first, Miller might have to defend his seat against Republican Hal Parrish, although I've heard that the two of them struck a deal that if Miller lost the Clerk race, Parrish would step aside…stay tuned) Democratic nominee Lee Carter. Go Lee!
UPDATE: Lovin' this statement by the Democratic Party of Virginia.
DPVA Statement on Special Election Victory in Virginia
RICHMOND, Va. – Democratic Party of Virginia Chairwoman Susan Swecker tonight issued the following statement on the special election for the Clerk of the Circuit Court in Prince William County, the City of Manassas, and the City of Manassas Park:
"Tonight's victory is further testament to the rising tide of the resistance. Jackie Smith's victory is a referendum on Donald Trump and his Republican allies in Richmond. Virginia Democrats are energized and organized, and tonight we outperformed a state legislator with more than four times as much money as our nominee. This is the beginning of the end: the age of Trump didn't even last 100 days.
"Jackie waged an extraordinary effort in her campaign for a fair, efficient and responsive Clerk of Court. As an attorney, she logged thousands of pro bono hours and delivered quality legal services to her clients regardless of their ability to pay. We are the party of hardworking people fighting for hardworking people, and no one better embodies those ideals than Jackie Smith. We celebrate her pivotal victory tonight, and we look forward to returning to our fight tomorrow."
Fairfax Dems Executive Director Frank Anderson writes in the comments section:
I was impressed by how so many of the House of Delegates campaigns, all of whom are facing tough contests later this year, committed so much of their time to organizing volunteer events for this election. Rarely have I seen such an effort.
Without having been on the ground there, but having helped from across the Occoquan, I would like to recognize these folks for helping out! Sorry if I've missed anyone:
Lee Carter, candidate for Delegate
Elizabeth Guzman, candidate for Delegate
Ken A. Boddye, candidate for Delegate
Hala Ayala, candidate for De legate
Danica Roem, candidate for Delegate
Mansimran Kahlon,candidate for Delegate
Sara Townsend, candidate for Delegate
Josh King, candidate for Delegate
Jennifer Carroll Foy, candidate for Delegate
Also thanks to these individuals and groups:
Prince William County and Manassas/Manassas Park Democratic Committees
Ryan Sawyers, School Board Chairman
Atif Qarni, political leader and former candidate for Delegate
George Mason Democrats (had to put in a shout out for my alma mater)
There's no paywall on Blue Virginia, and we definitely want to keep it that way! If you want to help support our work, you can donate here - thanks!
Also, you can
sign up for our weekly email list here
.