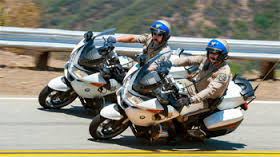 SPONSORED CONTENT
by Attorney Ryan Sargent, the owner and founder of the Sargent Law Firm, exclusively practicing plaintiff's injury law throughout the state of California.  
California's great weather, mountains, and coastlines make it a favorite spot for motorcycle enthusiasts. The California Highway Patrol wants to remind everyone on the state's roads that along with the warmer weather arriving, there is also an increase in the number of motorcyclists on the road.
There are steps people on motorcycles can take to ensure their safety, such as always wearing a helmet and protective gear, as well as follow all traffic safety laws. Motorcyclists should always use their turn signals and make sure to keep an eye out that they are not in another vehicle driver's blind spot. Motorcyclists should never get on a bike if they have been drinking.
However, although motorcyclists can take every safety precaution available, it is still up to other vehicle drivers to safely share the road with motorcycles. One of the most common causes of motorcycle accidents is that the other driver did not see the motorcycle.
Vehicle drivers should always be cognizant that there are motorcycles on the road. Drivers should also make sure to leave plenty of space between their vehicle and the motorcycle.
According to the California Department of Motor Vehicles, there are over 884,000 registered motorcycles in the state. California is also the home to 1.4 million motorcycle license holders.
Tragically, the number of motorcyclists killed each year is disproportioned to the number of bikes registered, when compared with other types of vehicles. Last year, per CHP Statewide Integrated Traffic Records System, there were 476 people on motorcycles killed in traffic accidents. Another 14,000 motorcyclists were injured.
In the Moorpark Station area, there were 56 motorcycle accidents last year. One of the accidents was a fatal one, two were hit-and-runs, and 47 of the accidents resulted in victims sustaining injuries. A spokesperson for the station said that officers have made a concerted effort to educate drivers on the importance of motorcycle and roadway safety.
It is crucial for people to be aware of motorcyclists on the road. Many people have seen first-hand the devastation that motorcycle accident injuries can cause, and it can be heart-breaking.