Virginia Democrats are energized!  We shattered Democratic primary records this June!  Roughly 177,000 more Democrats voted than Republicans.  Ralph Northam, winner of the Democratic gubernatorial primary, got only 12,000 votes fewer than the Republicans' first- and second-place candidates combined.  Tom Perriello, our runner-up, got 79,000 more votes than the Republican winner.  You get the point:  we're fired up and ready to go!
We're also high energy for the local races. Every one of the 100 seats in the House of Delegates is up for grabs this year and Democrats are fielding candidates in a record 88 races; to make life even better Tom Perriello will be leading a PAC to help candidates develop effective low-cost tactics and, breaking news:  Project Blue Dominion will raise money for all House candidates and will be reporting on various races every Friday in Blue Virginia.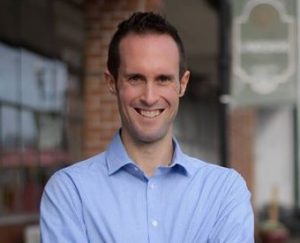 Schuyler VanValkenburg (website) is one of those candidates, running for VA-72 – an open seat and a district that Clinton won.  Schuyler is an outstanding person, a public high school civics teacher, and an appealing and well-informed candidate (see his recent article on education under the Trump budget).
Schuyler's opponent is the Chair of the Henrico County Republican Committee, Edward S. Whitlock III, a lawyer who specializes in representing creditors.  Is this the path to popularity?  What sort of Republican message to "the forgotten man" can convincingly come from his lips?  He certainly fared poorly in the 2015 Republican primary for state Senate seat 12, where he came in a distant fourth out of four.
Since all of VA-72 lies within Henrico County (just outside of Richmond) you might think that Whitlock's chairmanship would give him a good base of support.  But you would be wrong.  Henrico establishment Republicans and Tea Partiers have been at war for years.  Whitlock is very conservative, but considered establishment (here's a sampling of the strife – with Whitlock named in the middle of the article – from the Tea Partyish The Bull Elephant).  Meanwhile, Henrico Democrats have seen a surge in membership so strong that they've had to change the venue for their meetings.
The Republican civil war is playing out all over the state and may be responsible for the low primary turnout figures:  establishment candidate Ed Gillespie barely gasped out a victory over Tea Partier and ardent Trumpite, Corey Stewart (who has since made an art of mocking Gillespie – I so love Republican disarray!).
Whitlock, aims to please all, boasting of meeting The Great Orange One (and even of being near The GOO's potato chips); calling Hillary Clinton a criminal (in a district that she won! this will c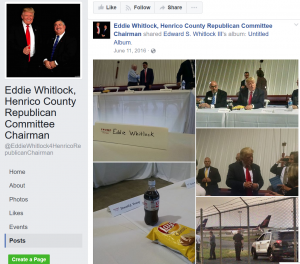 ome back to bite him); and courting the arch-conservative Family Foundation, which has supported bills that would criminalize self-inflicted abortions (yes, criminalize!), prohibit state funding for Planned Parenthood and embryonic stem cell research, repeal the mandate for the HPV vaccine, and impose burdensome regulations on abortion clinics (TRAP) in an effort to shut them down.  Needless to say, they also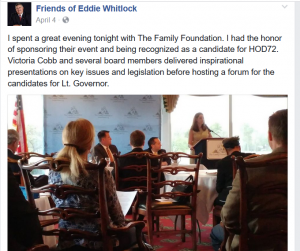 oppose Medicaid expansion when, according to The Commonwealth Institute, it would afford 2200 people in the 72nd better healthcare.
We need to keep this guy from getting elected, right?
Whitlock's Flaccid Fundraising
Since January, Whitlock has raised $80,837.  That sounds pretty good, but the devil is in the details (when he's not in the White House).  Of that sum:
$50,000 is a loan by Whitlock to his own campaign
  14,450 is from other politicians
    7,500 is an in-kind donation (free rent for the office)
    1,000 is from his law partner
So, about $73,000 of the $80,837 does not come from regular voters; indeed 70% of it is self-funded.  Whitlock has a total of only 70 individual donors, and a whole lot of them are other politicians.  Moreover, Whitlock spent nearly all of his money winning the primary.
Whitlock's cash on hand as of June 1 is only $7,828.
Schuyler's is $55,343! $7,828 vs. $55,343.  Ponder that.
One might reasonably say:  OK, but now that the primary is over, Republicans will rally around their candidate.  And of course that will happen, to the extent that Republicans are rallying for anyone.  But their astonishing lack of energy in the primary (the Trump Effect?), the civil war at the state and local levels (with Whitlock himself in the fray), and a candidate who clings to The GOO and labels criminal the person the 72nd DID vote for – oh, and who represents CREDITORS – all these things point to a very good chance to flip this seat.  And Schuyler VanValkenburg is a dynamite candidate.
VanValkenburg's Most Excellent Fundraising
Schuyler has raised $76,688 since January, only $1 of it donated by himself.  He has 1,264 individual donors.  Whitlock has 70.  1,264 vs. 70.  What does THAT say about Democratic energy and enthusiasm for our candidate and Republican apathy for theirs?
And why wouldn't we be enthusiastic?  Check out Schuyler on the issues and see how thoughtful and well-informed he is.  From healthcare to climate change, equality to education, Schuyler gets a 100% scorecard from this progressive.  Schuyler has been endorsed by: Run For Something (founded by Obama alumni), the Sierra Club, Bold Progressives (backed by Elizabeth Warren), and Only If You Run (an anti-gerrymandering PAC).
So, dear Reader, please chip in to help Schuyler win this thing!
Website – Donate – Facebook – Twitter