An earlier version of this was published on Daily Kos
Blue Virginia has already endorsed all of Virginia's Democratic candidates, and now Daily Kos is entering the picture, endorsing its first three candidates in this year's VA House of Delegates races.  I am psyched about this because Debra Rodman (VA-73) is one of them!  Hala Ayala and Danica Roem are the other two, and I'm very glad that they've also been e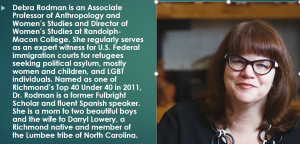 ndorsed, but I'm particularly happy about Debra, because I know and like her, and she'd be my rep in the House (yeah!).  Debra introduced herself to us back in March, and I wrote about her and her dastardly opponent HERE and HERE.
Debra is an associate professor of Anthropology and Women's Studies at Randolph-Macon College and a former Fulbright Scholar.  She also has a master's degree in environmental policy and so could contribute with intelligence and knowledge to debates concerning the environment and climate change.
Debra's research area in Anthropology also highly informs her political views.  She speaks fluent Spanish and works with Virginia's immigrant communities, especially those from Central America.  Debra would provide a dose of reality to any abstract policy discussions about Virginia's immigrant communities that her Trump-loving Republican House colleagues might have.  Her own words show that she gets it about the real-life ramifications of legislation:
"The American Dream…has been compromised by decades of deadlock on immigration reform, spiraling into the latest manifestation of anti-immigrant sentiment. Sheila, a local business owner in my district, sent her two sons back to Mexico to attend university, feeling that the situation here for undocumented children…was too tenuous. She recently told me how her two boys had been kidnapped and that she never heard from them again. 'I told my mom to stop looking for their bodies, because I just want to believe they are still out there somewhere.' Sheila's story is not unusual. With two young sons of my own, the loss of her children haunts me. (from her piece in HuffPo: "Why Anthropologists Make Great Politicians")
You can read more about Debra's views on immigration HERE.
Debra will fight for women's reproductive rights, Medicaid expansion and other expansions of healthcare, and for LGBTQ rights (her opponent has a lousy track record in all three
areas), and she will fight for jobs and education — including jobs training.
Debra is up against an incumbent who's been in office for 17 years and has rarely been opposed.  This will be a tough race, no doubt.  But Clinton-Kaine won the 73rd by 7 points, and we've got a great candidate and — with Virginia progressives as invigorated as we are  — a fighting chance to flip it.   If you can, please contribute to Debra's campaign: