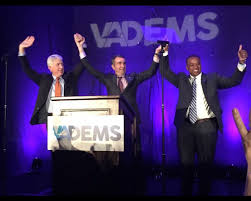 (Note: I wrote this diary to introduce the national audience of Daily Kos to Virginia's 2017 election, but I hope the info and links below prove helpful to Virginians as well.)
Yelling at your TV isn't going to do a damn thing – only building a powerful opposition presence at every level of American government will save us now. The first major opportunity to strike such a blow is less than three months away in the swing state of Virginia. This diary is devoted to telling you why you need to get involved and how.
For those less familiar with Virginia politics, this longtime conservative Southern state began to trend more progressive as the Northern Virginia suburbs started their growth spurt and sprouted a wonderful diversity, from Vietnamese to Peruvians to Ethiopians to Koreans to Persians, etc.
Today, the inner suburbs of Arlington and Alexandria are solid blue, and Fairfax County almost completely so, with just a few gerrymandered districts holding out.  The front lines are now in the outer suburbs of Loudon and Prince William County – and the other growing urban areas of the Commonwealth, particularly the Hampton Roads conglomeration of Norfolk, Virginia Beach, Newport News, etc., as well as the Richmond and Charlottesville areas.
Virginia's Democrats and strong progressive grassroots have grown to the point that now all five statewide elected offices are in the hands of Democrats. But that progress remains fragile – and has not manifested itself in the House of Delegates, where Dems hold a measly 34 out of 100 seats.  This is particularly important because redistricting is coming up following the 2020 Census – and if Republicans have control, you can be damn sure they will attempt to gerrymander their way to PERMANENT power in this pivotal state.
Right now, all 100 House of Delegates seats are up for grabs – and Democrats have candidates competing in 88 of them. Plus, we are electing our Governor, Lieutenant Governor and Attorney General.  There's a lot going on here, so here are some key info and resources to help you keep up with it and tip the scales to the Democratic side.
Governor, LG & AG
With the White House and Congress in GOP hands, leadership by governors has become critically important – for example, when Trump announced his intention to pull the U.S. out of the Paris Climate Accords, our Governor Terry McAuliffe made Virginia the first Southern state to join the U.S. Climate Alliance of states committed to meeting the climate treaty goals.
The Democratic candidate for governor, Ralph Northam, brings a particularly timely background in healthcare, growing out of his career as a pediatric neurologist, with many years championing women's health issues – e.g., leading the fight against the infamous "transvaginal ultrasound" bill  (proposed by GOP LG candidate Jill Vogel) – and the major achievement back in 2009 of getting smoking banned in restaurants – in a tobacco state! He will continue the progress we have made under Democratic governors like McAuliffe and Kaine – if we can help him beat the notorious DC swamp-dwelling, revolving door master "Establishment Ed" Gillespie.
For Attorney General, we have a progressive superstar who has already shown his willingness and ability to stand up to Trump in very effective ways – Mark Herring.  One of his first acts as AG was to successfully strike down Virginia's ban on same-sex marriage, one of the cases leading to the ultimate U.S. Supreme Court decision to strike all such laws nationwide.  He has successfully stood up to the Trump administration on a number of issues, most prominently the Muslim travel ban. Herring has been out front on issues from climate change to improving rape prosecutions. He is a class act who has totally earned his re-election.
For Lieutenant Governor, our nominee is Justin Fairfax, a former Assistant U.S. Attorney who grew up poor in DC with a single mom, and who would be only the second statewide African American elected official in Virginia since Reconstruction (after Doug Wilder in 1990). He is upbeat, well-spoken and a promising young voice for the future of the party.
House of Delegates
The current political environment has attracted a large field of talented Democratic newcomers to run for our House. Lowell Feld does a superb job at Blue Virginia of tracking these races, and has identified the top 18, where Hillary Clinton either won a majority of the vote or came close. This is the magic number that – though requiring a Herculean effort – would give us control of the chamber if we won them all, and retained all current Democratic seats.  But even winning a smaller percentage of these races would give Democrats more voice, power and momentum, especially with the state Senate much more closely divided.
This is a Republican state House infamous for radical legislation, from extreme anti-choice and anti-environment bills to denying Medicaid expansion to deregulating guns in every way to wacky stuff like Virginia creating its own currency. This unhinged House badly needs Democratic adult supervision.
So please do all you can to back groups championing Democrats in these races as a whole – resource links below – while adopting candidates that really strike your fancy for extra support.  Like…
Care about LGBTQ rights? There's a doozy of a race in the 13th District, where transgender candidate Danica Roem is taking on infamous bigoted Representative "Sideshow Bob" Marshall.
Want to elect more women to break up the ol' boys network? There's a whole organization devoted to that – Virginia's List – and a host of great candidates, like Hala Ayala (51st – former Prince William County NOW president), Karrie Delaney (67th – who has worked with sexual assault & sex trafficking victims), Kathy Tran (42nd), Jennifer Carroll Foy (2nd), Elizabeth Guzman (31st), Danica Roem (13th), Dr, Dawn Adams (68th), Wendy Gooditis (10th), Kelly Fowler (21st), Cheryl Turpin (85th), Shelly Simonds (94th), etc., etc.
How about putting more African Americans in office? We have a bunch of excellent choices there, too, including Donte Tanner (40th), Jennifer Carroll Foy (2nd), Willie Randall (100th) – and, as mentioned, Justin Fairfax for LG.
Want to challenge the NRA with a powerful gun safety advocate? Work for Chris Hurst (12th), who was spurred to run after the horrific on-air murder of his girlfriend, a local TV reporter.
Want to elect the first Asian woman in the state House? How about two? Kathy Tran (42nd) (who came here as a Vietnamese refugee) and Kelly Fowler (21st), the granddaughter of Filipino immigrants.
How about putting some current and former teachers in office? Like Schuyler VanValkenburg (72nd), Kelly Fowler (21st), Cheryl Turpin (85th) and Shelly Simonds (94th)?
And yes, it's time to put a Latina or two in the House. How about Elizabeth Guzman (31st), an immigrant from Peru, and Hala Ayala (51st), whose roots include El Salvador (as well as Ireland, North Africa and Lebanon)?
Finally, if you want to see more veterans in the House, you can help elect a few good men and women like David Reid (32nd), Donte Tanner (40th), Lee Carter (50th) – and Ralph Northam for Governor!
Resource Links
Here, as promised, are some general resources to help elect as many Virginia Dems as possible. Please bookmark and take full advantage of them:
Virginia was once home to many of the legends who gave us the American Revolution, the Declaration of Independence, the Constitution, and the Bill of Rights, including George Washington, Thomas Jefferson, James Madison and George Mason.  Please help Virginia elect – and re-elect – new heroes to save American democracy today, in her hour of need.