Advertisement

Interesting analysis by HeartCooksBrain, cross posted from Daily Kos
Initial Notes
Just a quick explainer on what I mean by the ratings.

Tossup: This race could go wither way; there's no clear front-runner.
Lean: It's still a competitive race, but it's pretty clear that one candidate has the upper hand.
Likely: One candidate has a sizable advantage, but things are far from over.
Safe: This is not a competitive race. There may exist the potential for it to become competitive, but as of now, it is not.
Uncontested: There's only one person in the race.
With that in mind, let's dive in to all 100 elections happening in November.
Races
HD-01
As crazy as it sounds, when Del. Terry Kilgore (R) first won this seat in 1993, he was succeeding a Democrat and the race was somewhat competitive. My, how times have changed. Safe R.
HD-02
This district has been a long time headache for Democrats. Obama won it 58%-40% (his best Republican held one in the state, with the second at only 55%-44%) and Clinton won it 56%-39%. On all other levels, State Senate, House of Delegates, and statewide, it votes for Democrats and is represented by them. But it's represented currently by Republican Del. Mark Dudenhefer, who narrowly lost this seat in 2013 and narrowly regained it as an open seat in the tough year of 2015. Dudenhefer's retiring after two noncontinuous terms, and the seat's open again. This district's been getting bluer every day, and Dudenhefer, running as something of an incumbent, barely squeaked out a win in the good GOP year of 2015. This cycle we're obviously favored, but the GOP hadn't given up, putting up a real candidate and giving him support. Jennifer Carroll Foy, running for us, was a grassroots candidate running a low-budget campaign. She was a surprise victor in a super-close primary (that went to a recount), which left her with few connections to local Democratic organizations like organized labor, and also with a cash deficit. Those concerns might have very well been serious problems had the GOP's candidate not dropped out after it was discovered he falsified education records. He's being replaced with a sacrificial lamb, making this one Safe D.
HD-03
Fun fact: this was Trump's best district in the state. He won it 82%-16%. Safe R.
HD-04, HD-05
We don't have any candidates in these highly Republican coal country districts. Uncontested R.
HD-06
Fun fact: this district saw the biggest swing to Trump, going from 31%-66% Romney to 20%-76% Trump. Safe R.
HD-07
There's actually a bit of blue territory in this district, but it's drowned out by the rural areas around it. Del. Nick Rush (R) doesn't need to worry. Safe R.
HD-08
Unusually for such a red-district challenger, Democrat Steve McBride is actually pretty well funded. But it's a 62%-32% Trump district with an uncontroversial incumbent. Safe R.
HD-09
In 2011, House minority leader Ward Armstrong (D) nearly survived his district being blown to pieces by running in this 63%-34% Romney and 71%-26% Trump district. He spent $1,400,000 and got as close as a 53%-47% loss. But this area's only gotten redder since then and our candidate doesn't have two decades of incumbency or $1,400,000. Safe R.
HD-10
HD-10 is much like VA-10 in that they're both Northern Virginia districts stretching from the suburbs to the exurbs and gerrymandered to keep a Republican advantage downballot. The 10th HoD district followed its larger sibling by voting for Romney then Clinton, although it's a couple points to the right in both cases, going for Romney 50%-48% and Clinton 49%-45%. Perhaps more importantly, Ken Cuccinelli won it 49%-46%. This year, we have Wendy Gooditis running for us, who's so far managed to out raise incumbent Del. Randy Minchew (R) this year $80,000 to $30,000. Of course, Minchew can afford to pace himself somewhat with his $180,000 war chest. While Gooditis is a good candidate, she's starting from an institutional disadvantage in a seat that still votes red downballot. Lean R.
HD-11
The Republicans didn't field a candidate for the Roanoke-based 11th, a Democratic vote sink. Uncontested D.
HD-12
The 12th is the only Republican held Clinton seat outside of NOVA, Richmond, and Hampton Roads.  It's a perfectly balanced gerrymander, combining most of Blacksburg with blood-red Giles County. The balance shows with a 50%-47% win for Obama and a 47%-45% win for Clinton. T-Mac did better than either, at 48%-42%, and it went for Obershain, the only non-controversial Republican running that year, by 28 votes. This race is a blockbuster. Incumbent Del. Joseph Yost (R), who has won 2 of his 3 races in this seat by less than 5%, is going all in this year once again to protect himself, bulking up a large campaign operation and getting a major cash infusion from the VAGOP. Chris Hurst, his challenger, is also building a major campaign operation and is a monster fundraiser, pulling in more than Yost, even accounting for Yost's party help. This race has all the hallmarks of a barn-burner: even district, incumbent with a history of close campaigns, and both candidates running full scale campaigns. It's a pure Tossup.
HD-13
The 13th district lies in the DC suburbs. Represented by Del. Bob Marshall (R) for over 20 years, its shape has grown disfigured in an effort to keep him safe. Marshall himself is something of a character. A hateful and bigoted character who shouldn't be representing a 55%-44% Obama and 54%-40% Clinton seat. Among his greatest hits are saying disabilities are a punishment from god for abortion, trying to ban gay service members from the VA National Guard, writing the infamous forced ultrasound bill, physically attempting to stop a mildly pro-immigrant bill from being read, attempting to force teachers to carry guns in school, and most recently, writing a NC style bathroom bill for Virginia that was so toxic it never even saw debate. He's a nasty piece of work and the VA Dems have made it a point to always challenge him, even in less than stellar years for the party. His only close call however, came in 2013, when he squeaked out a 3 point win as T-Mac was winning his district 48%-47%. This year he faces Danica Roem, which has given the race a symbolic importance that has raised its national profile. Roem is a trans woman and would have been personally impacted by Marshall's bathroom bill. This is a district which is growing increasing liberal and cosmopolitan, represented by a relic from another era, and challenged by a member of the a community he opposes. As for the contours of the race itself, things are looking up for Roem. The district is more Democratic than it ever was, the national profile of this race has donations pouring in, and Marshall's been enough of an asshole for long enough that the Republican establishment has not jumped to help him out. Lean D
HD-14, HD-15, HD-16
While the 15th and 16th are deep red districts it's unsurprising we didn't find a candidate for, the 14th, centered in Danville, is a seat Obama only lost 49.5%-49.2%. While it suffers large turnout dropoffs (T-Mac lost by 15), if Tom Perriello had won the primary, there's a good chance this seat would have been competitive, making it our only recruiting whiff of the cycle. Uncontested R
HD-17
It's admirable that Democrat Djuna Osbourne is running a real campaign and getting help from some institutional sources, but this is a 61%-34% Trump district that even gave EW Jackson a 56%-44% win. Those are the kind of numbers that you need cash in the freezer to overcome, and Del. Chris Head (R) is fairly good at staying out of the news. Safe R
HD-18
Allow me to introduce you to the best candidate photo this cycle, from Tristan Shields, a former contestant on the Voice and current businessman in media. It's unfortunate that he's in a district redder than his jacket and with conservatism more intense than his stare. Also unfortunate is that there's a Green Party candidate in this race running a real campaign, making the path to victory all but impossible. Safe R
HD-19
Yikes the Shenandoah Valley has gotten red, hasn't it? Uncontested R
HD-20
Things in this district aren't quite as bad for Democrats here as they are in nearly rural districts, thanks to Staunton. Del. Dickie Bell (R) still won't have to worry, sitting in a 58%-36% Trump district. This race did have the potential to get a little interesting with the entry of a Libertarian, but he's not a serious candidate. Safe R
HD-21
Obama, Clinton, and T-Mac all won the 20th by about 4-5 points, and it's the district closest to the state in presidential margins. But incumbent Del. Ron Villanueva (R) has largely skated by so far. Being a strong fundraiser in a 2nd-tier target is useful like that. However, this year the primaries have been a weird, scandal ridden mess on both sides. For the Democrats, we saw our first candidate to announce, who was the bigger fundraiser, see his candidacy go down in flames after old Facebook posts surfaced, which prompted the near entirety of the Virginia Beach and state establishments to denounce him and get behind Kelly Fowler. Somehow that race was less negative than what Ron Villanueva went through, as a primary challenger got intense and personal on him, including accusations in ALL CAPS. That guy was a bit of a joke, but Villanueva still dropped over $100,000 on the primary, vastly outspending his opponent, only to win by a tight 59%-41%. That is not the mark of a strong incumbent. Unfortunately, Kelly Fowler isn't yet in a position to take full advantages of this weakness, as her campaign has yet to scale up to the kind that could take down a powerful incumbent. Still the race remains unsettled, so instead of likely, I'll go with Lean R.
HD-22
They did a great job of cutting up Lynchburg. Makes me wonder why they didn't feel like they could be as aggressive in Blacksburg. Maybe Yost complained? Uncontested R.
HD-23
Del. T. Scott Garrett (R) has a challenger, but he also has a super red district. Safe R.
HD-24
Del. Ben Cline is a conservative Republican being challenged not in the primary, but in the general, by a moderate Republican type running as an independent. No Democrat filed though, and the independent's not exactly a juggernaut. Safe R.
HD-25
Angela Lynn also ran against Del. Landes in 2015 and got 34% of the vote. The big drama this time around will be breaking 40%. Safe R.
HD-26
A favorable swing in Harrisonburg got this seat's presidential margin down to only 51%-42% Trump. That's not out of reach, even if notoriously poor turnout means it's as red as the 25th during odd year elections. Unfortunately, no one with the resources to juice turnout and forge a path to victory is in this race. Safe R.
HD-27
The GOP drew the western suburbs of Richmond into 5 districts that were, at the time, mildly Republican, going for Romney by 6-11 points. The 27th was actually the second-bluest then, at 53%-45% Romney. But while three swung hard to Clinton, the 27th barely budged, and Trump still won, albeit with a reduced margin of 49%-45%. This not only means that it's still a generically Republican district, but it had the unfortunate effect of meaning that ambitious politicians and local resources focused on other races. While it does look like this race could be competitive, especially since incumbent Roxann Robinson didn't win by a huge margin in 2015, her competitor, Larry Barnett, hasn't really gotten his campaign off the ground yet. Likely R.
HD-28
Virginia only has one Obama-Trump seat, and this is it. Of course Trump won it by 420 votes and Obama by a whopping 33, so it's not like the swing was massive. This Fredericksburg seat has been on Republican lockdown for a while now, because it's been held by Speaker Bill Howell (R). His retirement this year and the ensuing splintered primary do offer us something of an opening, but Bill Howell has mountains of cash from his years in office, a powerful political machine, and a desire to see himself  succeeded by a Republican. Our candidate, Joshua Cole, is running a skeletal operation as of yet, but open races tend to follow the top of the ticket closely and Northam looks like he'll be competitive in this kind of area. Likely R.
HD-29
Fun fact: Congressman Chris Collins of NY has a 60%-35% Trump district, and Delegate Chris Collins of VA has a district with a nearly identical Trump 62%-33% margin. Safe R.
HD-30
Obama got deceptively good numbers, here in 2012, losing only 42%-56%, so in 2013 VA Dems actually fielded a real candidate for what was then an open seat. That ended in 37%-63% loss while  T-Mac was also getting blown out, 36%-57%. VA Dems have learned their lesson, especially in light of Clinton's 34%-62% loss. Safe R.
HD-31
If Democrats want to become more than an afterthought in the House of Delegates, they need to start winning districts like this. It went for Obama 53%-46% and Clinton 51%-44%, and voted for all three statewide candidates in 2013. That year, long-serving incumbent Scott Lingamfelter (R) eked out a 50.5%-49.5% win, a difference of only 228 votes. He also had a close shave in in the great GOP year of 2015, winning 53%-47%. This seat's blue and getting bluer, and Lingamfelter's luck can't last forever. Especially this year, as he's facing down Elizabeth Guzman (D), who's riding a wave of labor and progressive support. This race does have an independent candidate, who's an admitted pedophile convicted of threatening to kill the president and running on a "red pill Libertarian platform" too crazy for the Libertarian Party. He'll likely be a non-factor in the race, but this district is no stranger to close margins. While I appreciate Lingamfelter's abilities, this seat is bluer than it was in 2013, and the year is likely to be bluer as well. Elizabeth Guzman is a powerhouse of a candidate, and she has the edge. Lean D.
HD-32
Maybe it was understandable how, after going for Obama 52%-47%, HD-32 narrowly reelected Del. Tag Greason (R) 51%-49% in 2013 even as it was voting for every Democrat at the top of the ticket. But in 2015, which was a bad, low turn out year for us, Greason still barely got by with a 53%-47% win, and then in 2016, Clinton won by a massive 57%-38%. This district's getting more liberal. And it's not just Trump. This area, Ashburn, is growing like crazy. It may have grown by 10% or more just since the last gubernatorial election. And incumbency doesn't work as well if no one knows you. That compounds with the overall political environment, as you can see why this district would be a good opportunity for the Democrats. The Democrat running is David Reid, who's helming a large, professional campaign helped out by a variety of sources, from grassroots to establishment. This race is already big and expensive, but you should expect it to get bigger and more expensive from here. Much like HD-31 above, Greason's a good candidate, but running in this district in this cycle may drag him under. Lean D.
HD-33
This exurban NOVA district is pretty inflexible politically. From its inception, Democrats on all levels have a floor of about 40% and a ceiling of about 45%. Neither the Democrats nor the Republicans consider this district competitive after a fairly disappointing 2013 result for Democrats, and it probably isn't. But Tia Walbridge, our candidate, is at least running a competent campaign, and Del. Dave LaRock (R) isn't the type to fundraise and campaign if he doesn't have to. As of now, this seat isn't in play. But if things really start to get bad for Gillespie a moderate change in the electorate could make this a crazy upset kind of result. But of course we have no reason to think things will be like that. Still, watch it. Safe R.
HD-34
Rep. Barbara Comstock (R-VA-10) survived a tough reelection in 2016, having to overcome Trump tanking in VA-10, but her closest race came in 2013, when she survived a challenge by Del. Kathleen Murphy (D) by about 400 votes. Comstock, of course, lucked out when Frank Wolf retired in 2014 and she was able to take his place. Murphy won the ensuing special election by about 300 votes and the general election later that year by an even tighter 200 vote margin. At this point, Murphy's gone through three elections and won between 49.2% and 51.3% of the vote. But this year she appears to be off the hook, with the VA GOP not bothering to target her. Safe D.
HD-35, HD-36, HD-37
These NOVA districts are pretty blue and I guess the GOP doesn't plan on competing in districts they drew them as sinks. Side note, the 36th is the district of Del. Ken Plum (D), who's held it since 1981, and previously from 1977-1979, the longest tenure in the house. Uncontested D.
HD-38
The last drama this seat saw was back in 2009 when less than popular Robert Hull was primaried by Kathleen Kory, and unusually for Virginia, lost. Since then Del. Kory's been safe. This year is no exception, even though some Republican made the ballot. Safe D.
HD-39
Del. Vivian Watts is finishing up her 14th term. She'll get a 15th, being the only one on the ballot and all. Uncontested D.
HD-40
The 40th is a special district. Out of 100, it was the only one to vote for both EW Jackson and Hillary Clinton. Democrats tended to get stuck in the high 40s here, including Obama who lost by four points. Clinton, though? She won by a 51%-43% margin, her best in a Romney seat. At the local level it's been Republican as well, with incumbent Del. Tim Hugo (R) easily dispatching challengers by 20 or 30 points. And that's a feature of the district, but also of Hugo's strength as an incumbent. By that, I mean his massive, mind boggling fundraising. He's a higher up in leadership, but bringing in over $500,000 in this campaign period is still crazy. While HoD campaigns sometimes do go over $1,000,000, that kind of money isn't usually present this early. To put that in perspective, in 2016 VA-05 was open and seen as somewhat competitive. The Republican in that race, Tom Garrett, raised $630,000, and he won. Now granted $630,000 is low for a congressional campaign, but still. Hugo's on his way to surpass that. He still has a $200,000 war chest and shows no signs of slowing. The Democrat in the race, Donte Tanner, has only stockpiled ¼ of that, but he is at least running a good campaign and he has a chance to capitalize on the anti-Trump sentiment. Still, it's a tough district with a tough incumbent. Likely R.
HD-41
Yet another blue NOVA district Republicans aren't bothering to run someone in. Uncontested D.
HD-42
The 42nd district is an example for why the GOP gerrymander has been so effective. Even though it went for Barack Obama, it did so by a modest 52%-46%, and T-Mac won it similarly, 50%-44%. But while the seat votes for Democrats upballot, it has done so narrowly enough that incumbency and ancestral GOP lean could pick off a few voters to give Republican Del. Dave Albo wins. Dave Albo also holds something of a record, being the Republican to do the best in comparison to Ken Cuccinelli, winning by 20 points as Cuccinelli lost by 7. Then 2016 happened, Clinton won HD-42 with a steep 59%-36%, and Dave Albo, feeling the heat, decided not to run again, ending his tenure with a literal mic drop. After an all-star primary, Kathy Tran emerged as the Democratic candidate. The Republican primary, on the other hand, was no-star. The GOP is fielding an under-funded, no-name candidate, essentially ceding this seat to fight other battles. Safe D.
HD-43, HD-44, HD-45, HD-46, HD-47, HD-48
Can you tell the Republicans are on defense this year? The 48th gets a special mention for having the largest Clinton swing, going from 62%-37% Obama to 69%-24% Clinton. Uncontested D.
HD-49
It's an 80% Clinton district. The general's just a formality. Safe D.
HD-50
This one stings. Obama won this Manassas-centric district 53%-45%, and during the 2013 race it voted about evenly in all three row offices. Despite that, our candidate lost to Del. Jackson Miller (R) by double digits. It was even worse in 2015, approaching 20 points. Jackson Miller's going to be tough to dislodge is what I'm saying. And that's without considering his $200,000 war chest, and his ability to raise even more as the majority whip. Our candidate, Lee Carter, is running a decent campaign and isn't entirely on his own, but this district hasn't received the same outside Democratic and progressive resources many similar ones have. Still, this district went for Clinton 53%-41%, and you can't count a Democrat out with those kind of numbers. Lean R.
HD-51
Del. Rich Anderson (R) appears to feel secure. He his campaign hasn't really revved up yet and only has $80,000 in the bank and isn't in any hurry to build that up too much. I don't know why that is. Maybe it's because he went unchallenged in 2015. But his 54%-46% win in 2013 wasn't exactly secure, and only slightly better than Ken Cuccinelli's 48%-47% concurrent win in the district. Maybe it's because Republicans in NOVA could pretty easily expect to survive in a 51%-47% Obama seat, but now it's a 50%-44% Clinton seat, and those numbers aren't as friendly. Hala Ayala, our candidate, is coming out of a primary that depleted many of her resources, but she has a strong small-dollar fundraising operation and the aid of a bevy of extra-party organizations, especially those for women, as she was an women's rights activist before running for office. Much of this race will come down to the home stretch as neither candidate has definitively established themselves as of yet. Tossup.
HD-52
How much have things changed in NOVA? Back in 2009, Luke Torian (D) barely won the old version of this seat and in 2011 he had a decent challenger for the current iteration. Uncontested D.
HD-53
If you're going to be an unfunded, no-chance independent candidate, you may as well go a little crazy and have fun with it. Let your Basil Marceaux out. Nick Casey's just bland and normal. Safe D.
HD-54
With Speaker Bill Howell's retirement, Del. Bobby Orrock is set to share the title of most senior Republican with majority leader (and potential speaker) Kirk Cox, having served since 1989. Since his initial election, which was actually a pickup from the Democrats, the closest he ever came to losing was a primary in 2013 over a controversial transportation bill. He had another primary this year from an absolute nut. 2013 probably spooked him, as he dropped $180,000 on it, which Democrats in competitive seats are no doubt grateful for. Al Durante is the Democratic nominee. Safe R. 
HD-55
Del. Buddy Fowler's actually being challenged for the third cycle in a row, which is uncommon for districts this red. Safe R.
HD-56
Del. Peter Farrell's surprise retirement and the ensuing six-way GOP primary was way more interesting than the general will be. Safe R.
HD-57
House Minority leader Del. David Toscano is well liked enough in Charlottesville that the GOP probably figured it was easier just to give him a vote sink than try for a 4 or 5-district crack of the city. He doesn't even have to deal with a general election now. Uncontested D.
HD-58
This seat was almost open. Del. Rob Bell (R) spent over a year running for Attorney General before dropping back down to this seat. Of course, the Republican candidate isn't going to matter much in a seat this red, but getting him to spend some of that money he raised for higher office would be nice. Safe R.
HD-59
This race actually has four candidates. The challenger to incumbent Del. Matt Fariss (R) who has raised the most is the Green candidate with $740 (not a typo). Safe R.
HD-60
Lower black turnout turned a 51%-48% Romney seat into a 56%-41% Trump seat. Still, it sits in Tom Perriello's old district, and he almost certainly won it in both of his congressional bids, so if Perriello had won the Democratic gubernatorial nomination, this might have been something of a race to watch. Of course that's not what happened. Safe R.
HD-61
Fun fact: this is the tallest district in the HoD, 83 miles from north to south. As you can probably guess, it's white, it's southern, and it's rural. Safe R.
HD-62
In the description of HD-27, I mentioned that there were five Richmond suburban districts, all won by Romney, and three of them swung hard to Clinton. This is the other one that didn't. Clinton did slightly better than Obama here, losing 51%-45% instead of 53%-46%, but the difference is hardly significant. There's a liberal base in the inner suburbs, but there's also a contingent of rock-ribbed Republicans, especially in places like Hopewell, who vote no matter what. The only Democrat to have won it in recently is Ralph Northam, narrowly. T-Mac lost by a 50%-41% margin. Still, this race has potential. Our candidate, Sheila Bynum-Coleman, also ran for the seat in 2015, and lost by 60%-40%, respectable for that year. The incumbent, Riley Ingram, is not particularly well known and hasn't been taking this race seriously, stockpiling only $50,000. This is a race to watch if Northam starts to significantly break away from Gillespie, especially if it's fairly late and Bynum-Coleman keeps running a solid campaign and Ingram doesn't. Of course that's a lot of events that have to come to pass. Safe R.
HD-63
VRA districts don't usually get Republican challengers. Uncontested D.
HD-64
The 64th has an unsavory origin. It's comprised of the rural areas between Richmond and Norfolk, and has significant borders with four other districts — 63, 74, 75, and 75. Of those four, three have been accused of being used to pack black voters, and a court case singling those out, along with another nine, has spent years in litigation. All of this is to say that HD-64 is horribly, and most likely racially, gerrymandered. Obama "only" lost this district 58%-41%, but years when he's not on the ballot have seen lower black turnout, with Clinton losing 60%-36% and T-Mac 54%-39%. Del. Rick Morris first won this seat in 2011, and this year has declined to run again. Hopefully it's not to spend more time with his family, though, as he's currently on trial for violence towards them. If this district had been drawn fairly, this would have been a competitive race. As it is…Safe R.
HD-65
Del. Lee Ware (R) has been around for decades in the House of Delegates. In that time he's done very little and been challenged even less. Probably because of how red the district is. Safe R.
HD-66
With Speaker Bill Howell's retirement, Del. Kirk Cox looks set to become the new Speaker of the House. Democrats have a chance of putting a stop to that at the ballot box, just not in his district. Safe R.
HD-67
The 67th, centered around Chantilly, holds a somewhat dubious distinction. At 58%-36%, it is Clinton's best district held by a Republican, in this case Del. James LeMunyon. As such, it went from a good target in 2013 and 2015 (having gone 53%-45% Obama), to one of the top targets. Despite those blowout numbers for Clinton, LeMunyon is neither down nor out. Mostly that's the work of LeMunyon. He pulled of a 55%-45% win while Cuccinelli was losing his district 42%-53%, an impressive amount of personal appeal, and scared away any challengers in 2015. And the GOP leadership is going all in for him, already pouring close to $50,000 into the race directly, with more though allied groups. The Democratic candidate, Karrie Delaney, hasn't quite received that level of institutional support yet, but she's not letting that slow her down, having built a sizable well rounded campaign, with funds to match LeMunyon. This race is already a blockbuster, and things are only heating up from here. Tossup.
HD-68
The suburban Richmond 68th is a special district in more than a few ways. It was the Republican-held seat that swung hardest to Clinton. Obama lost it 44%-54%, but Clinton carried it 51%-41%. That margin may clue you in to another record it holds. At 7.8%, it gave the most of its vote to third-party candidates in 2016, just like it did in 2013 (governor's race year) at 12.5%. And in 2013, it very nearly had the highest rate of statewide ticket splitting, voting for Mark Obenshain 53%-47%, but Ralph Northam 59%-41%. The 68th, in other words, is unsettled politically. Generically a Republican area, there's obviously a large contingent who are turned off by extremism, even if they don't necessarily embrace Democrats if they can help it. I should mention that while Corey Stewart didn't do too poorly in the suburbs in general, he certainly did in HD-68, only earning 27.6% of the primary vote, making it his third-worst district in the state, behind only two deep blue districts in the beltway. Del. Manoli Loupassi, the Republican incumbent, has had the luxury of having not had to worry too much about challengers previously, turning them away by huge margins, and stockpiling funds while doing so. Well, this year he'll need them, sitting in this kind of district. Luckily for him, Democrats first needed to go through a primary that left the winner with little in the way of funds. While this race is still developing, it's clear Loupassi has the edge right now. Lean R.
HD-69
While her Republican counterparts in the suburbs are getting major party challengers, Del. Betsy Carr is skating by in her Richmond seat with only a Green and a Libertarian opponent. Safe D.
HD-70, HD-71
Meanwhile in the other two Richmond districts, there are no challengers at all. Uncontested D.
HD-72
HD-72 is in many ways a less extreme version of HD-68, which it borders. It's also a Romney/Clinton district, although it swung only from 44%-54% to 49%-45%. You'd expect it then to be a second-tier pick-up opportunity. And it would be, if it weren't for one man, Del. Jimmie Massie. He's a 5-term incumbent who never made waves, who built up a large war chest, and who has yet to face a general election challenger. So what did he do to make this seat competitive then? He retired, leaving open a seat that Clinton won and T-Mac came close to. In a fairly rare occurrence, there was a Republican primary and not a Democratic one, leaving the Democrat, Schuyler VanValkenburg, with a head start over Eddie Whitlock, Massie's chosen successor. Of course that may not mean too much in a race that promises to see the money cannons unleashed. It's an evenly divided open seat with two capable and well funded candidates, basically the definition of a Tossup.
HD-73
This is the final district in the Richmond suburbs. Like its neighbors, the 68th and 72nd, it swung from Romney to Clinton — 46%-52% to 50%-43%. That's a decent Clinton lead in what's been a historically Republican seat, but there's an imposing incumbent. Del. John O'Bannon's been a fixture of the district since his original victory in 2000 and has only faced a Democratic challenger once, in 2009, when Thomas Shields ran a real, top-quality campaign and was still blown out by O'Bannon 62%-38%. This year we're running Debra Rodman, who is a perfectly good candidate running a perfectly fine campaign, but will still have to run into the buzzsaw that is O'Bannon, and the 73rd's not blue enough to take him down by itself. There is an independent candidate in this race, but he looks like a non-factor. Likely R.
HD-74
As many Democrats are being challenged by independents as by Republicans. This is one of the former. Safe D.
HD-75
Fun fact: this is the largest district in the state. Uncontested D.
HD-76
This 53%-42% Trump and 56%-43% Romney district doesn't have a Democrat running. Does that make this a rare recruiting fail for this year? Maybe, maybe not. This hasn't been a Democratic region historically, and Del. Chris Jones, the two-decade incumbent, is a powerhouse. Democrats are kind of hoping he'll just retire or get redistricted into something else in 2021. Uncontested R.
HD-77
This is going to be Del. Cliff Hayes's first general election. Luckily for him, his opponent's just a Green. Safe D.
HD-78
Del. Jay Leftwich is half-assing it. His website still refers to him as "Chesapeake's next delegate" even though he's a second-term incumbent. Of course, you can afford to half-ass it if you don't have an election to go through. Uncontested R.
HD-79, HD-80
It's not just Norfolk-area Republicans in safe seats who don't have opponents this year. Uncontested D.
HD-81
One feature that has divided the Mid-Atlantic from the South is that while suburbs in the Mid-Atlantic have been moving left at a fairly brisk clip over the last couple of decades, in the South they've barely backed off from being blood red. That is to say that if the 81st had been in drawn around Richmond or DC instead of Virginia Beach, it would be competitive, or even blue by now, but instead it's a 36%-58% Trump seat that even voted for EW Jackson. Safe R.
HD-82
This is an area that's been inching towards us for a while now, but it still has a way to go. Safe R.
HD-83
The 83rd also sits in the Virginia Beach suburbs, but closer to the city, and, perhaps unsurprisingly, less Republican. It's a 51%-43% Trump and 53%-45% Romney district. Perhaps surprisingly, T-Mac came closer to winning than either, losing only 44%-48%. That 4-point loss isn't too much, and since Northam represented a tidewater district until recently, it's not crazy to think he could do pretty well in this district, but incumbents take a lot of money and resources to oust, so the 83th, which is at least the 25th or so best pickup opportunity in the state, isn't being targeted this cycle. While there's nothing wrong with our candidate, David Rose-Carmack, he just doesn't have the resources to unseat someone like Del. Chris Stolle. Safe R.
HD-84
After going from a 0.6 percentage-point Obama loss to a 49%-44% Clinton loss, this Virginia Beach district is on the edge of competitiveness. Back in 2013, Republican incumbent Salvatore Iaquinto was retiring and T-Mac was riding high enough that Democrats targeted this district. The ensuing 15-point loss has perhaps dampened Democratic enthusiasm for for taking on Del. Glenn Davis. Still, this district's not too red at all, we have a decent candidate, and Davis has slacked off big time, entering election season with basically nothing in the way of campaign funds, so this race isn't decided yet. Likely R.
HD-85
This district was Clinton's and Obama's closest loss in the state, at 47.1%-46.5% and 49.4%-49.1% respectively. It's a pretty tightly divided swing district. Scott Taylor was able to hold it down fairly easily, but his 2016 election to the newly redrawn VA-02 created a special election that Republican Rocky Holcomb won only by a narrow 53%-47% over Democrat Cheryl Turpin. To the surprise of no one, with a result like that, the regular election almost immediately became a rematch. It's notable that Turpin has about a 2:1 fundraising advantage over Taylor currently, boosted by an impressive small-dollar operation. Of course, she also had one during the special, and that didn't carry her to a victory. This race is close and it's hard to say who has the edge, especially with the gubernatorial race being such a looming factor. Tossup.
HD-86
In 2015, Republican Del. Tom Rust retired from this NOVA seat and it became one of the hardest-fought races of the year, with both parties going all-out. Jennifer Boysko, the Democrat, won by a 54%-42% margin, despite being outspent and running in a bad year for Democrats. Republicans gave up on that seat once those ugly numbers came in, and the blowout 63%-31% presidential margins were the final nail in the coffin. While there is a Republican candidate, she's no one Boysko needs to worry about. Safe D.
HD-87
2015 saw Democrats with a net gain of one seat in the HoD. Democrats lost HD-02 while picking up HD-86 and HD-87. While the 86th is considered a lost cause by Republicans, the 87th, its western neighbor, is not. The incumbent, Del. John Bell (D), only won his blockbuster race for an open Northern Virginia seat vacated by a retiring Republican 50%-48%, with the balance going to a Libertarian, after Democrats had missed unseating him by less than 1% in the previous two cycles. Republican this year have fielded Subba Kolla, who read Virginia's delegate totals at the Republican National Convention. If that sounds like an establishment type with money and connections, you're right. It's going to be another knock-down, drag-out fight for the 87th, but in a 60%-35% Clinton district, it's hard not to give the edge to Bell. This has the feel of the year that convinces Republicans the seat is out of reach. Lean D.
HD-88
You might know Del. Mark Cole (R) from an amusing episode in 2010 when he introduced a bill to make it illegal to implant microchips in humans because something something end times. In a bluer seat or a saner world, that would have caused problems for him. Instead, unfortunately for Democratic nominee Steve Aycock, it's… Safe R.
HD-89
The real drama in this race came from allegations of payoff to keep someone out of the primary race. The general's a lot more predictable in a district this blue when the only opponent is a Libertarian. Safe D.
HD-90
Hampton Roads has a disproportionate number of uncontested races this year, probably owing to its more southern political heritage than NOVA or Richmond. Uncontested D.
HD-91
2016 was the bluest York County had voted since 1976. Unfortunately, it's not this part of the county driving that change. Safe R.
HD-92
Del. Jeion Ward (D) had her first contested election this year since her initial ascension to the house in 2003. It was a primary challenge though, not general. Uncontested D.
HD-93
The 93rd is a mirror version of the 85th. In 2016, Democratic State Senator John Miller (SD-01) died of a heart attack, and Democrat Monty Mason – who then represented the 93rd in the House of Delegates – won the special election to replace him. This left his seat open of won a seat in the VA senate, leaving his 56%-42% Obama district open for another special, which was won by Democrat Mike Mullin over Republican Heather Cordasco in a hotly contested fight, 54%-46%. The 93rd is no stranger to expensive elections, though. Over the course of the four elections held in its current incarnation, about $4.7 million has been spent on it, and the highest vote percentage earned by anyone is only 54.8%. And 2017 looks to be no exception, turning into a rematch of the special. It looks like Mullin has a definite edge on Cordasco this time around. Clinton improved on Obama here, winning 57%-38%, and Mullin has been able to rebuild his war chest much faster than Cordasco. On top of that, while this district isn't in Northam's old Senate district, it borders it, and he's known in the area as a whole. Lean D.
HD-94
This Obama (52%-46%), Clinton (49%-44%) district has also seen its share of heated battles. Del. David Yancey (R) has yet to have an election that he hasn't had to fight for, with his closest call being a 51%-49% win in 2013. Since it's looking like 2017 will be a better year than 2013, Yancey had a target on his back. Democrats Zach Wittkamp was recruited, and he was off to a good start. Then, on July 29, he announced he was withdrawing from the race, citing that he was unprepared to be a full-time candidate. Democrats scrambled for a replacement and found 2015 candidate Shelly Simonds. She is now tasked with the job of unseating a powerful incumbent starting from almost no money just three months out. Even considering her name recognition from 2015 and the presence of a Libertarian on the ballot, that's not a simple job. The race is competitive, but it's not hard to see who's leading right now. Lean R.
HD-95
Last incumbent without a challenger, I swear. Uncontested D.
HD-96
This seat has been a GOP bastion for a long time, even voting for EW Jackson and letting neither Obama nor Clinton within single digits of a win, 41%-57% and 40%-54%, respectively. Interestingly though, the Democrat, Kelly DeLucia, has outraised the incumbent Republican, Del. Brenda Pogge, by $56,000 to $45,000. While money is a useful tool, a small fundraising advantage advantage cannot overcome the basic partisan lean of a district, and this is a Republican district. Still, watch the margins here, it could get closer than expected. Safe R.
HD-97
In 2012, this was Obama's worst district outside of coal country. Clinton did worse in it than he did. Safe R.
HD-98
I really like the shape of this district. It's almost perfectly the middle neck. Of course, that's a pretty red place. Safe R.
HD-99
Honestly, there's only so much you can say about a deeply red district that will stay that way for the foreseeable future. Safe R.
HD-100
Third time's the charm, maybe? The 100th district, for the last two races, has been a race between Republican incumbent Del. Rob Bloxum and Democratic challenger Willie Randall, and 2017 will not see a change from that. Their first match-up came in 2014 when incumbent Democrat Lynwood Lewis won the State Senate seat Northam was vacating by only 11 votes. This prompted a special election that drew major interest and spending. Randall outspent Bloxum, but abysmal turnout in an Obama 54%-45% district helped Bloxum win 60%-40%. Randall ran again in 2015. The race attracted less interest, but still, the margin improved to 58%-42%. It's now round 3, and state Democrats aren't exactly hopeful. Clinton's reduced 49%-47% margin suggests that the seat was as only as blue as it was because of Obama, and there's no real reason to suspect things will be different enough this time around to reverse losses like that. Still, this will be a better year with better turnout. Likely R.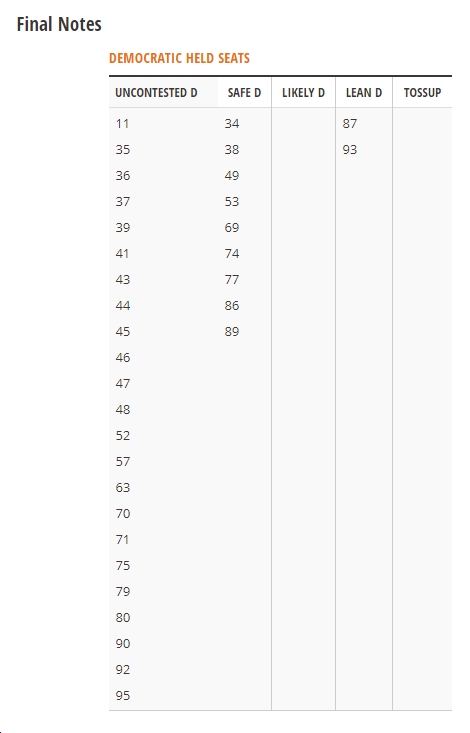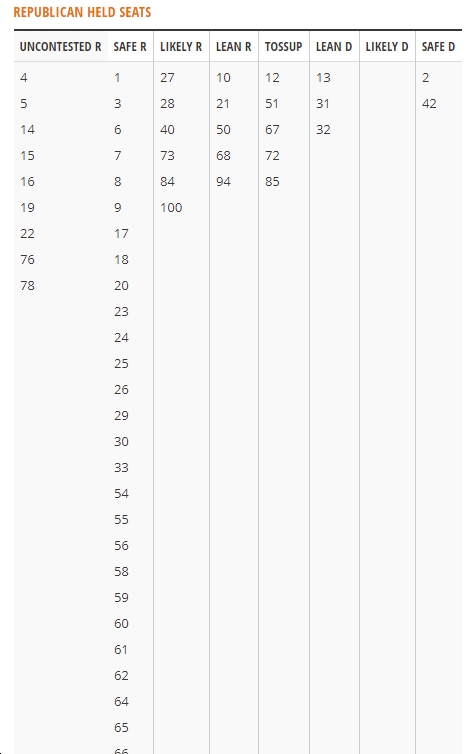 And you can probably see why VA Dems aren't expecting to win back the House of Delegates. Democrats need 17 seats to win it back. To do that, they'd need to hold both of their competitive seats; not blow their two sure pickups; sweep the Republican-held "lean Ds," which is not simple but is reasonable; win the tossups, which generally fall somewhere close to even, but often go in one direction if the race shifts towards the end (meaning it's not crazy); then win all of lean R races, which amounts to five upsets in a row. That would still bring Dems two members short, so they'd have to win two Likely R seats, of which none generally flip in an election. The problem Democrats have with this map isn't that they have to hit a bullseye, it's that they have to hit a bullseye many times in a row, with no margin for error. That's why, as things currently stand, I'm rating the Virginia HoD Safe R.
But it's not guaranteed to stay that way. The governor's race is still developing. And unlike in 2013, when the electorate was generically Republican to the extent that Mitt Romney won among those who voted, but T-Mac won with the aid of Republicans and swing voters repulsed by Cuccinelli. Now though, it seems as the though the electorate is more Democratic. Gillespie isn't exactly off-putting like the 2013 "extreme team" Republican candidates were, and Northam leads Gillespie by about 5 points in the polls. This is back-to-school time, which mean that in two or three weeks, many Virginians will begin paying attention to this race for the first time. If Northam really begins to pull away then, by 10 or so points, then the House may come into play, but as of now, too many things have to go right for that to be plausible. Still, this isn't a bad result for Democrats. After all, the record since Reconstruction for the most seats switching parties in a HoD election without redistricting is 10, in 1969, and they look set to get in that neighborhood. Picking up 10 or so seats would also put them in much better position for 2019, when the State Senate is also up.
There's no paywall on Blue Virginia, and we definitely want to keep it that way! If you want to help support our work, you can donate here - thanks!
Also, you can
sign up for our weekly email list here
.