Two seemingly unrelated events this week have driven home the need for states like Virginia to move rapidly towards a sustainable, clean, prosperous energy economy. First, of course, we've see the damage that climate-chaos-fueled hurricanes can (and will) cause. And make no mistake — Irma and Harvey should kill any doubt that [human-caused] climate change is real, according to leading climate scientists like former UVA Professor Michael Mann. Which is exactly why we need to be moving — not at a leisurely pace but on an emergency, WWII-style mobilization level — off of fossil fuels (coal, oil and natural gas) and onto clean, sustainable, renewable energy (solar, wind, efficiency, tidal, wave, etc.). Yet, to put it bluntly, here in Virginia — thanks in large part to another damaging climate, the Climate of Capitulation" — we've been failing miserably, even talking about investing billions of dollars in NEW fossil fuel infrastructure (e.g., two proposed fracked-gas pipeline monstrosities). Needless to say, that would be the 180-degrees opposite of the way we need to be going, for a host of environmental and economic reasons.
Second, Amazon's announcement this week that it is seeking to build a second corporate headquarters (Amazon HQ2) in North America drives home the need for states wanting to attract economic opportunities in the 21st century to move aggressively towards a clean, sustainable energy economy.
Note that in Amazon's announcement/RFP, it prominently mentions the following (bolding added by me for emphasis):
Last year, Amazon was the leading corporate purchaser of renewable energy in the United States according to the 2017 State of Green Business report. We currently purchase energy generated by wind farms located across the country, and plan to deploy solar systems on 50 fulfillment and sortation centers globally by 2020. Additionally, the newest buildings on our current campus in Seattle are heated using an innovative energy recycling system that uses the heat generated at a nearby data center to warm up our office space.
Also note that Amazon is committed "to achieve 100% renewable energy usage for our global infrastructure footprint, having already "exceeded its goal of 40% renewable energy by the end of 2016, and set a new goal to be powered by 50% renewable energy by the end of 2017."
Given that Amazon is officially committed as a corporation to 100% clean energy, and given that Virginia appears to be in the running for Amazon's second corporate HQ, wouldn't it be helpful if Virginia could guarantee 100% clean energy to Amazon (and, of course, to other companies as well)?  Seems like a potential win-win, also a classic "no brainer," given that there are no downsides to moving in this direction. A "no brainer," that is, except for fossil fuel and monopoly utility interests like Dominion Energy and its bought-and-paid-for politicians, all of whom are (severely) harming Virginia's ability to attract Amazon (and other environmentally conscious, forward-thinking companies). In short, we must not let companies of the past like Dominion stop companies of the future like Amazon from coming to Virginia.
Fortunately, pressure from companies like Amazon – combined with plummeting costs for clean energy – has already moved Dominion a bit, with reports late last year that "Amazon Web Services will buy the power produced by two of the largest solar farms in the mid-Atlantic that Dominion will develop, as well as several others Dominion will own in five Virginia counties."
Dominion will add a total of 180 megawatts of solar generating capacity as part of the expanded partnership. It will expand the output of Dominion's eight-state solar fleet to 1,400 megawatts, including 434 megawatts in Virginia and North Carolina.
Dominion also says it intends to bring at least 500 megawatts of solar generating capacity in the two states online by 2020.
[…]
The 260 megawatts of solar capacity Dominion is developing with its Amazon partnership will generate the equivalent of enough electricity to power 65,000 homes and businesses.
So that's a start, but there's still a ton more to do, given that clean energy still makes up such a small percentage of Virginia's power generation mix. In short, adding megawatts of solar and wind is nice, but adding gigawatts of clean energy – ASAP! – would be much, much nicer. In fact, as the hurricanes and Amazon HQ2 announcement both drive home, it's long past time for Virginia to adopt more clean energy-friendly policies as part of being the "best place to do business" and the "clean energy capital of the East Coast" (or whatever tag line you want to use).
Are you a bit skeptical that a clean energy economy can help attract businesses like Amazon to Virginia? Then I recommend you check out Groundbreaking Study: States that Enable Customer Choice of Clean Energy Attracting Job-Creating Businesses (bolding added by me for emphasis):
In this game-changing transition from conventional sources to clean energy, corporations and other large organizations seeking to meet their RE goals by purchasing and deploying renewables have unprecedented options. But the transition is a bumpy one, with an ever-changing landscape of policy, finance, and technology factors at the state level. On the policy side, it is state energy and utility regulations, and the availability of customer choice, that are most important in determining the best locations for corporations seeking to buy or build significant amounts of renewable energy generation.
[…]
Perhaps more than anything else in this report, corporate customers are looking to control their own destiny by leveraging a landscape of renewable investment market choice options, especially as many of them work to power their operations with 100% renewable energy. Choice can take many forms, depending on factors such as whether a state is regulated or deregulated, or is part of a regional organized market.
Also see States Use Renewable Energy to Win Corporate Business, which reports:
Advanced Energy Economy cites that nearly half of Fortune 500 companies have a sustainability or renewable energy target; 22 have committed to 100 percent renewable energy. These companies include Walmart, General Motors, Amazon and others who have also signed on to the Corporate Renewable Energy Buyers' Principles.
That said, not all states are created equal in their ability to provide corporations with the renewable energy they want at the scale they need.
A report this month from Retail Industry Leaders Association (RILA) and Information Technology Industry Council (ITI) ranks all 50 U.S. states based on 15 indicators for how easily companies can purchase renewable energy to power their operations. The top five states were Iowa, Illinois, New Jersey, California and Texas.
The report notes that the "structure of a state's electricity market can directly influence where corporations choose to invest in renewable projects." Overall, states with deregulated electricity markets earned higher rankings because companies in those states had "retail choice," meaning customers can choose which energy provider supplies their electricity. States with regulated markets, where a monopoly utility provides power to all customers and chooses the source of this power, may initially appear limited. However, the rankings concluded that even fully regulated states can succeed in offering large-scale renewable energy to big customers. Iowa is a regulated state and still came out on top.
Finally, check out the following tweets by Maggie Clark, Southeast State Affairs Manager for the Solar Energy Industries Association (SEIA), which argue that "only a few [East Coast] states have clean energy programs that Amazon wants for ops," that "states should be pushing utilities [like Dominion Energy] to do more," and that "state energy policy is #1 for #economicdevelopment" these days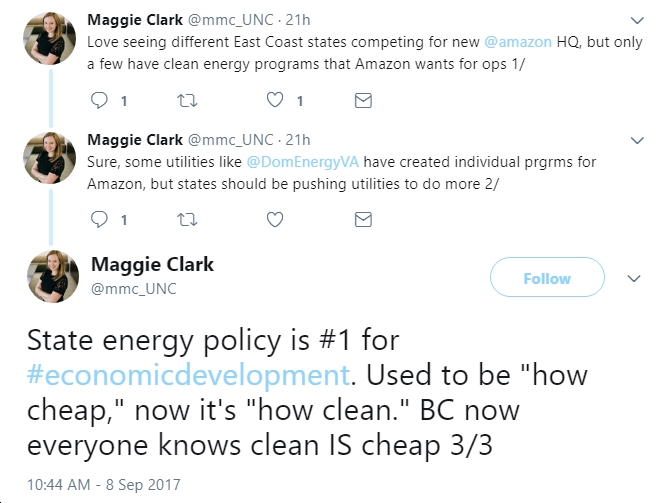 Maggie Clark has it absolutely right, and it's long past time for Virginia's political leaders to move in this direction. I'd also note that the desires of Amazon's work force could be another important motive to move towards clean energy, as young tech workers would undoubtedly love to power their homes with clean, cheap energy. And, of course, they're unlikely to desire climate-change-fueled monster hurricanes — and other environmental/health problems exacerbated by climate chaos — harming themselves and/or their families.
All of which, again, should lend a sense of urgency to Virginia policymakers as they discuss our state's energy and environmental problems. It should also lend a sense of urgency to the election this November, in which we have an entire political party (the GOP) which refuses to even say the words "climate change" or "global warming," which is deep in fossil-fuel-industry-funded denial, and which is therefor unfit to hold public office in our state or in America. No, Democrats aren't perfect, but compared to the know-nothing, science-denial, fossil-fuels-forever Republican Party, the choice is as clear as the devastation wreaked by Harvey and Irma…
P.S. And you know what will NOT help attract companies like Amazon to Virginia? Correct: new fossil fuel projects, like the brain-dead, environmentally destructive, economically foolish (e.g., soon-to-be-"stranded") Mountain Valley Pipeline and Atlantic Coast Pipeline.