Advertisement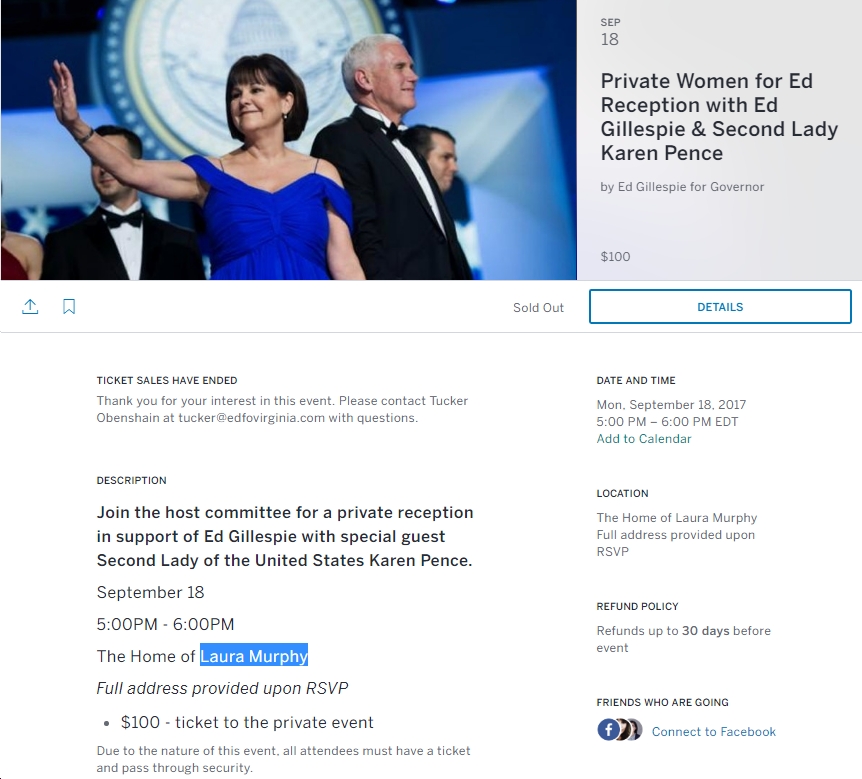 We already know that Ed Gillespie is the consummate "swamp creature" – a corrupt corporate tool, lobbyist, basically everything people tend to hate about politics. But I bet most Virginia voters don't realize how far Gillespie has lurched to the right during this campaign, for instance saying he wants to see abortion completely banned, wants to defund Planned Parenthood, has moved closer to xenophobe Corey Stewart's draconian views on immigration, etc, etc. And now, just to highlight how far right Gillespie has moved to please his crazy base, check out this fundraiser he's attending with Karen Pence and…with this woman (note: bolding added by me for emphasis).
The book Laura Murphy wants removed from Fairfax County classrooms is considered a modern American classic. It is a Pulitzer Prize winner and a masterpiece of fiction whose author's 1993 Nobel Prize in literature citation said that she, "in novels characterized by visionary force and poetic import, gives life to an essential aspect of American reality."

But Toni Morrison's "Beloved," Murphy said, depicts scenes of bestiality, gang rape and an infant's gruesome murder, content she believes could be too intense for teenage readers.
"It's not about the author or the awards," said Murphy, a mother of four whose eldest son had nightmares after reading "Beloved" for his senior-year Advanced Placement English class. "It's about the content."
Yep, the Gillespie fundraiser is being held at the home of the woman who wanted to ban the classic book, "Beloved," from the Fairfax County public school system. And not just "Beloved," either. Check this out.
Lawmakers in Virginia moved forward Thursday with legislation that could make it the first state in the country to allow parents to block their children from reading books in school that contain sexually explicit material…
…It all started with Laura Murphy, a Fairfax County woman who said she was horrified to discover that one of her sons, a high school senior, had been assigned to read the 1988 Pulitzer Prize-winning novel "Beloved."
The seminal work of fiction, by Nobel laureate Toni Morrison, is about a former slave after the Civil War, and it contains scenes of bestiality and gang rape and an infant's gruesome murder.
Murphy said that makes the book inappropriate for young readers, and she ticked off other critically acclaimed works in the same category: "The Bluest Eye," also by Morrison, "Invisible Man" by Ralph Ellison and "The Road" by Cormac McCarthy.
Finally, here's Murphy with her corporate lobbyist husband (including for big tobacco) and her "good friend" Ed Gillespie. I wonder what Gillespie thinks of all this book banning stuff. I mean, given his hard-right turn on almost everything else during this campaign, he might be simpatico with banning "Beloved" too.
Cathy & I with our good friends Dan & Laura Murphy at the @TFFVA Gala tonight in Richmond. Congratulations Laura! pic.twitter.com/XFqH2qWrAm

— Ed Gillespie (@EdWGillespie) October 2, 2016
There's no paywall on Blue Virginia, and we definitely want to keep it that way! If you want to help support our work, you can donate here - thanks!
Also, you can
sign up for our weekly email list here
.