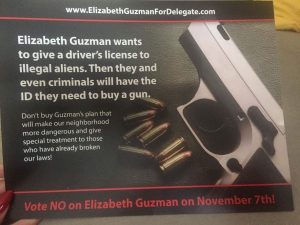 Last week, Daily Kos staff writer Carolyn Fiddler wrote this diary highlighting a rather racist set of mail pieces in Virginia being sent out to attack Democratic House of Delegates Candidate Elizabeth Guzman, who's running in the 31st District. These pieces attack her for wanting to pass legislation allowing undocumented immigrants to obtain a drivers license. Of course, the GOP incumbent Elizabeth is running against isn't man enough to send out the mail pieces under his own campaign, and instead is relying on a PAC founded by House Speaker Bill Howell.
This is how the Republicans in Virginia play, folks, and up until now they've been pretty good about hiding their tracks. The actual politician gets to say he had no idea about what was going to be on the mail pieces, and they claim no coordination with controversial messaging sent out on their behalf.
Except this time they screwed up.
Scott Lingamfelter — Elizabeth's Republican opponent — apparently purchased the website URL you see at the top of the mail piece image above: www.ElizabethGuzmanForDelegate.com. A simple whois search reveals that Lingamfelter himself registered the website in July:
Well that's awkward.
If you have no knowledge or coordination with these shady PACs, Delegate Lingamfelter, then please explain why you would buy a domain name used by these mail pieces right before they started coming out? No answer? That's what I thought.
If anyone had any remaining delusions about just how low these Republican delegates will go to hold onto their power, I trust this will clear everything up. To add insult to injury, the bill referenced on this mail piece was originally a bipartisan one proposed by a Republican.
But that's fine; we know folks love rewriting history nowadays to suit their needs, especially here in Virginia.
You know what to do, fellow Blue Virginia readers — Elizabeth needs all the help she can get to win this year and become Virginia's first Latina Delegate. That starts with you.
 ELIZABETH GUZMAN — VIRGINIA HOUSE OF DELEGATES DISTRICT 31