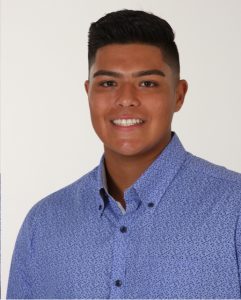 by Isaac Velez, a 17-year-old who lives in Fairfax County, Virginia with his mother and grandmother.
In my 17 years, I have learned that football and politics have a lot in common. And I don't mean that they're both contact sports. Both football and politics take discipline, mental preparedness and heaps of hard work.
I love playing football. It's my favorite sport because of all the action and the many small details involved in being successful. After devoting 16 hours per week to football for four years, I've become a more disciplined person. I've learned how to prepare myself to run the next play and to anticipate my opponent's next move. And playing football has taught me that when a team works together, there's no limit to what they can achieve.
So when I started working for Dr. Ralph Northam, the Democratic candidate for Governor of Virginia, I realized how many of the lessons I've taken from football apply to politics. I have the discipline it takes to go door to door, every Saturday, often in bad weather and for long periods of time. I am mentally prepared for the task at hand – to research the backgrounds of the candidates, their platforms and positions before I hit the pavement. And football prepared me to never give up in the face of adversity – especially when I'm talking to people who hold views or opinions that differ greatly from my own.
While many of my friends are playing sports or going to the movies with friends, I wouldn't spend my weekends any other way than working for the Northam campaign. Because even though I'm 17 and too young to vote in November, I know that the impact of this election will be felt by thousands of people my age – immigrants, students, people of color and future generations who deserve every opportunity to succeed.
While Ed Gillespie, the Republican candidate, has spent this campaign scapegoating immigrants and escalating racial tensions in my community, Ralph Northam has proven that he's committed to fighting for all of us, including high school students like me. He is committed to cutting the cost of college and giving students the tools and skills they need to get good-paying jobs after they graduate.
I am proud to be an American because I believe this country gives each of us the opportunity to reach our full potential. However, last November made me think twice about the direction our country is headed. After Donald Trump's victory, I began to see canvassing as a way to ensure everyone has a chance to make their voice heard, not just the loud and powerful. By getting involved in the governor's race, I've found a way to encourage people to go to the polls and elect leaders that will work to build a Virginia that works for everyone, no matter who you are, where you live or where your parents were born.
With discipline, mental preparedness and hard work, I believe everyone in America should have the opportunity to succeed, not just a select few. That's why I canvass – and that's why Northam deserves your vote.