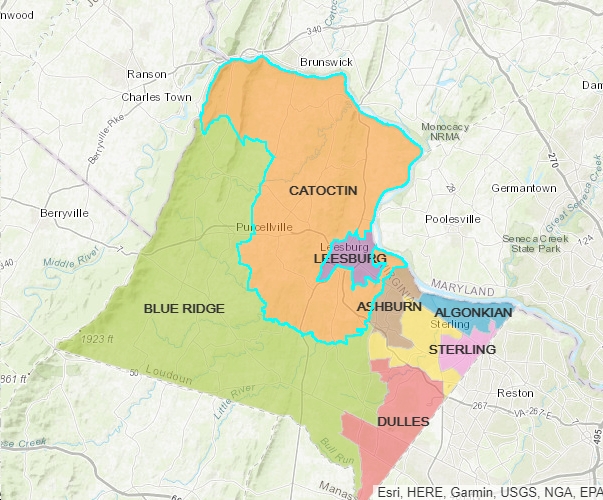 The other day, I looked more closely at Fairfax County by magisterial district, to get an idea as to which County Board and School Board members might be vulnerable when they're next on the ballot, in 2019.  The conclusion: if "blue" trends continue in the direction they demonstrated last Tuesday, both Republican County Board members and  both Republican School Board members could very well be political "toast" in two years.
Now, I'll take a look at Loudoun County by district to see who might be in trouble there.
Catoctin: Went to Ed Gillespie by a 7,353-6,887 margin. Most likely, this means that Catoctin District Supervisor Geary Higgins (R) is fairly safe politically.  Also note that Higgins won his last election easily, by a 64%-35% margin, over Democrat Craig Green.
Blue Ridge: Ralph Northam won this district by a convincing 10,931-8,522 margin, which means that Supervisor Tony Buffington (R) could be in serious trouble next time around. Also note that Buffington won his last election fairly comfortably, but not overwhelmingly (56%-44%) over Independent Richard Jimmerson, Jr.  So clearly, this district appears winnable based on last Tuesday's results, but Democrats will need to find a strong candidate to run here.
Dulles: Ralph Northam dominated this district, by a 2:1 margin (8,946-4,830), which means that Supervisor Matthew Letorneau (R) might seriously want to start thinking about alternative stuff to do with his time, come 2019. On the other hand, Letorneau won his last election "bigly" (71%-28%), so obviously Democrats will need a strong candidate here to beat him. Still, based on last Tuesday's numbers, clearly the Democratic voters are there to do it – if they turn out.
Broad Run: Ralph Northam also dominated this district, by a 8,814-4,770 margin, indicating potential political trouble for Supervisor Ron Meyer (R) in two years. On the plus side for Meyer, he won his last campaign by a comfortable 58%-41% margin over Democrat Al Nevarez. Still, I wouldn't be resting easy if I were him.
Sterling: Ralph Northam crushed Ed Gillespie here, by a 5,979-2,796 margin. If I had to put money on this one, I'd have to say that Supervisor Koran Saines (D) is looking good for reelection. 🙂
Leesburg: Ralph Northam won this district easily (6,850-4,394), which means that Supervisor Kristen Umstattd (D) should be secure in 2019 (especially since she won her last election by 17 points).
Algonkian: Ralph Northam romped in this district (8,019-4,658), which indicates that Supervisor Suzanne Volpe (R) might also want to be looking for other things to do with her time in a couple years. Heh. Also note that Volpe barely won her last election, by a slim 52%-48% margin over Democrat Andrew Resnick. Watch out in 2019!
Ashburn: Ralph Northam won this district fairly easily (7,618-5,074), so Supervisor Ralph Buona (R) should probably be feeling a little antsy these days. Even worse for Buona, he barely won his last election, by a narrow 52%-48% margin over Democrat Mike Turner. Uh oh. 😉
Chair/At-Large: Phyllis Randall (D) was elected with 38% of the vote in 2015 in a three-way race against, essentially, two Republican opponents (Charlie King and Scott York). That would seem to indicate that Randall might be vulnerable for reelection in 2019, except for one thing – Ralph Northam won Loudoun County by a whopping margin last Tuesday (69,710-46,278). Which means that Randall's reelection chances are now looking a LOT better than they did prior to last Tuesday's elections. 🙂
Bottom line: Based on what happened last Tuesday, the GOP majority on the Loudoun County Board of Supervisors is looking shaky at the moment, although obviously a lot could change – either for better or worse, from the Republicans' perspective – by 2019.