Congratulations to my good friend Atif Qarni, a proud U.S. Marine veteran, teacher, two-time Democratic candidate, Pakistani-American and Muslim American on being nominated by Governor-elect Ralph Northam to serve as Virginia Secretary of Education starting in January. To my knowledge, this makes Atif the first Muslim-American Cabinet secretary nominated at the start of a gubernatorial term (note: Javaid Siddiqi served as Education Secretary the last three months of Gov. Bob McDonnell's term, but I'm not sure if he's Muslim or not…no public indication I've found as to what his religion is) in Virginia history, and it couldn't have gone to a more qualified individual (or at a better time, considering the anti-Muslim sentiment Trump's nomination and election stirred up in the country).  I look forward to Atif accomplishing great things over the next four years for Virginia's students, teachers, etc., and I know from talking to him that he's eager to get to work on doing just that. Go get'em Atif! 🙂
P.S. Hoping for video of the announcement ceremony (which started at 1 pm at Beville Middle School in PW County) to follow…will add if/when I get it. Will also post the press release when I get it.
from Atif Qarni:
It is an honor and a dream come true to be appointed Secretary of Education for the Commonwealth of Virginia in front of family, friends, fellow teachers & staff, and (most importantly) my students at Beville Middle School. Thank you, Governor-Elect Northam, for trusting this school teacher to serve in your Administration. I will work hard over the next four years to make you and all Virginians proud.
Congratulations @atifqarni, the next Sec of Education! @RalphNortham @pwcdanica @VEA4Kids @pwea @PWCSNews #princewilliamproud pic.twitter.com/MeKV8P7mqJ

— Jeremy McPike (@JeremyMcPike) December 21, 2017
Had a great time at Beville Middle School this afternoon announcing one of their very own as our next Secretary of Education. Congratulations Atif Qarni. pic.twitter.com/eeB3tq3wJp

— Ralph Northam (@RalphNortham) December 21, 2017
Atif Qarni, our Civics teacher, was tapped as the next Secretary of Education for Virginia, by Governor-Elect Northam. This is amazing news for our community and students. Congratulations, Atif! @PWCSNews @RalphNortham @JeremyMcPike @pwcdanica pic.twitter.com/I9oUg8qQaQ

— Beville Middle (@BevilleBobcat) December 21, 2017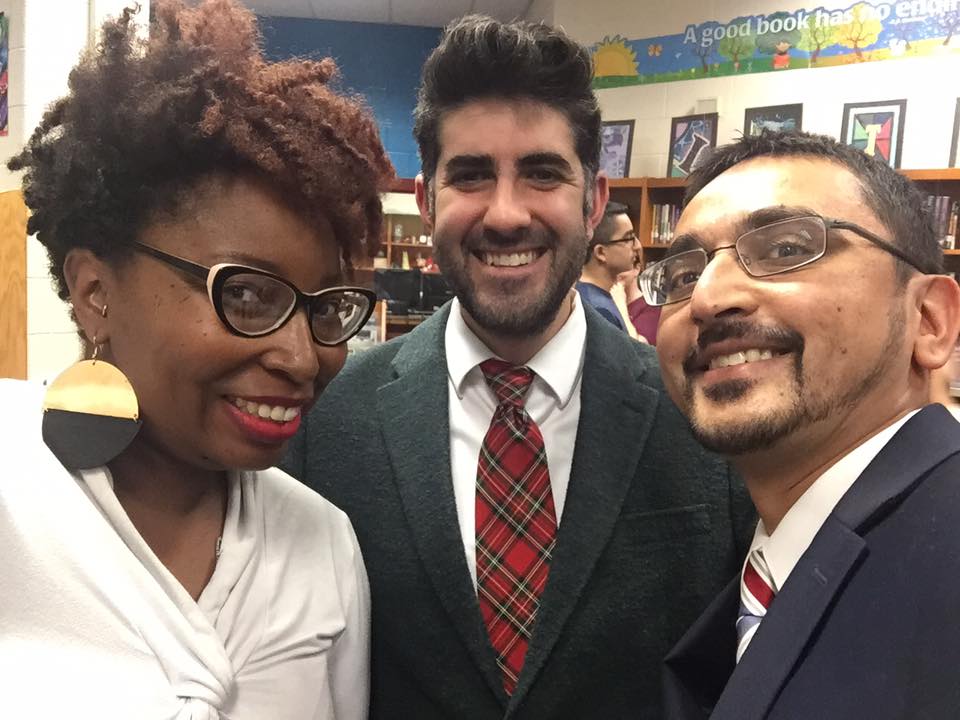 Happy to join the students and @pwcdanica at Beville MS with their teacher Atif Qarni who was announced as the new Secretary of Education by @RalphNortham. pic.twitter.com/94XX2nnMLH

— Ryan Sawyers (@RyanSawyersVA) December 21, 2017
Anne and I are so happy to see Atif as the Commonwealth's next education secretary. His experience and perspective will enrich students' lives across Virginia—and it's so great to have a classroom teacher in the job! https://t.co/qQL9HGgAwo

— Tim Kaine (@timkaine) December 21, 2017
***********************
Governor-Elect Ralph Northam Announces Administration Appointments
RICHMOND — Today at Beville Middle School in Dale City, Governor-elect Ralph Northam announced Prince William County Public School teacher and Marine Corps veteran Atif Qarni will join the Northam administration as the next Secretary of Education. Governor-elect Northam also announced other key appointments for senior leadership positions within the Education secretariat.
Holly Coy will continue serving the Northam administration as Deputy Secretary focusing on K-12 education. Fran Bradford will also join as Deputy Secretary focusing on higher education.
"If we want to build an economy that works better for every family, no matter who you are, no matter where you live, we must begin with the foundation of a world-class education," said Governor-elect Ralph Northam. "We can accomplish it if we support our educators and school support professionals, uphold accountability, invest in and expand STEAM curriculum, and make early childhood education a priority. I look forward to seeing what new heights Virginia's education system is able to reach in the next four years with the team I am announcing today."
Appointee Biographies
Atif Qarni, Secretary of Education
Atif Qarni is a Prince William County Public Schools educator and currently teaches civics and economics, U.S History, and mathematics at Beville Middle School in Dale City. Prior to that, he served Prince William County Public Schools as a GED Night School Instructor, helping individuals in Woodbridge and Manassas achieve their high-school equivalency diplomas. In 2016, he was awarded Dale City Teacher of the Year. Governor Terry McAuliffe appointed Atif Qarni to the Small Business Commission in 2013. He has been a member of the Virginia Education Association since 2008 and ran for House of Delegates in 2013 and Senate of Virginia in 2015. He is a former Sergeant of the United States Marine Corps, Reserves and was deployed to Iraq in 2003 on Active Duty Assignment during Operation Iraqi Freedom. Atif earned a Bachelor's in Sociology from George Washington University. He earned a Master's in History and his teaching licensure in secondary education from George Mason University.
Holly Coy, Deputy Secretary of Education (K-12)
Holly Coy was appointed Deputy Secretary of Education by Governor Terry McAuliffe in October of 2015. Prior to that, Holly served as the Policy Director in Lt. Governor Northam's office. Previous to that, she was the Director of Programs at the Virginia Interfaith Center for Public Policy; and worked in the Governmental Affairs Office of the American Bar Association in a number of capacities. Holly earned her bachelor's degree from the University of Virginia and her master's degree from American University's School of Public Affairs. She is a graduate of the Sorensen Institute for Political Leadership and Georgetown University's Nonprofit Management Executive Certificate Program.
Fran Bradford, Deputy Secretary of Education (Higher Education) 
Fran Bradford currently serves as the Associate Vice President for Government Relations at William & Mary, where she has been since 2003. Before arriving at William & Mary, Fran served as Acting Director of Communications and Government Relations at the State Council of Higher Education for Virginia (SCHEV). Prior to that, she served as Coordinator of Communications and Government Relations and as the Assistant to the Acting Director from May 1997 to June 1998. Ms. Bradford joined the agency in July 1990. In the fall of 2005, Ms. Bradford was called on to fill the position of Deputy Secretary of Education during the remaining months of Governor Mark Warner's term. She earned a Bachelor of Arts from Earlham College in Richmond, Indiana and she holds a Masters of Public Administration from Virginia Tech. She also holds a certificate of completion from Virginia's Commonwealth Management Institute.