Advertisement

All I can say is, we need to vote every one of these NRA tools – especially people like State Sen. Glen Sturvevant, whose district was won big time by Ralph Northam this past November – out of office in 2019.  If you want to watch the travesty unfolding, click here.
UPDATE: Senate Republicans are now voting down hate crimes bills. As I just tweeted, So…@RalphNortham is all "bipartisanship" (the corporate media laps it up) and the Republicans' first move is – 100% predictably – to vote down a bunch of commonsense gun violence prevention bills, hate crimes bills, etc. How's that "bipartisanship" working out so far? Grrrr.

The Courts committee just killed bills that would have established universal background checks and closed the gun show loophole on a party-line vote. pic.twitter.com/OxqmJSdRaq

— Jennifer Wexton (@JenniferWexton) January 15, 2018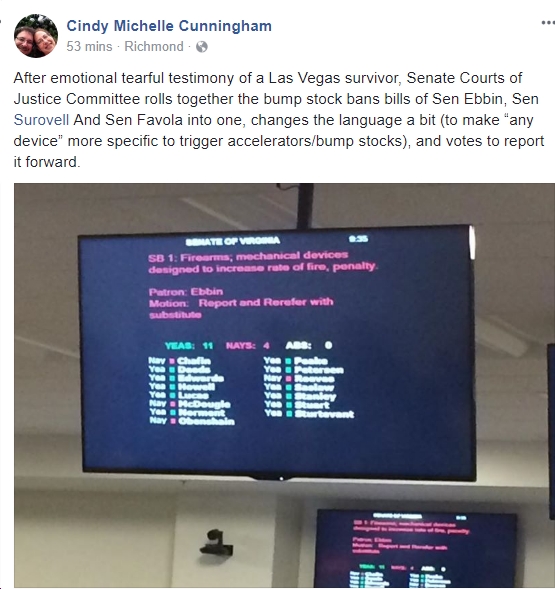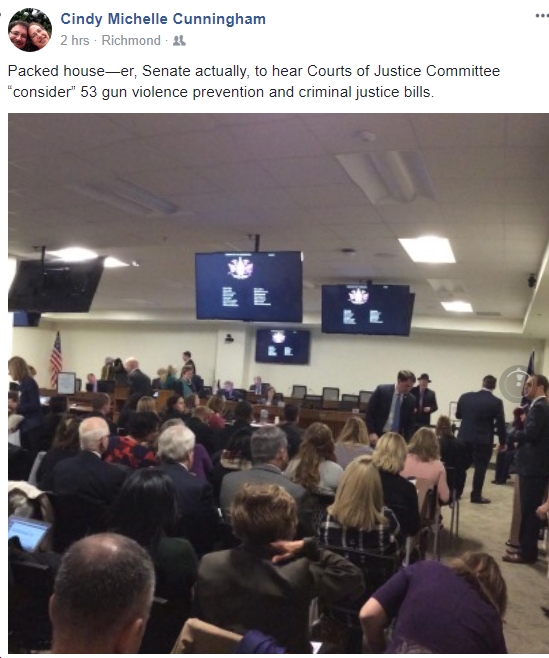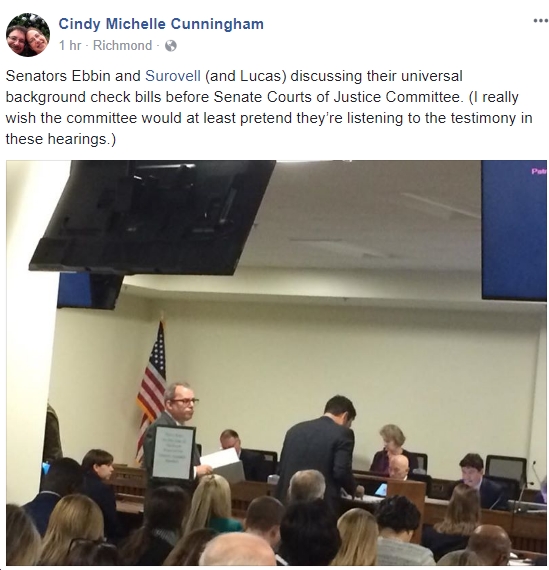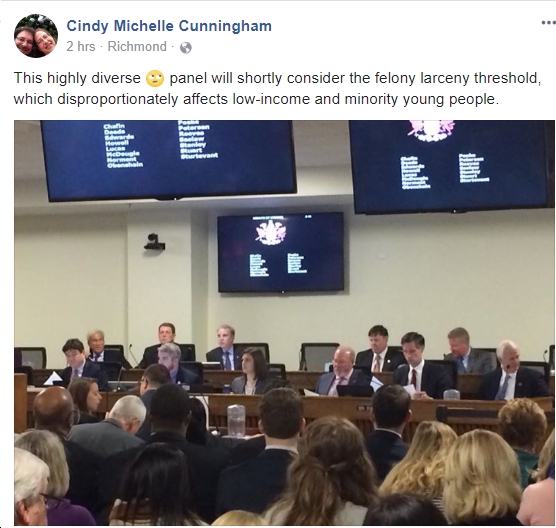 Philip Van Cleve from VCDL asks the committee not to ban bump stocks because "they're fun to shoot." For real. #VaGov

— ProgressVA (@ProgressVA) January 15, 2018
Hey, remember after Las Vegas when the NRA said they would support limits on bump stocks? They're here to oppose banning them in VA. #VaGov

— ProgressVA (@ProgressVA) January 15, 2018
The irony is not lost on me that so many gun bills are being heard in committee on Martin Luther King, Jr. birthday.

— Jennifer McClellan (@JennMcClellanVA) January 15, 2018
Universal background check bill fails to report 6-9. pic.twitter.com/T16KsY3dU9

— Jennifer McClellan (@JennMcClellanVA) January 15, 2018
Tearful testimony on bump stock ban bills right now in Senate Courts of Justice Committee from surviving victim of Las Vegas shooting. Most of the Senators aren't even looking at her.

— VAPLAN2018 (@vaplan2018) January 15, 2018
Five minutes before Courts of Justice committee begins where many gun bills will be heard this morning. About 30 ppl can't get in and are unhappy. Capitol police say "we're short of space by about 2/3rds."
"How are we supposed to testify on bills if we can't get in to a hearing?" pic.twitter.com/hacFFRAmhP

— Jordan Pascale (@JWPascale) January 15, 2018
Virginia Courts of Justice fails to report bill prohibiting carrying of loaded firearm while under influence of alcohol or illegal drugs. #virginia #gunviolence

— Ed Fund (@EFSGV) January 15, 2018
Dear @GlenSturtevant, your district vote 57% for @RalphNortham and his call for stronger gun laws. We will remember this vote. #VaGov pic.twitter.com/BmSpVrSE2K

— CSGV (@CSGV) January 15, 2018
Background Checks bill has failed in #VAGov Senate Committee. These Senators will be held accountable. #DisarmHate

— CSGV (@CSGV) January 15, 2018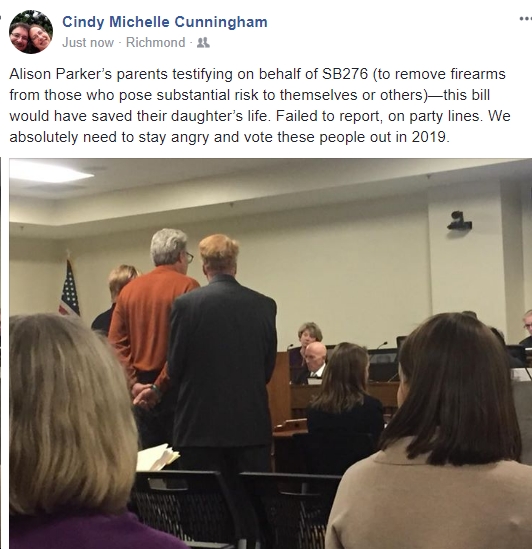 There's no paywall on Blue Virginia, and we definitely want to keep it that way! If you want to help support our work, you can donate here - thanks!
Also, you can
sign up for our weekly email list here
.