by Robbin Warner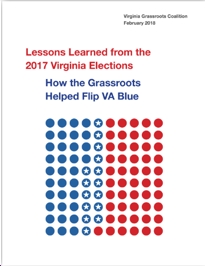 Much has been said about the big win in Virginia by pundits and political parties. Now the grassroots are offering their take on what worked and why through the release of Lessons Learned from the 2017 Virginia Elections: How the Grassroots Helped Flip VA Blue.
Put together by a coalition of some 40 grassroots groups who have been meeting and working together regularly since March 2017, the seven key takeaways for other states wishing to learn from Virginia's grassroots are:
Understand campaign realities and constraints.
Any district is worth fighting for.
Listen to what the campaign needs and where its needs match your organization's capabilities, fill the void.
Canvassing and fundraising are the two most impactful ways the grassroots can assist campaigns.
Campaign managers and staff are BUSY.
Develop coalitions among grassroots organizations.
Volunteer engagement is critical.
To put these recommendations in context, the document looks at the actions of the grassroots through five lenses, each presented as a separate section.
The first lens focuses on how campaigns actually work and what groups need to know.
The next section runs through strategies for helping campaigns–from being positive and responsive, to being organized and reliable. Then the section gives a grassroots' take on tactics. "Adopt-a-Candidate" leads off this section. Early on, groups adopted candidates. These full-service partnerships were crucial for many candidates to make it through the low financial and morale days of August to the all-hands-on-deck weeks leading up to the election. Other approaches covered in this section include canvassing, phone banking, and fundraising. As well as the newer tactics of texting, social media videos, and everyone's favorite postcard writing.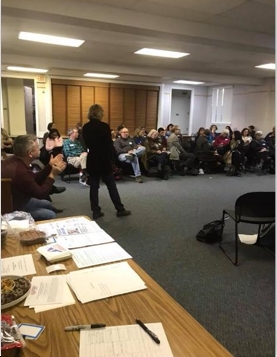 The section also addresses how the grassroots volunteers, many highly skilled professionals, were able to assist campaigns way beyond the traditional role of volunteers. For example, volunteers conducted extensive and comprehensive research as well as provided technology support.
There's an entire section devoted to the needs of deep red and rural campaigns from identifying challenges progressive candidates face in these districts as well as the unique qualities of running a red or rural campaign.
The final section addresses the groups themselves, identifying what's necessary to keep volunteers interested, engaged, and active for the long haul.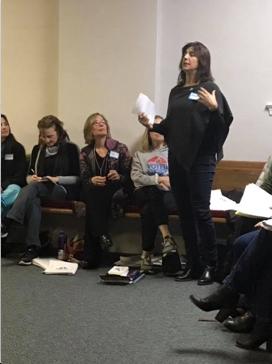 Perhaps the biggest lesson to be learned from the grassroots in Virginia is that they came together as a coalition. People from every corner of the state worked together constructively and productively to get progressive candidates elected. And this wasn't a one-off occurrence. These same grassroots groups are deeply involved in the current legislative session in Richmond and are gearing up for the 2018 midterms.
Whether you're the intended audience or not, Lessons Learned is worth a look. Yes, this document is full of ideas and suggestions through short commentary, bulleted lists of action items, and resource links. But it's really a post mortem by the one group of people not surprised by Virginia's big win. And like the coalition that came together to share ideas, this post mortem is all about paying it forward.