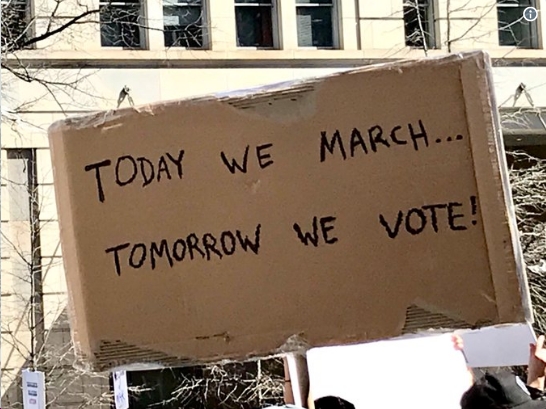 by Charlotte McConnell
On Saturday, we marched for our lives. Hundreds of thousands people gathered across America to say #Enough #NeverAgain #VoteThemOut #EndGunViolence. We heard stories from young people who have been touched by gun violence. We were reminded that women of color are being killed by gun violence at disgustingly high rates. We were reminded that people of color are being killed by gun violence inflicted upon them by those who are supposed to protect them.
Fear and desperation are a plague that afflicts this county. People are afraid of their neighbors, so they feel the need to protect themselves. They do not trust law enforcement to protect them, so they arm themselves. They do not trust our armed forces to prevent a foreign invasion, so they arm themselves. This is part of the problem. More often than not, the firearms in their home intended to protect their family have deadly consequences. These unsecured firearms fall into the hands of children who accidental shoot someone around them. On March 23rd a 4-year-old shot a 7 month old baby. Just take a moment to consider the guilt and sadness that 4-year-old feels because of this horrific accident which happens way too often in America.
In the 2017 legislative session in Virginia, HB 1864 was put forward to make "a Class 1 misdemeanor to knowingly authorize a child age four or younger to use a firearm or pneumatic gun." Seems common sense but it was "Left in Militia, Police and Public Safety". Meaning this bill did not become law or receive a full vote because it never left committee.
There were 70 gun related bills put forward in this year's legislative session and they were all killed. Even a bill that was supported by the NRA and the Virginia Citizens Defense League could not get passed. HB 172 would have given a tax credit for purchasing a locking gun safe. Protecting our citizens from gun violence should not be a partisan issue, but these bills are killed along party line votes. We need to call on the Virginia GOP to stand up and put people before guns, citizens before the NRA, children before campaign donations.
Many have said that marching will do nothing. That these are just kids. That now is not the time. They do not understand the importance of visibility, of starting a conversation, or informing people about the impact of gun violence and how easy it is to access a firearm. Now is the time because we cannot wait any longer.
In the early 80's, my mother, brother, and I were visiting my Aunt in West Philadelphia. We were walking up the sidewalk when a woman approached my mother. She attempted to steal my mother's handbag. I remember my mother holding on to her handbag while this woman punched her in her ear again and again. I think of how this scene could have played out if there was a gun involved. I think about that women who was so desperate she tried to take from my mom not knowing there wasn't much of value inside that handbag.
How could we have prevented that women from attempting to steal from another? We need to help people to be fully functioning members of their community. We need to ensure that no one working 3 jobs to make ends meet is living below the poverty line. We need to ensure that people have access to quality, affordable health care so they do not go bankrupt because they were unlucky enough to get sick or injured.
Yesterday was not the first time we marched to end gun violence, but I hope it will be the last. The brave students from Parkland are not the first to speak out about the gun violence epidemic. Black Lives Matter was started in 2013 and Moms Demand Action was founded after the Sandy Hook shooting in 2012. The Brady Campaign to Prevent Gun Violence was founded in 1974. Columbine was not the first school shooting but hopefully Great Mills will be the last.
It is not just the people that die by gun violence that are victimized by these heinous acts. Their families, friends, and bystanders who are also touched by this violence are forever changed. On March 20th, there was a shooting at Great Mills High School in Maryland. It has not been confirmed but some are saying that the bravery of the school resources officer who did his job protecting students, killed the gunman. The good guy with a gun won. People think this is a point of pride. There are no winners in a school shooting. Only two people died, the gunman and Jaelynn Willey. For their family and friends there is no only when speaking about the loss of their loved one. And there is no only for those students who heard those gun shots ring out. I have learned that Great Mills was ranked 2340 nationally and 55th within Maryland. 33% of the 1,549 students participate in AP courses and their student to teacher ratio is 18:1. There are 582 high schools in Maryland. And now another school, another community, will have to cope with the repercussion of this gun violence tragedy. I am sure people in that community thought it could never happen to them.
Yes, we do have a mental health problem is this country. But we have many problems and there is not one single solution to ending gun violence. We have a health care problem in this country. The majority of our legislators have not been able to fix it. The Affordable Health Care Act was a step in the right direction, but we are seeing it dismantled by the current administration. We have a poverty problem in this county. We have a problem with disparities in education and discipline in this county. In the richest nation in the world, we need to ensure that every child has a quality education in a safe environment. We need to ensure that every child in every community can walk to and from school without fear.
Yesterday, I heard D'Angelo McDade an 18-year-old from the west side of Chicago who is a victim of gun violence say "Violence cannot drive out violence, only peace can do that. Poverty cannot drive out poverty, only resources can do that. Death cannot drive out death, only proactive life can do that"
So what is next?
We need to REV up. Register. Educate. Vote. We all need to do our civic duty. Civic duty includes obeying laws, paying taxes, and serving your community. Democracy requiresmore than just voting in presidential elections to do your civic duty. In Virginia we have elections every year. We need people to knock doors to remind people to vote, register voters, and campaign for candidates.
We need to care about everyone in our community. We need to replace fear with hope. I believe when every member of our community feels empowered and included, our communities will thrive. I want the mindset of "protecting my own" to be replaced by protecting everyone. I want people to feel that giving a little will not take too much away from them.
We need to pass The Zaire Kelly Public Safety Zone Amendment Act of 2018. We need to repeal the Dickey Amendment. We need universal background checks. We need to make sure that people with a history of violence cannot access firearms. We need to be able to temporarily take guns away from those who are a threat to themselves or others. We need to ensure a living wage for everyone. We can do this by increasing the minimum wage and having a guaranteed minimum income. We need to provide a social safety net for those unfortunate times in life when you cannot earn a living because of illness, or you need to care of a family member or lack of employment. We need affordable housing and disaster relief for those times when your home is affected by fire or natural disasters. We also need campaign finance reform. We can no longer allow our legislators to be bought by large organizations who value profits over people. We need to overturn Citizens United.